Friday, July 24, 2015
Page 1
Commission Confirms Four Brown Nominees for Court of Appeal
By KENNETH OFGANG, Staff Writer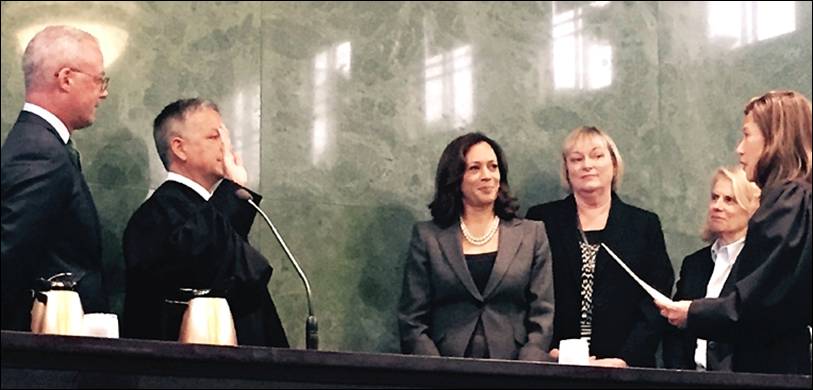 —Staff photograph
At the swearing-in of newly appointed Court of Appeal Justice Luis Lavin were Lavin's husband, Michael Fleming; Lavin; Attorney General Kamala Harris; Los Angeles Superior Court Judges Mary Strobel and Ann Jones; and Chief Justice Tani Cantil-Sakauye, who administered the oath. Lavin was the only one of four newly confirmed justices to have a public swearing-in yesterday.
The Court of Appeal for this district yesterday grew by four justices, as the Commission on Judicial Appointments unanimously confirmed the governor's picks to fill vacancies on the court.
The additions of Elwood Lui to Div. One, Luis Lavin to Div. Three, Lamar W. Baker to Div. Five, and John L. Segal to Div. Seven leave the district with only vacancy, in Ventura-based Div. Six. Justice Kenneth Yegan, who was at yesterday's hearing, told the MetNews he had no idea when that seat will be filled, but that the division is essentially caught up on its caseload.
No one testified against any of the nominees, and none of the commission members—Chief Justice Tani Cantil-Sakauye, Attorney General Kamala Harris, and the district's senior presiding justice, Paul A. Turner of Div. Five—asked anything particularly probing of any of the nominees.
Little Controversy
It was thought that of the four nominations, that of Baker—at 38, the youngest of the candidates, the only one without prior judicial experience, and the only one not be rated "exceptionally well qualified" or "well qualified by the Commission on Judicial Nominees Evaluation—might prove controversial. But he sailed through the hearing, as witnesses testified to his wisdom and the value of his experiences in private and government practice and in the federal Executive Branch.
Testifying on Baker's behalf were Senior Ninth U.S. Circuit Court of Appeals Judge Dorothy W. Nelson, Santa Monica attorney Michael Strumwasser, and Chief Assistant U.S. Attorney George Cardona.
Nelson said that she hired Baker as a law clerk, in part, because of his dedication to public service, as exemplified by his willingness to teach "street law" to youngsters in New Haven, Conn. during his student days at Yale Law School.
Among those who have clerked for her in her 35 years as a judge, she said, Baker "stands in the top five easily." His "analytic intelligence and clarity of prose" were impressive, she said, as was his willingness "to spend extra hours with his colleagues" to help them resolve difficult issues.
When Baker finished his clerkship, Nelson said, she told someone "he could go on the Court of Appeals tomorrow."
'A Joy to Work With'
Strumwasser told the commission that Baker, an associate at Strumwasser and Woocher from 2002 to 2005, was "proficient at reading between the lines," was passionate about the law, and was "a joy to work with." Cardona, who emphasized that he was speaking for himself and not the U.S. attorney or the Justice Department, said he worked with Baker, both when he was an assistant U.S. attorney and when he worked in the Obama Administration, first in the Justice Department's Office of Legal Policy and later as special assistant to the president.
Cardona said he had "no doubt" that Baker would be successful on the court, citing the excellence of his writing and adding that he "brings to bear a level of common sense."
Baker, who was rated "qualified" by the JNE Commission, noted that he had lived in California his entire life before leaving for law school, and said he was "elated to be back in my home state." Asked by the chief justice about his lack of judicial experience, he said he appreciated the perspective that trial judges bring to the appellate bench, and that he would "seek out and greatly benefit from" the views of his colleagues, two of him—Turner and Justice Sandy Kriegler—came to the court from the trial bench.
Cantil-Sakauye expressed confidence that the nominee's "incredible range [of experience] and educational pedigree" would enable him to surmount any difficulties posed by his lack of experience.
Baker was asked few other questions by the panelists, but Harris addressed the youth issue by noting that a number of sitting federal appellate judges were appointed in their 30s or early 40s, including some who were younger than Baker. She also gave the nominee the opportunity to note that he was rated "exceptionally well qualified" by the vetting committees of the Los Angeles County and San Francisco bar associations.
The latter group conducted an evaluation because Baker was considered for appointment in both the First and Second districts.
Baker will be sworn in at a public ceremony at 10:30 a.m. Monday, in the courtroom of the Ronald Reagan State Building, Turner announced following the confirmation.
Testifying in favor of Lui, who was rated "exceptionally well qualified" by the JNE Commission, were Presiding Justice Arthur Gilbert of Div. Six, Presiding Justice Frances Rothschild, of Div. One, retired U.S. District Judge Dickran Tevrizian, and attorney Christopher Lovrien.
Gilbert noted that he and Lui were appointed to the Los Angeles Municipal Court by the-then and current governor on the same day in 1975, and Rothschild pointed out that she was appointed to the same court a short time later. She then illustrated the point by having an assistant hold up a large photograph of herself, Lui, Gilbert, and Norman Epstein—now presiding justice of Div. Four and an observer yesterday—at their joint investiture.
Rothschild, whose elevation to presiding justice created the vacancy to which Lui was appointed, said that "nothing can make that division stronger than the appointment of Elwood Lui."
She detailed the jurist's background, including his having earned credentialing as a certified public accountant, worked fulltime while attending law school, and raised a family that includes two sons who followed him into the law—Bradley Lui, now managing partner in Morrison & Foerster, and Los Angeles Superior Court Judge Christopher Lui.
She cited his many accomplishments since leaving the Court of Appeal to join Jones Day's local office 28 years ago, including service as temporary director of the county Department of Social Services, special master overseeing the Supreme Court's special assessment to fund attorney discipline after then-Gov. Pete Wilson vetoed the State Bar dues bill, and chair of two commissions that recommended appointees for the federal bench and U.S. attorney positions.
Tevrizian said that he and Lui have been friends since they were five years old, having grown up in the same Los Angeles neighborhood and attended Los Angeles High School together. Not only did he and the justice serve on the municipal and superior courts together, but Bradley and Christopher Lui clerked for him, he noted, and were the only clerks ever allowed to call him "Uncle Dickran."
Lovrien, partner-in-charge of Jones Day's California offices, noted that Lui argued over 100 appeals at the firm, and oversaw 100 lawyers working for the firm in China for several years. During his years at the firm, "he taught us client service, he taught us how to be professional, he taught by example."
Asked by Harris why he wanted to go back to the Court of Appeal after being away nearly three decades, Lui quipped:
"Hopefully, this time I will do it right."
Segal's witnesses were Alabama trial judge Robert S. Vance Jr., LACBA President Paul Kiesel, and Div. Seven Presiding Justice Dennis Perluss.
Vance explained that Segal was one of his father's favorite law clerks. Segal worked for Robert S. Vance Sr. a few years before the Eleventh U.S. Circuit Court of Appeals judge was assassinated with a mail bomb in 1989.
Perluss said Segal, who was rated "exceptionally well qualified" by the JNE Commission, would do an excellent job, as proven by his authorship of 141 opinions as a pro tem justice during an aggregate of 30 months on assignment.
Citing a Gilbert opinion suggesting that "a theater critic should see the play," Perluss said that as far as Segal was concerned, "I have seen the play and it's a Tony Award winner."
Testifying for Lavin, who was rated "well qualified" by the JNE Commission, were Los Angeles Superior Court Judges Ann Jones and Mary Strobel. Jones summarized the judge's unusual background, as the Cuban-born son of a political prisoner whose mother took refuge in the Spanish embassy in Havana after the Communist takeover.
She eventually obtained permission to emigrate to Spain, and the judge's father was released along with other political prisoner, who were exchanged for "baby food and medicine," Jones noted. As a lawyer, she noted, Lavin represented asylum seekers and others in need, including AIDS patients preparing their estate plans.
Strobel summarized the nominee's judicial career, including criminal, civil, and family law assignments.
In his own remarks, Lavin said the highlight of his career was his work for the Justice Department. "As an immigrant, it was an incredible privilege to represent the United States."
He was brought to tears at the end of his remarks, as he thanked his husband, Michael Fleming, for his "love and support." Lavin becomes the district's first openly gay justice.
Lavin was the only one of the four appointees to have a public swearing-in ceremony yesterday.
Copyright 2015, Metropolitan News Company