Tuesday, August 11, 2015
Page 1
Court of Appeal Allows Former Director to Proceed With Suit Against Union for NBA Players
By a MetNews Staff Writer
A lawsuit against the National Basketball Players Association by its former executive director does not arise from protected activity under the anti-SLAPP statute, the Court of Appeal for this district ruled yesterday.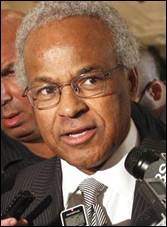 —AP
In this file photo, NBA players association executive director Billy Hunter answers reporter's questions.
Div. Three affirmed Los Angeles Superior Court Judge Huey Cotton's order allowing G. William "Billy" Hunter to amend his complaint, but said Cotton erred in ruling that Hunter's breach-of-contract claims against the union implicated the anti-SLAPP statute, based on widespread publicity regarding Hunter's firing and a related criminal investigation.
Hunter worked for the union for 17 years before being terminated in the aftermath of the 149-day lockout in 2011 that led to the current collective bargaining agreement between the NBPA and the National Basketball Association. Hunter claims the firing was orchestrated by Derek Fisher, the former Los Angeles Laker who was the union president at the time of the lockout, and claims that Fisher has been covering up unauthorized negotiations that resulted in the contract dispute being settled on terms unfavorable to the players.
The union says it fired Hunter based on an internal investigation, resulting in the conclusion that Hunter had breached his fiduciary duties. In support of the anti-SLAPP motion, it contended that all of Hunter's claims were premised on acts that were part of the criminal investigation, which resulted in the union's financial and business records being subpoenaed by the U.S. attorney in Manhattan.
Hunter responded that the lawsuit was based solely on the termination of his employment, not an official proceeding.
Justice Richard Aldrich, in his unpublished opinion yesterday for the Court of Appeal, agreed with Hunter.
"The investigation and the questions about Hunter's leadership, while lurking in the background of this case, are incidental to and not alleged as a basis for Hunter's claims for breach of the employment contract," Aldrich wrote.
The justice also distinguished Greka Integrated, Inc. v. Lowrey (2005) 133 Cal.App.4th 1572, which the trial judge relied on.
"There, the statements that gave rise to the lawsuit were protected activity…because they contained information the defendant disclosed to his attorney, in deposition, trial testimony, and in response to subpoenas during an investigation by the district attorney," Aldrich wrote. "…Here, by contrast, Hunter's breach of contract causes of action against the NBPA do not arise from any statements made during the internal investigation or elsewhere."
The appeal ruled on yesterday did not involve Cotton's dismissal of claims by Hunter against Fisher and his publicist/business partner Jamie Wior, whom Hunter claimed conspired to undermine his authority during the lockout and to have him fired afterward.
The case is Hunter v. National Basketball Players Association, B254155.
Copyright 2015, Metropolitan News Company