Wednesday, September 23, 2015
Page 1
Court of Appeal Affirms Ruling Tossing Herpes Suit Against Basketball Player Kris Humphries
By KENNETH OFGANG, Staff Writer
A woman who claims that basketball player Kris Humphries knowingly gave her herpes lacks substantial evidence that he was the person who infected her, and can't force him to be tested for the virus, the Court of Appeal for this district ruled yesterday.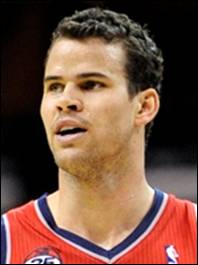 —AP
In this file photo, NBA player Kris Humphries is seen during a game.
Div. Four affirmed Los Angeles Superior Court Judge Gregory Keosian's grant of summary judgment to the 12-year NBA veteran, who currently plays for the Washington Wizards. Presiding Justice Norman Epstein authored the opinion, which was not certified for publication.
Kayla Goldberg filed a lawsuit in Los Angeles Superior Court three years ago, claiming she had unprotected sex with Humphries and a week later was diagnosed with herpes.
Humphries did not dispute her claim they had sex in a hotel room within hours of meeting in August 2010, about a year before Humphries' 72-day marriage to "reality" television star Kim Kardashian. But he disputed her claims of sexual battery and negligent infliction of emotional distress, saying he had never tested positive for the virus and, to the best of his knowledge, never had the virus.
Prior to granting summary judgment, Keosian denied the plaintiff's motion to compel Humphries to undergo a test for the Herpes simplex virus 1, commonly referred to as HSV 1. The judge agreed that even if Humphries tested positive for the virus, it would be irrelevant because it would not establish that he had it at the time of his encounter with Goldberg, and that even if a current positive test had probative value, it would not outweigh the intrusion of compulsory testing on the defendant's privacy rights.
Summary Judgment Granted
In granting summary judgment, the trial judge concluded that the opinion of plaintiff's expert, that Humphries was the likely source of Goldberg's infection based on the timing, was insufficient to create a triable issue of fact. Even if Humphries was the source, Keosian ruled, he could not be held liable for an intentional tort, or for negligence, in the absence of "facts or knowledge that he was infected prior to contact."
Epstein said the trial judge was correct.
"Claims for transmission of a sexually transmitted disease require a showing that the defendant knew or should have known that defendant was infected with the disease," the presiding justice wrote. Goldberg, he pointed out, admitted in her deposition that she had no such evidence.
The declaration of her own expert, Epstein added, established that the virus can be transmitted by someone who is asymptomatic, and that transmission "occurs most often from a person who does not have a visible sore."
Reply Brief
The jurist declined to consider the argument, raised for the first time in the plaintiff's reply brief, that the rate of HSV 1 in the United States is so high that Humphries should have known he had it, and the related argument that every sexually active adult has a duty to be tested, the breach of which should result in a presumption of infection. Those arguments were waived because they were not raised in the trial court or in the plaintiff's opening brief, Epstein said.
As for the denial of the plaintiff's discovery motion, Epstein said that even if the ruling was an abuse of discretion, it was harmless because the plaintiff still would not have been able to prove that Humphries knew or should have known, in August 2010, that he had herpes.
Attorneys on appeal were Rob Hennig and Brandon Ruiz of Hennig Ruiz for the plaintiff, and Lee Hutton III and Eric Buetzow of Zelle Hofmann Voelbel & Mason LLP for the defendant.
The case is Goldberg v. Humphries, B260378.
Copyright 2015, Metropolitan News Company