Thursday, December 31, 2015
Page 1
$488,448 Award Reinstated in Favor of Late Comic Joey Bishop's Companion
C.A. Says Judge Upset a Default Judgment After His Jurisdiction Expired
By a MetNews Staff Writer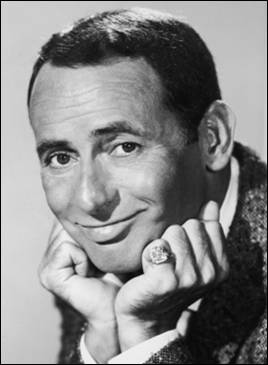 JOEY BISHOP
The Court of Appeal has reinstated a $488,448.29 judgment in favor of the late comedian Joey Bishop's live-in companion because the judge who purported to vacate a default and revise the judgment failed to act within the statutory period.
The plaintiff in the case is Nora Garibotti, who, according to a 2010 column in the New York Post, claimed she was Bishop's "lover for nearly 25 years—they met when she was 16 and he was 66."
The opinion, filed late Tuesday, notes:
"She lived with him in his home on Lido Island in Newport Beach for the last 10 years of his life. Bishop died in October 2007, and Garibotti was one of his estate's major beneficiaries."
Garibotti moved in following the death of Bishop's wife of 60 years. Bishop died in 2007 at the age of 89, leaving an estate valued at $8 million.
The plaintiff obtained a default judgment against Bruce Hinkle, an unlicensed contractor, after his answer was stricken in 2011 as a sanction for repeatedly failing to show up for his deposition. She offered proofs that work he performed at the residence—purportedly to fix it up, preparatory to it being sold—was shoddy, and that items he removed from the home, and was to store, were stolen by him.
'Rat Pack' Memorabilia
Many of the items were Garibotti's property. The opinion describes those that belonged to the comedian as "irreplaceable and priceless jewelry, paintings, antique furnishings, and other personal property, mementos, trophies, and memorabilia Bishop acquired over a lifetime in show business and as a member of Frank Sinatra's 'Rat Pack.' "
Under the judgment, Garibotti was to receive $310,650 for the value of the purloined personal property, $52,234 for the work performed on the premises, $15,154.29 in prejudgment interest, $100,000 in punitive damages, and $10,410 in costs.
Hinkle filed a motion to vacate the default judgment on March 18, 2013. Orange Superior Court Judge Franz E. Miller granted it on June 12, 2013, paring the judgment to $25,000 in damages for the personal property, $9,198.80 in prejudgment interest, $10,410 in costs, and no punitive damages, for a total of $44,608.80.
Aronson's Opinion
The Court of Appeal reversed in an opinion by Richard M. Aronson of the Fourth District's Div. Three.
Miller's postjudgment decisions were void for lack of jurisdiction, he said, noting that the jurist acted "nearly 90 days" after Hinkle's motion was filed. Under Code of Civil Procedure §663a(b), the time-limit for ruling, Aronson declared, was 60 days.
He wrote:
"That statute provides a trial court's power to rule on a motion to vacate judgment expires 60 days after service of notice of entry of judgment or service of the first notice of intention to move to vacate, whichever occurs first. The statute further provides that the trial court's failure to rule within that period automatically results in a denial of the motion without further court order. In drafting section 663a, subdivision (b), the Legislature used the identical time frame and statutory language it adopted in section 660, which established the deadline for a trial court to rule on a new trial motion. California courts long have held that section 660's time frame for ruling on a new trial motion is mandatory and jurisdictional, and any order purporting to rule on a new trial motion after the period lapses is beyond the court's jurisdiction and void. Section 663a, subdivision (b)'s plain language and legislative history establish the Legislature intended the deadline for ruling on a motion to vacate judgment to have the same legal effect."
He went on to say:
"The statute's plain language therefore compels the conclusion Hinkle's motion was denied by operation of law before the trial court ruled on it, and when the court entered its order purporting to grant the motion the court's power to do so already had expired."
Estoppel Argument Rejected
Hinkle contended that Garibotti is estopped from challenging the court's jurisdiction because she had obtained a continuance of the hearing on Hinkle's motion to a date beyond the 60-day period.
"Estoppel, however, may not extend a trial court's jurisdiction to rule on either a new trial motion or a motion to vacate judgment," Aronson responded, adding:
"Here, the trial court lacked subject matter jurisdiction to grant Hinkle's motion to vacate once the 60-day period for the court to rule lapsed, and that jurisdiction cannot be renewed or extended by principles of estoppel."
The case is Garibotti v. Hinkle, 15 S.O.S. 6211.
Previous Litigation
Garibotti, on Dec. 7, 2011, sued Discovery Communications and others over a television documentary on Bishop titled "The Will: Family Secrets Revealed." Seeking damages for fraud and defamation, she contended she was tricked in appearing in the documentary through false representations and was falsely portrayed as a golddigger.
Statements were made in the documentary by neighbors of Garibotti—without revealing they had been engaged in litigation with her—who "made statements which impugned plaintiff's name and character, put her in a false light and accused her of trying to obtain money from Bishop's estate, which they claimed she was disqualified from obtaining," the complaint said.
The action, filed in the Orange Superior Court, was dismissed on Aug. 31, 2012, pursuant to a settlement.
On May 8, 2008, Garibotti sued the law firms of Hookstratten & Hookstratten and Matkins Leck Gamble Mallory & Natsis, LLP, as well as individual attorneys, for legal malpractice. She contended the lawyers engaged in "despicable and fraudulent conduct" and failed to "handle, draft and administer" Bishop's trust in a manner consistent with his intentions.
'Financial Elder Abuse'
At one point, Los Angeles Superior Court Judge Ralph Dau made a tentative ruling permitting the Hookstratten firm to file a cross-complaint against Garibotti for "financial elder abuse," but changed his mind in response to legislation that was signed by then-Gov. Arnold Schwarzenegger clarifying the definition of that term.
The proposed cross complaint alleged that Garibotti in 2007 persuaded Bishop, who was suffering from dementia, to write out holographic notes bequeathing the residence and $60,000 in cash to her.
The proposed pleading averred:
"These handwritten notes were the direct result of undue influence exercised by the caregiver, Garibotti, on the severely demented and incompetent Joey and therefore constitute financial elder abuse."
That case, also, was settled.
Garibotti has also been in litigation with the Newport Beach Chabad Center. The center contended in a 2009 action, filed in Orange County, that Bishop had intended to leave money to a children's charity it administered.
The complaint alleged that Garibotti and others improperly influenced Bishop. It said:
"Mr. Bishop became unable to distinguish between his personal and professional relationships, frequently characterizing anyone who visited him as 'a dear friend.' Mr. Bishop was acutely vulnerable to the suggestions of others, was no longer able to determine his own wishes and best interests, and was subject to the exercise of influence by others."
Garibotti and the center had other litigation bouts in Los Angeles and Orange County, one of which reached the Court of Appeal, which dismissed the center's appeal as moot.
Copyright 2015, Metropolitan News Company