Thursday, October 22, 2015
Page 1
Services Next Week for Retired Judge Frisco
By a MetNews Staff Writer
Services will be held next week for retired Los Angeles Superior Court Judge Charles E. Frisco, who died Oct. 15 at the age of 92.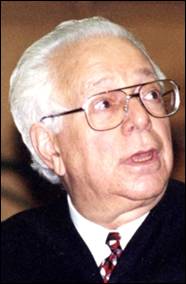 CHARLES FRISCO
1922-2015
Presiding Judge Carolyn Kuhl informed the court's judicial officers and staff of Frisco's death yesterday by email.
"Retired Judge Charles E. Frisco will be sorely missed by those of us who knew him and valued his friendship," Kuhl wrote. "It is especially sad for many of us to say goodbye to Judge Frisco because he formally welcomed us to the Court at our enrobing ceremonies."
Frisco participated in 31 such ceremonies, in which 264 judges were enrobed, while chairing the court's Historical Events Committee from 1983 to 1999. He was honored by the court with a special award at the September 2000 enrobing ceremony.
He began his career on the bench in 1966 when he was appointed by then-Gov. Pat Brown to the Downey Municipal Court. He was elevated to the Superior Court by Gov. Jerry Brown in 1980 and sat in Downey and Norwalk before retiring in 1994, then continued to serve on assignment.
A son of Sicilian immigrants, Calogero Ginfrisco, as he was then known, was born in Detroit, where his father ran a produce business. A brother was killed in battle in North Africa during World War II, and his father died soon after.
Charles Frisco also served during the war, in the Army Air Corps. His mother moved to California, where she had a sister, after the war and the future judge joined her here and attended Loyola University. He subsequently entered Loyola Law School, without an undergraduate degree, and graduated in 1950 before starting a solo practice in South Gate.
He later joined the firm of South Gate attorney Kenton Krogstad, and did 20 civil and criminal jury trials a year, he once told a reporter, before he was appointed to the Downey court.
He served four one-year terms, and part of a fifth, as that court's presiding judge before his elevation. He was named Southeast District Bar Association "Judge of the Year" in 1981, an award that was renamed in Frisco's honor following his retirement.
Three of his seven children followed him into the law. Janine Frisco is a Long Beach family law attorney, Charles Frisco Jr. is a criminal defense lawyer in Norwalk, and Christopher Frisco was a deputy district attorney and is now a Los Angeles Superior Court judge.
Rosary and funeral services will be held at Saint Bruno Church, located at 15740 Citrustree Road, Whittier, CA 90603; (562) 947-5637. The rosary will be said at 7 p.m. on Tuesday and the funeral will be held at noon on Wednesday.
Copyright 2015, Metropolitan News Company