Wednesday, December 30, 2015
Page 1
Woman Offensively Touched by Filner Can't Sue City, Court of Appeal Rules
Says Six-Month Period for Seeking Relief From Government Claims Act Is Not Extended By Five Days Based on Notice of Denial of Leave to File Late Claim Being Mailed
By a MetNews Staff Writer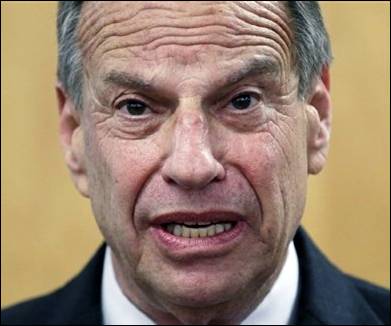 —AP
BOB FILNER
Former San Diego Mayor
The City of San Diego yesterday fought off an effort by a woman to sue it over misbehavior by Mayor Bob Filner, who resigned in disgrace on Aug. 30, 2013, after nearly 20 woman made complaints of his inappropriate conduct.
Plaintiff Jeri Dines pled that Filner grabbed and squeezed her right buttock at a dog owners' event at Mission Bay's Fiesta Island, a park, on May 25, 2013. Filner on Oct. 15, 2013, admitted the allegation, charged as a misdemeanor, as well as pleading guilty to one other misdemeanor and a felony.
The civil action by Dines was barred yesterday because she was too late in seeking relief from noncompliance with the Government Claims Act, Div. One of the Fourth District Court of Appeal ruled.
Dines failed to file a claim with the city within six months of the alleged incident, as required by the act as a prerequisite to suing. On May 6, 2014, she filed an application for leave to file a late claim, pursuant to Government Code §911.4(a). The application was denied two days later, and the city, in a notice sent to her that same day, advised that if she wanted to sue, she would have to obtain an order within six months from the Superior Court relieving her of duties under the Government Claims act.
That requirement is set forth in Government Code §946.6 which provides that a petition for relief "shall be filed within six months after the application to the board is denied or deemed to be denied" based on inaction of the governmental body.
Dines brought suit on Nov. 12, 2014, and filed a petition for relief the following day.
The city argued that denial of her request to file a late claim came on May 8, and that the six-month period for seeking relief ended on Nov. 8. Dines countered that the period was extended by five days in light of Government Code § 915.2(b) which says:
"Any period of notice and any duty to respond after receipt of service of a claim, amendment, application, or notice is extended five days upon service by mail, if the place of address is within the State of California."
Writ Granted
San Diego Superior Court Judge Ronald S. Prager granted relief, and the city sought a writ. It was granted, in an opinion by Justice Alex McDonald, who wrote:
"The trial court's reasoning in this case erroneously assumed section 946.6's six-month period began to run on notice of City's denial of Dines's application for leave. However, the plain language of section 946.6 shows its six-month period begins to run on denial of an application for leave and not on notice of that denial….Because section 915.2's five-day extension applies to periods for giving notice and duties to respond to notices, it does not apply to a limitations period that begins to run based on an event or date other than the date of notice. Section 915.2, subdivision (b)'s five-day extension of the period to respond to a notice under the Act does not apply to section 946.6's period for filing a petition for relief within six months after the denial of an application for leave to file a late claim."
The case is City of San Diego v. Superior Court, D068353.
Dines' Allegations
Dines alleged in her complaint that Filner committed sexual battery, gender violence and sexual harassment. She contended that when she came over to have her picture taken with her, and before the picture was snapped, he "rubbed and grabbed" her buttock.
The complaint alleged that while Filner was mayor, his "bodyguards would look the other way when he would engage in inappropriate and wrongful conduct."
Dines was the eighth woman to sue the city based on Filner's alleged antics.
Filner resigned pursuant to a deal with the city under which it assumed responsibility for $100,000 in attorney fees he had incurred.
Last October, the San Diego City Council settled harassment actions filed by two women— Katherine Ragazzino and Michelle Tyler—who brought suit in January 2014 based on Filner agreeing to help Ragazzino with a problem with Veteran Affairs if her friend Tyler would date him.
In 2014, the city paid $250,000 to Irene McCormack Jackson, who accused Filner of repeated harassment when she worked as his communications director. She claimed in her 2013 complaint that he forced kisses on her, told her to come to work without undergarments, and expressed a desire to see her naked.
Following his guilty pleas to one felony and two misdemeanors, Filner was placed on three years' probation, and was sentenced to three months of home confinement.
In connection with his conduct toward Dines, the criminal complaint said Filner "did willfully and unlawfully use force and violence upon the person of another, that is, JANE DOE 3, in violation of PENAL CODE SECTIONS 242 and 243, subdivision (a), a misdemeanor."
The same wording appeared in the other misdemeanor count, except that it specified a different date: April 6, 2013. That battery entailed kissing a woman without her consent a "Meet the Mayor" function at City Hall.
The felony count was based on the false imprisonment of a woman at a City Hall event on March 6, 2013. The complaint set forth that Filner "did unlawfully and intentionally violate the personal liberty of another, that is, JANE DOE 1, said violation being effected by violence, menace, fraud, and deceit in violation of PENAL CODE SECTIONS 236 and 237, a felony."
Copyright 2015, Metropolitan News Company