Tuesday, August 4, 2015
Page 1
C.A. Says Judge Improperly Struck Statement of Disqualification
Action Over $13 Million Includes Averments of a Multi-National Conspiracy
By a MetNews Staff Writer
Two attorneys in a civil case who repeatedly said under penalty of perjury, on proofs of service, that they were not parties to the action, but actually were, will have their bid to disqualify the judge—who remarked that they had committed perjury—heard by another judge.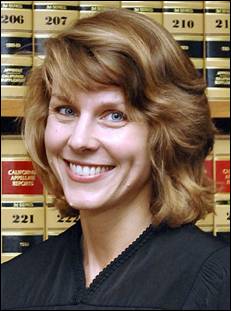 ELIZABETH R. FEFFER
Los Angeles Superior Court Judge
The underlying case involves a claim for $13 million, plus interest, with a prayer for treble damages and punitive damages. Allegations include an international conspiracy in which the presidents of the United States and South Korea are said to be participants.
Div. One of the Court of Appeal for this district, in a "By the Court" opinion filed Friday and not certified for publication, held that Los Angeles Superior Court Judge Elizabeth R. Feffer should not have stricken the statement of disqualification filed against her by Optional Capital, Incorporated and attorneys/plaintiffs Ralph Rogari and Mary Lee. Their statement "is not facially deficient," the appeals panel declared.
Where such a verified statement is filed and the judge does not withdraw from the case, Code of Civil Procedure §170.3(c)(5) provides that the challenge-for-cause is to be "determined by another judge." An exception is supplied by §170.4(b) which sets forth that if the verified statement "on its face it discloses no legal grounds for disqualification, the trial judge against whom it was filed may order it stricken."
Feffer relied upon §170.4(b) in striking the statement, but also filed an answer, to be considered in the event the Court of Appeal granted a writ ordering that another judge make the call.
Such a writ having been granted, a judge from Orange County will consider the challenge, if the customary procedure is followed. Such challenges seldom succeed.
Pivotal Allegation
Rogari, of the West Los Angeles firm of Rogari Law, and Lee, a mid-Wilshire sole practitioner, alleged various indications of bias on the part of the judge during the course of a hearing on Jan. 27 at which she ruled against the plaintiffs on key motions. However, at the center of the controversy is Feffer's observation that the lawyers had committed perjury.
Their statement of disqualification declared:
"[R]ather than allow for the probability, if not the certainty, that when Lee or Rogari—who are attorneys who have represented hundreds of clients and also represented Optional, the lead plaintiff in this case—signed a standard proof of service under penalty of perjury stating inter alia he or she was not a party to the action, that they did so by accident or mistake, Judge Feffer began the proceedings under the sua sponte belief counsel were perjurers—a lens through which she then viewed the entire proceeding until she finally disclosed her belief after the arguments on the motions had been concluded."
Feffer's order striking the statement said:
"At the conclusion [of] the January 27, 2015 hearing, when the court announced its decision on the pending motions, the court noted that the court's file contains several proofs of service signed under penalty of perjury by Ralph Rogari and Mary Lee, who are, themselves, parties in this matter. Nonetheless, both Mr. Rogari and Ms. Lee repeatedly signed proofs of service 'under penalty of perjury' declaring, 'I am over the age of 18 and not a party to the within action.' Attached hereto are more than 20 proofs of service, signed between March 2012 and November 2014, bearing the signatures of Mr. Rogari or of Ms. Lee, which are contained in, and obtained from, the court's file.'"
Attached to the order were 21 proofs of service (none on pre-printed forms) containing the cited language—16 of them executed by Lee and five by Rogari.
Appeals Court Opinion
The opinion by Div One said:
"Judge Feffer's statement at the hearing that Lee 'committed perjury' was based solely on her review of proofs of service, and was unrelated to the motions at issue in the hearing.
"Indeed, Judge Feffer stated that she 'just note[d] that aside.' "
A 2007 Court of Appeal opinion was cited which counseled:
"A trial court which is contemplating a comment on perceived perjury of a party should perhaps pause, reflect, and then articulate a candid but measured response."
In a footnote, Div. One pointed out:
"A conclusion that a party 'committed perjury,' moreover, implies that the requirements for such a charge have been satisfied. Perjury is a specific intent crime."
A 1982 opinion was cited as repeating the pronouncement of earlier opinions that "[p]erjury requires a higher measure of proof than any other crime known to the law, treason alone excepted."
'Tangled Thicket'
The underlying litigation is complex. In a Jan. 14 opinion last year, Court of Appeal Justice Jeffrey Johnson of this district's Div. One said:
"This case involves an extremely tangled thicket of legal proceedings in both state and federal court, as well as in Switzerland. The judgment on appeal is but one installment in Optional Capital, Inc.'s attempt to recover monies it contends were looted from its corporate coffers in 2000 and 2001."
In that opinion, the court reversed a judgment of dismissal following Los Angeles Superior Court Judge Michelle R. Rosenblatt's granting of an anti-SLAPP motion.
In striking the statement of disqualification, Feffer said of the litigation:
"Because the instant matter involves facts occurring over more, the course of a decade, spanning litigation in the United States District Court and Ninth Circuit Court of Appeals, the Los Angeles Superior Court and the Second District Court of Appeal, as well as proceedings in Switzerland; and multiple thousands of pages of legal documents were filed in connection with these proceedings; the court asked many questions and entertained considerable oral argument.
"The crux of plaintiffs' allegations is that when [defendant] DAS Corporation, and its counsel [also defendants], obtained funds in Switzerland in order to satisfy a settlement in 2011 of a Los Angeles Superior Court case, it did so improperly because the money belonged to Optional, by virtue of a United States District Court judgment."
Friday's opinion related:
"The complaint states causes of action against DAS, Akin, and Parker for conversion, to set aside a fraudulent transfer of assets, and for receiving and failing to return stolen property. Each of the claims relate to approximately $13 million in a Swiss bank account."
The funds had been in an account which Swiss authorities froze, while litigation was in progress, but unfroze upon hearing of a settlement here. DAS quickly claimed the money.
Jan. 27 Proceeding
At the Jan. 27 hearing, Feffer made rulings in favor of attorneys for DAS whom Optional, Rogari and Lee had sued. She granted an anti-SLAPP motion filed by lawyers for Akin Gump Strauss Hauer & Feld LLP, sustained that firm's demurrer to the first amended complaint, and granted a special motion to strike filed on behalf of lawyers David Parker and William K. Mills, and their law firm of Parker Shumaker Mills LLP.
Also, she denied Optional motion for judgment on the pleadings.
During the proceedings, Feffer commented that Rogari and Lee "in a way abandoned their role as advocates to their clients because they themselves are suing opposing counsel," adding:
"It's just a personal vendetta."
She also said, with reference to DAS snagging funds in Switzerland before Optional got to them:
"The advocates for the plaintiff in this case have forgotten that they're advocates and not personally involved. This is essentially to cover up their not getting to the funds first and that's why they themselves are plaintiffs…."
The Court of Appeal cited those statements on Friday, along with her comments concerning perjury, in concluding that the statement of disqualification should be ruled on by another judge.
Other Complaints
Not discussed by the Court of Appeal were other statements which Rogari and Lee pointed to which, they asserted, showed bias on Feffer's part. Among them was her characterizations of averments in two paragraphs of the complaint as "ludicrous, outlandish allegations" which were "fatal defects."
The attorneys contended that the allegations were not relevant to the motions before her and that her "statements not only show an error of law, but constitute additional disparagement of Lee and Rogari and bias against them."
In her order striking the statement, Feffer recited the rule that "[r]ulings and findings do not constitute a valid basis for disqualification."
One of the two paragraphs Feffer derided alleges, under information and belief, that the defendants were involved in a conspiracy to deprive Optional of its property; that the defendants "entered into an agreement with the United States government for assistance in this tortuous [sic] conduct"; that the "agreement originated with United States attorneys in the Justice department" and eventually "had the approval of the president of the United States" and implicated the "current president of South Korea."
The other paragraph charged that the defendants had paid a Geneva official a bribe of "approximately $125,000.00" to unfreeze the funds.
Rogari and Lee also took exception to Feffer's observation that the defendants had "better" lawyers than Optional.
In the trial court, Gordon Greenberg of McDermott Will & Emery LLP is representing the Akin firm, Kenneth Feldman of Lewis Brisbois Bisgaard & Smith is the attorney for Parker and Mills and the firm of Parker Shumaker Mills, and K Luan Iran of Lee Tran & Liang LLP is conducting the defense of DAS.
In the mandate action, the same lawyers are involved except that Greenberg has been joined by Charles Edward Weir and Feldman became part of a team with Jeffry A. Miller and Lann G. McIntyre.
Rogari acted for Optional , Lee, and himself.
The case is Optional Capital Inc. v. Superior Court, DAS Corporation RPI, B261984.
Rogari's Background
Rogari, who has a law degree from Loyola, was admitted to the State Bar of California in 1989 and has no record of public discipline. However, he underwent a five-year battle to persuade the State Bar to admit him after he flunked the Board of Bar Examiners' moral fitness review.
A March 6, 1986 article in the Los Angeles Times notes:
"After moving to Southern California in 1980, Rogari accumulated 18 traffic citations—a total of 31 violations of the state Motor Vehicle Code—in a period of just 30 months.
"Nearly all of the citations were related to speeding, and for half of them, Rogari was cited again for failing to appear in court on time. Once in 1982, he was cited for driving while intoxicated, a charge that later was reduced to reckless driving but landed him several nights in jail nonetheless."
In finding him unfit, the hearing officer cited Rogari's "the pattern of violations and failures to appear is contrary to justice, honesty, modesty and good morals."
Lee was admitted in 1995. Her law degree is from the University of West Los Angeles and she has no public record of discipline.
Copyright 2015, Metropolitan News Company