Tuesday, April 7, 2015
Page 1
Services Today for Retired Judge Irving Feffer
By a MetNews Staff Writer
Funeral services will be held today for retired Los Angeles Superior Court Judge Irving S. Feffer.
The court informed bench officers yesterday that Feffer, who would have been 84 on Saturday, died Sunday at his home. He served on the court from January 1989, when he was appointed by then-Gov. George Deukmejian, until May 2008, when he took disability retirement.
A native of Los Angeles, Feffer graduated from Fairfax High School in 1949, before going on to earn his undergraduate and law degrees from USC. Graduating in 1957, he partnered with Culver City attorney Joe Debus until 1964.
The firm was located in the back of a plumbing store, Feffer once told a reporter. When he left, he opened a solo practice in Beverly Hills.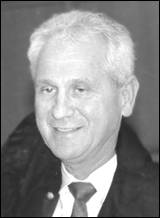 IRVING S. FEFFER
1931-2015
He called the practice a "garbage can" practice, involving criminal, civil/personal injury, and family law cases, a number of which led to published appellate opinions. He was known as "Feisty Feffer" for his skills, his daughter-in-law, Superior Court Judge Elizabeth Feffer, wrote in a tribute distributed by the court.
He also taught real estate law at UCLA and business law at USC.
He attributed his judicial appointment, in large part, to his friendships with onetime Los Angeles Police Chief Ed Davis, whom he once represented as a plaintiff in a defamation suit, and Sheriff Sherman Block. In private practice, he had represented the police departments of a number of cities.
He also worked as a literary agent. Among his clients was police officer-turned-author Joe Wambaugh, who dedicated his novel "The Choirboys" to Feffer.
He was also a financial backer of the film version of Wambaugh's "The Onion Field." Feffer had been a classmate of Ian Campbell, one of the two Los Angeles police officers whose murder became the subject of the book and movie, and of a notorious court case.
Feffer, who said he sought a judgeship because he was "burned out" as a lawyer after three decades and looking for a new challenge, oversaw a felony court in Compton, then a general civil court in downtown Los Angeles, and then went to family law downtown.
He returned to general civil in 1997, sitting in Department 51 until his retirement. He served on the court's Executive Committee in 1994, and also served on the security committee.
A devoted USC alumnus, he once arranged an appearance of the school's marching band in Department 1 to honor fellow Trojan Jack Goertzen, the court's presiding judge at the time. Feffer served as president of the law school's alumni association as well.
Elizabeth Feffer wrote:
"Irving's greatest love and joy, however, were for his two sons, Justin and Jason. Despite the intense demands of his sole law practice, Irving knew the importance of being a father, and gave both of his sons his undivided love, and showed his moral guiding hand. By living a life of unwavering good character, of the highest personal integrity, Irving's sons learned through their father's example. Irving also did not fail to instill a love of USC, and both sons became Trojans. 'Grandpa Irving' was also loved and admired by his six grandchildren. He is already greatly missed."
Today's services will be held at 10 a.m. at Groman Eden Mortuary, 11500 Sepulveda Blvd., Mission Hills, CA 91345, (800) 522-4875.
Copyright 2015, Metropolitan News Company