Wednesday, February 4, 2015
Page 1
Aaron Weissman to Run for Superior Court Judgeship
By a MetNews Staff Writer
Century Park attorney Aaron Weissman, who practices business litigation law, yesterday became the fourth lawyer to say he will be running for a Los Angeles Superior Court seat next year.
The others are Deputy District Attorneys Debra Archuleta, David Berger, and Steven Ipson.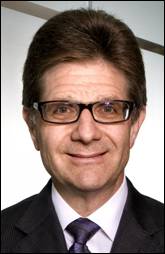 AARON WEISSMAN
Attorney
Candidates are getting off to an unusually early start, with the June 7 primary 16 months away.
Weissman, who was admitted to practice in 1981, has been an associate in the law firm of Novian & Novian LLP since 1995. He has his law degree from the University of West Los Angeles.
The consulting firm of Cerrell Associates will represent him, he said.
"I have retained a treasurer and am in the process of forming a campaign committee," Weissman related. "Once that process is completed, I will begin fundraising in earnest."
He declined to indicate how much of his own money he was prepared to devote to the campaign, saying only:
"I am confident that I will raise sufficient funds to run a well-funded, robust, smart, and effective campaign."
He expressed confidence that he will be able to overcome the demonstrated efficacy of ballot designations used by deputy district attorneys, declaring:
"I plan to communicate with Los Angeles County voters about the importance of a diverse bench and my nearly 34 years of professional experience in numerous legal arenas, as well as a unique skill set that will separate me from other judicial candidates."
Weissman said he has "spent a great deal of time on both sides of the bench," explaining that he served for eight years as a volunteer pro tem judge.
He mentioned that he served for 20 years as a volunteer mediator and arbitrator in a Los Angeles County Bar Association program.
Deputy District Attorney Taly Peretz has filed papers with the Fair Political Practices Commission saying she intends to raise funds for a judicial campaign but has not said whether she is committed to becoming a candidate, and civil Attorney Jeffrey Carter, who also filed papers, has said he is exploring a possible run.
Another possible candidate is Douglas Weitzman, who has unsuccessfully run four times for a judgeship, and four times been branded "not qualified" by the Los Angeles County Bar Association.
He lists himself on his LinkedIn page as "Past Judicial Candidate, and future candidate, 2016." He declares:
"I have decided not to run in 2014. Will run again in late 2015 for June 2016 elections. Let me know if you are interested in helping me win in 2016!"
The page indicates that his real estate company, DW Realty, went out of business, after 36 years, in 2013.
Copyright 2015, Metropolitan News Company