Friday, May 15, 2015
Page 1
Schools Big Winners, but Revised Budget Preserves Court Funding
From Staff and Wire Service Reports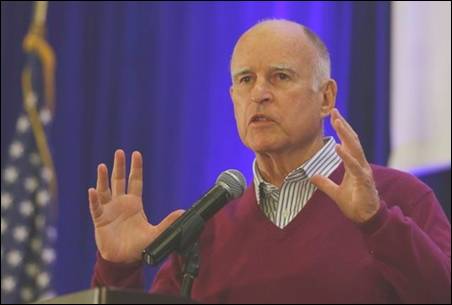 —AP
In this file photo, Gov. Jerry Brown speaks at the Association of California Water Agencies conference in Sacramento.
With a rebounding economy and billions streaming into the state's coffers unexpectedly, California Gov. Jerry Brown said yesterday his revised budget increases education spending and pays down the state's debt.
Brown's revised budget shows a $6.7 billion increase in general-fund revenue compared with his January proposal. A vast majority of the windfall will be spent on K-12 education.
The May Revision includes total funding of $3.8 billion, of which $1.7 billion comes from the General Fund, for the judicial branch of the government. It includes an additional $15.5 million from the General Fund "to reflect a further reduction of fines and penalty revenues estimated to be collected in 2015‑16, for a total of $66.2 million that is available for transfer to the Trial Court Trust Fund," the Department of Finance's budget summary says.
Chief Justice Tani Cantil-Sakauye said in a statement she was satisfied with the governor's plan.
"I am pleased to see that the Governor's May Budget Revision adheres closely to his January proposal, which brought an incremental increase for trial court operations," the chief justice said. "This will be the third year of new investment by the Governor to help stabilize funding for the judicial branch. New investment and stabilized funding are the building blocks for court innovations and efficiencies.
"The Governor's budget recognizes the need to offset falling revenues related to the potential over-reliance for the state on fines and fees. The judicial branch welcomes changes that improve the practices of properly and fairly applying assessments that allow the public effective access to California's courts. This is an issue all three branches are working together to resolve. I look forward to continuing to engage with the Governor and the Legislature on these important issues."
Community colleges and K-12 will receive a $5.5 billion increase in general-fund spending under Proposition 98, which mandates a percentage of any surplus goes to education. An additional $3,000 will be spent per student when compared to 2011-2012 levels.
Bigger Budget
The updated budget includes a total of $115.3 billion in general-fund spending, a $2 billion increase over Brown's initial proposal in January. Overall state spending totals $169 billion, $5 billion more than Brown's initial blueprint.
With many state Democrats clamoring for increased spending thanks to the influx of tax revenue since January, Brown says he "took the moderate route," noting that there's always a recession coming.
"The fundamentals of what government is supposed to do, health and education, that's the focus of our spending," Brown said.
The 2015-2016 revised budget sets aside $1.9 billion for the voter-mandated "rainy day fund" and another $1.9 billion to pay off existing debt and liabilities. Brown said the increased rainy-day funding prepares California for its next deficit and stabilizes its overall finances.
"People expect the chief executive to manage," Brown said of his conservative proposal. "The only way to manage the kind of roller coaster we have is to build up the rainy day fund [and] not to keep embarking on new programs."
January's budget proposal ignited a highly publicized debate between Brown and University of California President Janet Napolitano, with Napolitano threatening to increase tuition if Brown wouldn't commit more to the UC's budget. The revised budget adds $436 million over three years toward UC pension funds and an increase in overall funding for the UC system by four percent over the next four years.
UC Compromise
Brown's compromise with Napolitano and UC leaders will result in a two-year tuition freeze for in-state undergraduate students.
"Now the University of California will turn to our state legislators for their much-needed support of the proposed budget and for funding to enroll more California students," Napolitano said in a statement regarding the compromise.
State Republican leaders voiced support of the tuition freeze but said that money alone won't fix the problems in California's higher-education system.
"The legislature should hold UC and CSU accountable to responsible budgeting and ensure their expenditures prioritize students first," Assembly Republican Leader Kristin Olsen and Assembly Budget Committee vice chair Melissa Melendez said in a statement.
Critics and members of his own party accused Brown of slighting social services and programs for low-income families after his January proposal. Included in the revision is an earned income tax credit for California's poorest families.
An estimated 2 million people could benefit from the state's version of the federal earned income tax credit program.
Under the plan, individuals with no dependents making less than $6,580 and those with three or more dependents making less than $13,870 would qualify. Brown estimated 800,000 would fall into the category, which will cost taxpayers $380 million annually.
"It's significant, not trivial," Brown said in response to criticism over the low amounts handed out. "For the families that get it, it means a lot."
Brown's handling of the state's small surplus points to his reputation as a fiscal moderate, and state Republicans said the earned income tax credit is a good start to fighting poverty.
"We applaud the governor for putting money back into the pockets of those who work hard every day and pay their taxes—it's the right move. The governor's low-income tax credit merits discussion, but it will not end widespread poverty," Olsen and Melendez said. The revised budget sets off weeks of discussion and debate before a final spending plan is voted on in June. Republicans are expected to continue to push for water infrastructure improvements and further K-12 education reform.
With the state's treasury receiving the billions in tax revenue, state Democrats can be expected to push for funding on the various social programs already introduced this year, including Medi-Cal access for undocumented immigrants.
Copyright 2015, Metropolitan News Company