Tuesday, January 27, 2015
Page 1
Four Prosecutors, Including Blogger Berger, File to Run for Los Angeles Superior Court Judge
By a MetNews Staff Writer
Four deputy district attorneys have filed the necessary forms to raise money to run for Los Angeles Superior Court judge in next year's primary, public records show.
One of the four, Debra Archuleta, told the MetNews Friday she was running. Another, David Berger, confirmed yesterday that he intends to run.
David Gould is serving as campaign consultant and treasurer for Archuleta and Berger. The other two filers—Taly Peretz and Steven Ipson—could not be reached for comment, but listed Gould's office phone number as their contact number in their filings.
Ipson should not be confused with former Association of Deputy District Attorneys head Steve Ipsen.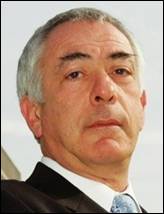 DAVID BERGER
Deputy District Attorney
Berger has been with the office for more than 18 years as a law clerk and deputy, and is also editor of the Los Angeles Dragnet blog—he posts as "Joe Friday"—that covers politics and the local legal community. He explained that he did not announce his candidacy on his blog because he wants to maintain its independence, but has set up a separate online presence at bergerforjudge2016.com.
A native of England, he ran for Los Angeles city attorney in 2009. He later backed Carmen Trutanich in his successful runoff campaign against then-Councilman Jack Weiss.
He left the District Attorney's office temporarily to serve as a special assistant to Trutanich, but became an acerbic critic and attacked him mercilessly throughout his unsuccessful campaigns for district attorney in 2012 and for re-election in 2013.
Berger said he was looking for "a new challenge" in the form of a judicial seat.
"I've explored all the various trial prosecution contours of the office," he said. "I don't really want to be a manager. I like the challenge of being independent and impartial and seeing that justice is done."
He is currently a calendar deputy at the Airport Courthouse, personally trying a number of serious felony cases. His previous assignments have included gang and white-collar crime units.
A frequent visitor to the United States when he was younger—his mother's family is American—he gained U.S. residency in 1989. He holds a bachelor of laws degree from the University of London, and graduated from Loyola Law School in 1997.
"I've always loved America, and I've always loved life in Los Angeles," he commented.
He said he intends to raise about $400,000 for the campaign, part of it from himself and his family. He added that he has already been endorsed by District Attorney Jackie Lacey and former District Attorney Steve Cooley and has received encouragement from several judges.
Copyright 2015, Metropolitan News Company