Thursday, September 24, 2015
Page 1
Ninth Circuit Holds That 'Batmobile' Is Copyrightable 'Character'
By a MetNews Staff Writer
The "Batmobile"—a fictional super-powered car that speeds through Gotham City, with Batman at the wheel—is a copyrightable "character," and replicas of the vehicle are infringements, the Ninth U.S. Circuit Court of Appeals held yesterday.
The opinion, by Judge Sandra Segal Ikuta, reveals the jurist to be an aficionada of the Caped Crusader, her discourse being peppered with such phrases as "Holy copyright law. Batman!" and "To the Batmobile!"
In concluding that defendant Mark Towle, who operates Gotham Garage, infringed the copyright of DC Comics in building and selling cars that mimicked two versions of the Batmobile, Ikuta wrote: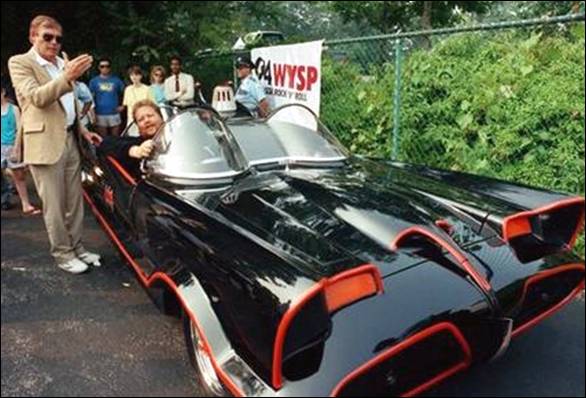 —AP
In this file photo, the original Batman, Adam West, left, stands beside the original Batmobile driven by owner Scott Chinery in Philadelphia.
"As Batman so sagely told [his sidekick and ward] Robin, 'In our well-ordered society, protection of private property is essential.' Batman: The Penguin Goes Straight, (Greenway Productions television broadcast March 23, 1966). Here, we conclude that the Batmobile character is the property of DC, and Towle infringed upon DCs property rights when he produced unauthorized derivative works of the Batmobile as it appeared in the 1966 television show and the 1989 motion picture."
The opinion affirms a summary judgment granted by U.S. District Court Judge Ronald S. W. Lew of the Central District of California.
"We have previously determined that an automotive character can be copyrightable," Ikuta said, pointing to the Ninth Circuit's 2008 opinion in Halicki Films, LLC v. Sanderson Sales & Mktg.
In that decision, the Ninth Circuit rejected the contention that Eleanor—a vehicle appearing in the 1974 movie, "Gone in 60 Seconds," as well as in the 2000 remake of the film—is "simply a car."
Judge Roger Miner (since deceased) noted that under previous decisions, the character "Sam Spade" was found not to be copyrightable, while cartoon characters have been. He wrote:
"The Eleanor character can be seen as more akin to a comic book character than a literary character."
He noted that the car "displays consistent, widely identifiable traits and is especially distinctive."
Distinguishing Features Irrelevant
Towle emphasized differences between his parodies of Batmobiles and those used on television and in the 1989 movie. Ikuta responded:
"As indicated in Halicki, a character may be protectable if it has distinctive character traits and attributes, even if the character does not maintain the same physical appearance in every context….For example, in Halicki, Eleanor's ability to consistently disrupt heists by her presence was more pertinent to our analysis of whether the car should qualify as a sufficiently distinctive character than Eleanor's make and model….Indeed, Halicki put no weight on the fact that Eleanor was a customized yellow 1971 Fastback Eord Mustang in one film [1974], and a silver 1967 Shelby GT-500 in another [2000]."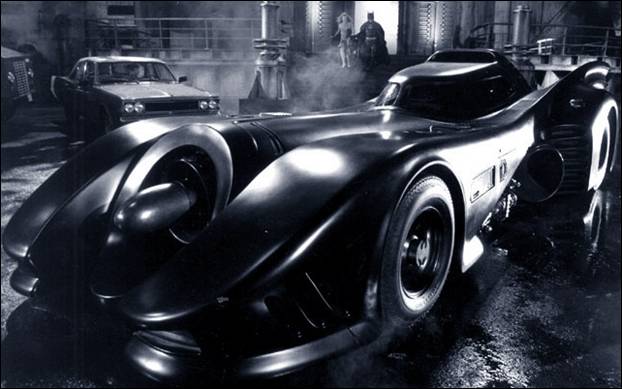 —AP
In this file photo, the Batmobile from 1989 Batman movie is shown.
Ikuta reviewed decisions declaring the characters James Bond, Batman, and Godzilla to be copyrightable "despite their changes in appearance," and declared:
"We read these precedents as establishing a three-part test for determining whether a character in a comic book, television program, or motion picture is entitled to copyright protection. First, the character must generally have 'physical as well as conceptual qualities.'…Second, the character must be ;sufficiently delineated' to be recognizable as the same character whenever it appears….Considering the character as it has appeared in different productions, it must display consistent, identifiable character traits and attributes, although the character need not have a consistent appearance….Third, the character must be 'especially distinctive' and 'contain some unique elements of expression.'…It cannot be a stock character such as a magician in standard magician garb….Even when a character lacks sentient attributes and does not speak (like a car), it can be a protectable character if it meets this standard."
Ikuta said that under Lew's detailed findings, all three prongs were met.
Lew's Order
In his Feb. 7, 2013 order, Lew said:
"It is undeniable that the Batmobile is a world-famous conveyance in the Batman franchise, exhibiting a series of readily identifiable and distinguishing traits. The Batmobile is known by one consistent name that identifies it as Batman's personal vehicle. It also displays consistent physical traits. The Batmobile, in its various incarnations, is a highly-interactive vehicle, equipped with high-tech gadgets and weaponry used to aid Batman in fighting crime. Even though the Batmobile is not identical in every comic book, film, or television show, it is still widely recognizable because it often contains bat-like motifs, such as a bat-faced grill or bat-shaped tailfins in the rear of the car, and it is almost always jet black….The 1989 and 1966 Batmobile iterations also display these physical qualities. In fact, the particular design of the Batmobile often reflects the car models of the time—for example, the Batmobile from the comic book Batman No. 5, which was released in 1941, has the shape of a 1940s Ford automobile, but contains a 'bat' hood ornament and tailfins resembling a bat's wings Regardless of the evolving design of the Batmobile, it retains distinctive characteristics.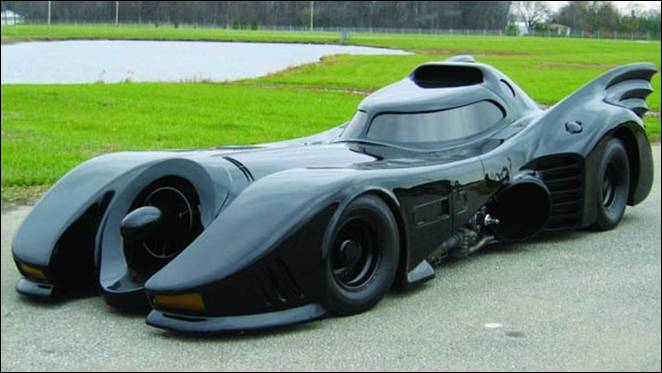 —AP
Towle's replica of the 1989 Batmobile.
"Other than its physical features, the Batmobile is depicted as being swift, cunning, strong and elusive."
Lew went on to observe:
"The comic books portray the Batmobile as a superhero The Batmobile is central to Batman's ability to fight crime and appears as Batman's sidekick, if not an extension of Batman's own persona."
In yesterday's opinion, Ikuta rejected Towel's contentions that DC Comics lost any copyright on the Batmobile by licensing use of it on the television series and in the 1989 movie, and that DC was guilty of laches.
She recited that although Batman made his comic book debut in 1939, the Batmobile did not appear until 1941.
The jurist noted that Towle sold the mock Batmobiles for about $90,000 each, and also sold kits enabling motorists to convert their cars into Batmobiles.
The case is DC Comics v. Towle, No. 13-55484.
Los Angeles attorneys Larry Zener, of the Law Offices of Larry Zener. And Edwin F. McPherson and Tracy B. Range, of McPherson Range LLP, represented Towle. Glendale attorney J. Andrew Coombs teamed with New York counsel in representing DC Comics.
Copyright 2015, Metropolitan News Company