Friday, June 12, 2015
Page 1
Ex-Presiding Judge Bascue Arrested After Shooting
Police Say Retired Jurist Called for Help, Then Fired at Officers During Standoff
From Staff and Wire Service Reports
Former Los Angeles Superior Court Presiding Judge James Bascue was released on bail yesterday, after surrendering to police on charges he fired at officers during a standoff at his Los Angeles townhouse,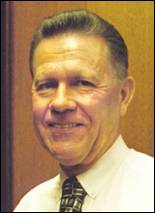 JAMES BASCUE
Former Los Angeles Superior Court Presiding Judge
Attorney Richard Hirsch, who is representing Bascue along with his partner Michael Nasatir, said he did not yet know the facts of the case, or when the ex-judge would have to appear in court.
Hirsch told the MetNews:
"I have known Judge Bascue when he was a district attorney and as a judge. He has always sought justice for others, and we hope he will receive justice in this matter."
Bascue called 911 on Wednesday, saying there were armed men inside his home at a gated community in the Sawtelle neighborhood, LAPD Officer Liliana Preciado said.
When officers arrived, they peered through a window and saw Bascue alone on a couch loading two guns, Preciado said. Bascue did not respond to officers and pointed a gun at his head, she said.
Bascue, 75, then fired a shot in the direction of officers outside, Preciado said. Officers heard a second gunshot from inside the townhouse and called for SWAT backup.
Police said they contacted Bascue's son, who unsuccessfully tried to talk his father into giving himself up.
Persuaded to Surrender
Bascue eventually spoke with a neighbor, who persuaded him to surrender, Preciado said. Police did not find anyone else inside the home. No officers were hurt.
He was given a mental evaluation, but authorities decided against a 72-hour mental-health hold and arrested him instead.
He could face charges including assault with a deadly weapon on a police officer, Preciado said. "Thankfully he was a bad shot," the Los Angeles Times quoted her as saying.
Former District Attorney Robert Philibosian, under whom Bascue served as chief deputy from 1983 until Philibosian left office the following year, said he has had little recent contact with Bascue, but that friends and former colleagues have reached out to assist him.
Others who worked with Bascue said they likewise have seen little of him recently, with one describing him as "isolated."
Retired in 2007
Bascue retired from the bench in 2007. The court's then-presiding judge, J. Stephen Czuleger, said at the time that Bascue had been away from the court dealing with unspecified health issues, and that the court had honored his request to "leave quietly," rather than hold a public event or make a formal announcement.
Czuleger said yesterday he had seen little of his former colleague in recent years. But he said he was "very sad" about yesterday's news, describing Bascue as a "good and decent person and a good man to work with."
Judicial ethics, Czueleger added, preclude him from discussing the potential court case. But he said the incident may have been "a cry for help" from the former jurist.
State Bar records show that Bascue took inactive status after retirement from the court and was suspended in 2009 for not paying bar dues.
Former Prosecutor
Bascue earned his undergraduate degree from California State University, Sacramento and his law degree from UC Davis was a deputy district attorney in Los Angeles from 1971 to 1990, except for a brief stint in the late 1980s as chief trial counsel for the State Bar.
He was appointed to the bench in 1990 by then-Gov. George Deukmejian. He served as presiding judge in 2001 and 2002, and was honored in the second year of his tenure by the Judicial Council of California with its Jurist of the Year award.
Bascue was credited with a number of achievements as presiding judge, including redirecting resources to deal with the impact of the Three-Strikes Law. As supervising judge of the Criminal Division before winning election as assistant presiding judge, he was one of the few jurists at the time to publicly criticize the law, citing both its impact on the courts and its refusal to recognize defendants' potential for rehabilitation.
He also helped oversee the merger of 24 municipal courts into the unified Superior Court, which took effect while he was assistant presiding judge.
While a prosecutor, Bascue met and married fellow deputy and later fellow Superior Court Judge Jacqueline Conner. They separated in June 2001 and were eventually divorced.
Copyright 2015, Metropolitan News Company