Friday, October 2, 2015
Page 1
Brown Names Paul Hastings Partner Maria Audero to FPPC
By a MetNews Staff Writer
Gov. Jerry Brown yesterday named Maria Audero, 57, a partner at Paul Hastings LLP, to the California Fair Political Practices Commission.
Audero, 57, joined Paul Hastings in 2004, and has served as co-chair of the firm's Los Angeles Employment Law Department. She was an associate at Jeffer, Mangels, Butler and Marmaro from 2002 to 2004 and at Barger and Wolen LLP in 2000.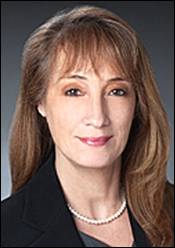 MARIA AUDERO
Lawyer
Audero was a law clerk at Greene, Broillet, Taylor, Wheeler and Panish LLP from 1998 to 2000 and in the Law Offices of F. James Feffer from 1996 to 1998. She was a paralegal in the Law Offices of Richard F. Seone from 1995 to 1996 and owner and operator at the Attorney Assisted Legal Centers from 1991 to 1996.
She is a graduate of UCLA and Southwestern Law School.
According to the Paul Hastings website:
"Her practice emphasizes state and federal wage-and-hour nationwide class and collective actions, discrimination, harassment, and retaliation claims. Ms. Audero has represented employers in multiple jurisdictions in federal and state courts, and in administrative proceedings before federal and state agencies. She also provides general advice and counseling to clients on a wide variety of employment and labor matters, including wage-and-hour issues, sexual harassment claims and prevention training, and federal and state family and medical leave laws. She has represented clients in a wide variety of industries, including financial services, entertainment, insurance, medical, restaurant and hospitality, education, automotive, aerospace, and consumer."
Audero also has contributed to a number of publications, including California Business Law Deskbook and Employment Law Deskbook for Human Resources Professionals, published by Thomson Reuters/West, and California Employer's Guide to Employee Handbooks and Personnel Policy Manuals, published by Matthew Bender & Co., Inc.
The FPPC appointment does not require Senate confirmation and the compensation is $100 per diem. Audero is a Republican.
In other news, the governor yesterday named Katie Buckland, former executive director at the California Women's Law Center, to the California Commission on the Status of Women and Girls.
Buckland, 52, worked at CWLC from 2005 to 2013 before taking her current position as executive director at the Writers Guild Foundation. She served in several positions at the Los Angeles City Attorney's Office from 2001 to 2005 and 1989 to 1991, including communications director, special assistant to the city attorney and deputy city attorney in the Criminal Branch.
She held several positions at the Democratic National Committee from 1991 to 1996, including New York state political director, director of women's outreach, deputy political director for California and California director. Buckland was an associate at Richards, Watson and Gershon from 1987 to 1989.
She is a graduate of UCLA and Hastings College of the Law. Her appointment to the commission requires Senate confirmation and the compensation is $100 per diem.
Buckland is a Democrat.
Copyright 2015, Metropolitan News Company