Thursday, February 12, 2015
Page 3
Memorial Scheduled for Orville, Mary Dean Armstrong
By a MetNews Staff Writer
A memorial service for retired Court of Appeal Justice Orville "Jack" Armstrong and his wife has been scheduled for Feb. 21 by their children.
The justice, who retired in 2013 from this district's Div. Five, died Dec. 22 at age 85. Mary Dean Macfarlane Armstrong died in 2012.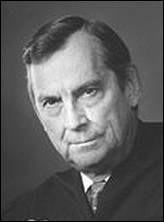 ORVILLE ARMSTRONG
1929-2014
Louise Glenn, John Armstrong, and Jeff Armstrong have invited those attending the service to "share memories of two extraordinary lives."
Orville Armstrong served on the Court of Appeal from 1993 until his retirement. He had previously served on the Los Angeles Superior Court, and was president of the State Bar in 1987 and 1988.
He was a native of Austin, Texas, and graduated from the University of Texas in that city. He acquired his nickname at a time when "Jack Armstrong, the All-American Boy" was a very popular radio program.
His law degree was earned at USC.
He practiced in Los Angeles with several firms from 1967 until his appointment to the Superior Court by then-Gov. George Deukmejian. Armstrong served in the United States Air Force from 1946 to 1949 as a radar technician.
He was a fellow of the American Bar Association and American College of Trial Lawyers, a trustee of the Los Angeles County Bar Association and chair of several of its committees, and a director of the Ninth Judicial Circuit Historical Society. Prior to serving on the Board of Governors of the State Bar, he chaired several of the organization's committees, notably the Disciplinary Committee from 1965 to 1972.
He also taught at the California Judicial College and was president of the Chancery Club in 1980-81.
The Feb. 21 memorial is set to take place at the Athenaeum at Caltech, 551 South Hill Ave. in Pasadena. The family suggested that memorial donations might be made to Cal Farley's Boys Ranch, The Humane Society, Friends Outside and the Los Angeles Mission.
Copyright 2015, Metropolitan News Company