Friday, January 30, 2015
Page 1
Ninth Circuit Senior Judge Arthur L. Alarcon Dies at 89
By a MetNews Staff Writer
Ninth U.S. Circuit Court of Appeals Senior Judge Arthur L. Alarcon has died.
Sources said the 89-year-old jurist died Wednesday, and that funeral services were pending. Further details were unavailable yesterday.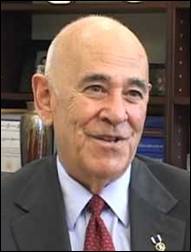 ARTHUR L. ALARCON
1925-2015
Alarcon was appointed to the Ninth Circuit by President Jimmy Carter in 1979. He took the oath in November of that year, 18 months after Gov. Jerry Brown appointed him to this district's Court of Appeal, where he served in Div. Four.
He took senior status in 1992.
A native of Los Angeles, he served in the Army during World War II, returning home in 1946 to attend UCLA. He transferred to USC, where he earned his undergraduate and law degrees, in 1948.
Admitted to the State Bar in 1952, he clerked for the Los Angeles Superior Court Appellate Department and was in private practice for two months before joining the District Attorney's Office.
He worked there until 1961.
Then-Gov. Pat Brown appointed him to the Los Angeles Superior Court in 1964, after having earlier appointed him to a number of executive posts, including director of the Governor's Special Study Committee on Narcotics; legal advisor, clemency and extradition secretary, and executive secretary to the governor; and chairman of the California Adult Authority.
He served as chair of the Executive Committee of the Ninth Circuit Judicial Conference and president of the USC Law School Alumni Association, and was the founder and first president of the Mexican-American Scholarship Foundation Assisting Careers in Law.
He also founded the Council on Mexican-American Affairs and served on its board.
He was an adjunct faculty member at Southwestern and Loyola law schools and taught at the California Judicial College.
He wrote and lectured on a number of topics, including criminal law, business litigation, prison reform, trial advocacy, and appellate practice, and was co-editor of the treatises California Criminal Law, California Criminal Evidence, and California Criminal Proceedings.
Survivors include his son, Los Angeles Superior Court Judge Gregory W. Alarcon.
Copyright 2015, Metropolitan News Company