Tuesday, November 4, 2014
Page 1
Double Jeopardy Held No Bar to Retrial of Lawyer Who Obtained Drugs for Model
By KENNETH OFGANG, Staff Writer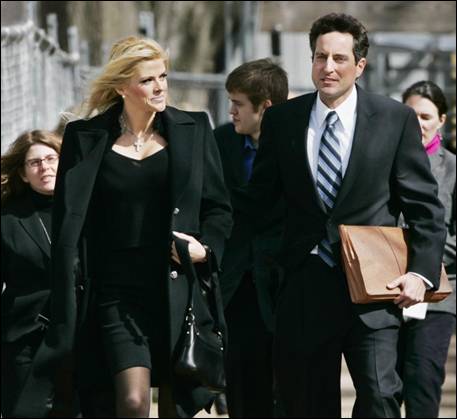 —AP
Anna Nicole Smith, left, arrives at the U.S. Supreme Court in Washington with her attorney Howard K. Stern.
The state and federal constitutional prohibitions against double jeopardy do not bar retrial where a trial judge rejects a jury's guilty verdict as unsupported by substantial evidence, but an appellate court reverses, the state Supreme Court ruled yesterday.
In a unanimous decision, the state high court reversed a ruling by Div. Five of this district's Court of Appeal and opened the door to a possible retrial of Howard K. Stern, a lawyer who managed model Anna Nichole Smith's career and much of the last 12 years of her life.
A Los Angeles Superior Court judge will now determine whether Stern will be sentenced on his conviction for conspiring to obtain prescription drugs for Smith illegally, or granted a new trial or a dismissal on some ground not previously ruled on in the trial court.
The appellate panel ruled two years ago that Los Angeles Superior Court Judge Robert Perry erred in finding the evidence against Stern insufficient as a matter of law. But the court also said that Stern could not be tried a second time, and that the trial court's options on remand were limited to reinstating the conviction and imposing sentence, or dismissing the case on some other basis, such as in the interests of justice under Penal Code Sec. 1385.
The high court agreed to review the ruling solely to decide the double jeopardy issue. The conclusion that there was substantial evidence of Stern's guilt was left standing.
Three Defendants
Stern, Dr. Kristine Eroshevich, and Dr. Sandeep Kapoor were tried on an 11-count information involving prescriptions given to Smith in the months before she died in Florida on Feb. 8, 2007, of an accidental drug overdose. The defendants were not charged with causing her death.
The jury returned verdicts in October 2010, acquitting Kapoor on all charges, while finding Eroshevich guilty of obtaining controlled substances by fraud or misrepresentation, and giving false information to obtain controlled substances and finding both Eroshevich and Stern guilty on two counts of conspiring to commit those offenses.
At a sentencing hearing, however, Perry threw out both of Stern's convictions and all but one of Eroshevich's, and reduced that one charge—obtaining drugs by fraud or misrepresentation—to a misdemeanor. The doctor was sentenced to a year of probation.
She also had her medical license suspended for 90 days by the Medical Board of California.
In September 2011, prosecutors appealed, saying Perry was biased and abused his discretion when he dismissed the counts on which Stern and Eroshevich were convicted.
Prosecutors argued in their appeal that Perry was biased against them and had created a "celebrity" exception to the law. They noted that Perry accused a prosecutor of ethical violations during the case and said that the case had been overcharged.
The defendants did not dispute that drugs prescribed in Stern's name, or in the names of others who had no connection to the case other than having their identities misused, were for Smith's use. But they claimed that they were simply engaging in a common local practice of using false identities to protect the privacy of celebrities.
Prosecution's Burden
The Court of Appeal, however, said the prosecution met its burden of proving that Stern and Eroshevich conspired for a criminal purpose, citing evidence that Stern was aware that multiple prescriptions were being written in multiple names and being filled at multiple pharmacies, and that Smith's treating doctors were unaware of this.
But in barring retrial, Chief Justice Tani Cantil-Sakauye wrote for the high court yesterday, the Court of Appeal misconstrued People v. Hatch (2000) 22 Cal.4th 260, in which the court held:
"If a trial court rules the evidence is insufficient as a matter of law, then the ruling bars retrial even if it is patently erroneous or the court has no statutory authority to make it."
The chief justice explained that while the Hatch language is unequivocal, the cases cited in that opinion all involved rulings made before the jury had returned a verdict. She added that other cases cited by the Court of Appeal are distinguishable because the findings of insufficiency of the evidence were never overturned.
"Under these authorities, the trial court's order in the present case would have precluded a retrial had the People chosen not to appeal it or had it been affirmed on appeal," the chief justice wrote. "But the People did appeal and the Court of Appeal reversed the trial court's ruling and reinstated the jury verdict….The effect of the Court of Appeal's order barring a retrial upon remand was to improperly give legal force and effect to a ruling of the trial court that it had reversed."
Cantil-Sakauye explained in a footnote that the ruling has no impact on Eroshevich. Perry's post-trial ruling that she could not have conspired with Stern because there was insufficient evidence that Stern was guilty of conspiracy was overturned by the Court of Appeal, but because the trial judge found the evidence against her legally sufficient, the double jeopardy clauses would not have barred her retrial even if they had barred Stern's, the chief justice said.
The case was argued in the Supreme Court by Deputy District Attorney—and Los Angeles Superior Court Judge-elect—Serena R. Murillo for the prosecution; Janyce Keiko Imata Blair of El Segundo, by appointment, for Eroshevich; and Peter Gold of San Francisco, by appointment, for Stern.
The case is People v. Eroshevich, 14 S.O.S. 4924.
Copyright 2014, Metropolitan News Company