Monday, November 3, 2014
Page 11
SNIPPETS (Column)
Wesley Hailed at Armenian Bar Association Dinner for Humility; Brazile, Tabaddor Also Feted
Los Angeles Superior Court Presiding Judge David S. Wesley, center, receives a commendation from Armenian Bar Association Board of Governors members. They are, from left, past chairs Edvin Minassian and Garo Ghazarian, Chair Armen Hovannisian, and emcee Michael Amerian.
Los Angeles Superior Court Presiding Judge David Wesley has been described at a dinner meeting of the Armenian Bar Association as a man possessed of "dominating humility."
Wesley was honored by the association on Wednesday, along with Los Angeles Superior Court Judge Kevin C. Brazile and Immigration Judge Ashley Tabaddor, with the U.S. Department of Justice Executive Office for Immigration Review. The occasion was the group's third annual "Judge's Night."
More than 200 persons were seated at tables in the banquet room of a mid-eastern restaurant in Glendale, with the capacity of 180. They heard the association's immediate past chair, Encino criminal defense attorney Garo B. Ghazarian, say of Wesley:
"What is decisive and impressive about his functioning on the court is his general attitude toward law, the habits of mind he has formed, the capacity for detachment, and his temperament, and training for putting his passion behind his judgment instead of in front of it.
"The attitudes and qualities which I am groping to characterize here, and describe Judge Wesley with, are ingredients in what compendiously might be called dominating humility.
"That's right. Dominating humility."
Wesley Expresses Optimism
Wesley decried the deep budget cuts the court has incurred over the past five years, yet expressed "great optimism" for the court's immediate future. He told the audience, which included about 50 judges:
"We know that access to justice is a fundamental expectation of all Californians—people just take it for granted and expect that judges, following the law, will punish the wrongdoers, resolve family disputes in a fair and just manner, enforce contracts, protect children and others who cannot protect themselves, and ensure people's rights as they do so.
"I knew when I ran for assistant presiding judge four years ago that in the years ahead, these fundamental expectations of all the citizens of Los Angeles would be a great challenge.
"The court's budget is already being cut, and more cuts seem likely.
"But it's a challenge that I embraced—that I embraced because I had faith in the judges and staff of your Superior Court to weather any storm and overcome any crisis."
Wesley said that the Los Angeles Superior Court has had to "find a way to operate with $187 million less in our budget" than five years ago.
While court revenues have dwindled, he pointed out, caseloads have burgeoned.
In 2008, he noted, the court handled about 2.5 million cases, in 58 courthouses, with 6,000 employees; by the end of this year, it will have handled about 3 million cases, in 38 courthouses, staffed by 4,250 employees.
"But in spite of the growing caseloads and the lack of funds," the presiding judge said, "one thing remains clear:
"The courts of Los Angeles will not and cannot ration justice by restricting rights of our citizens. We are committed to preserving the rule of law in all areas of litigation."
The court is, he advised, "restructuring," expanding online services and otherwise utilizing technology to cut costs. This includes, he mentioned, replacing all 6,000 phones, most of which are from the 1970s, at a savings of $2.5 million a year.
"I am sure that we will emerge from the trauma of the last five years a more vibrant and energized court, with far better and more efficient environment in which lawyers can use their skills," Wesley declared.
He said that he ends his term as presiding judge "a little tired, but filled with great optimism for the future of our court," adding:
"I have great confidence in the extraordinary intellect and exceptional leadership of my fantastic partner, Presiding Judge-Elect Carolyn Kuhl."
Wesley received a framed commendation from the group which terms him "a pillar of California's judicial system," and lauds "his superlative standard of integrity" and "warmth, compassion, and sincerity."
Hovannisian's Remarks
Earlier in the program, the Armenian Bar Association's president, Armen K. Hovannisian, a Sherman Oaks attorney who had previously served as the group's chief, remarked:
"We take our work very seriously at the Armenian American Bar Association because we are among the very few who are given the gift of life when so many members of our families were given the curse of death during the Armenian genocide."
(Mass slayings of Armenians occurred in the Ottoman (Turkish) Empire, beginning in 1915. Between 1 to 1.5 million Armenians were put to death.)
Notwithstanding a background of terror, Hovannisian said, "We are a happy people," adding:
"We are an optimistic people. And… some of you who have known us for more than a few days know that we can be a rambunctious lot.
"I have to say that when we Armenians get together, we seem to be animated, and proud, and opinionated—but as soon as we get into the larger, non-Armenian community…we take on your grandmothers' quiet humility, their hushed expressions….
"But exercising a chairman's prerogative today, I will tell you that at least for tonight, mixed company or not…we'll be proud, we'll be opinionated, we'll be animated, and we'll be happy."
Words From McDonnell
Long Beach Police Chief Jim McDonnell, a candidate in tomorrow's election for sheriff, also addressed the association and alluded to the Armenian genocide. He made note that next April 24 will mark the centennial of the onset of the program to eradicate the Armenian populace, and said he will "work with all of you" in connection with observances of that occasion.
Tabaddor, who was born in Iran and is involved in Iranian American community activities, in August brought suit against the Department of Justice and others contesting her banishment from any case involving an Iranian national. She alleges in her complaint, filed in the U.S. District Court for the Central District of California, that the action "is facially discriminatory and sets Judge Tabaddor apart for adverse and unequal treatment, simply because of her race, national origin and/or religion."
(It lists her race as "Near East Asian, Middle Eastern and Persian" and declares she is "culturally Muslim.")
Tabaddor also avers that it impinges on her "First Amendment rights, in that it impermissibly chills her rights of free expression and association with Iranian-American groups, apart from her employment by the Federal Government."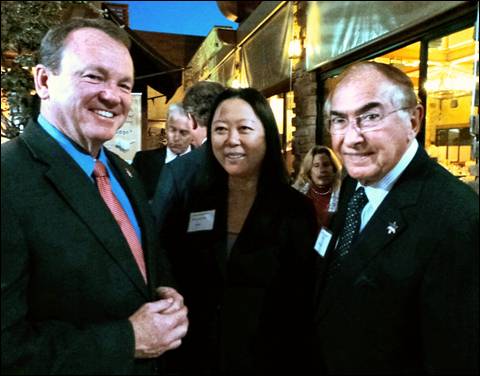 —Staff photo
Among those attending the event are, from left to right, Long Beach Police Chief Jim McDonnell, a candidate for sheriff on tomorrow's ballot, Los Angeles Superior Court Judge Ruth Kwan and former Los Angeles District Attorney Robert H. Philibosian.
Copyright 2014, Metropolitan News Company