Friday, October 24, 2014
Page 11
SNIPPETS (Column)
Alliance Faults AOC for Opening, Closing $4.7 Million Courthouse
Although the Administrative Office of the Courts no longer exists—now being referred to simply as the Judicial Council's staff—the Alliance of California Judges is continuing in its attacks on the AOC, yesterday accusing it of "bad planning and wasteful spending" in connection with a short-lived courthouse in Portola, a sparsely populated city in Plumas County.
It says in a statement that the Plumas/Sierra Regional Courthouse was opened "[o]nly four years ago, amid great fanfare," and comments:
"This 6500-square-foot courthouse, which features a 'prominent transparent glazed entry vestibule and tall clerestoried lobby' along with its single courtroom, was built at a cost of $4.7 million. In the AOC's words, it 'exemplifies the state of California's efforts towards a more sustainable future.'
"If this building exemplifies our future, we're in big trouble. Apparently, the building itself can no longer be sustained. It's closing next month."
The statement continues:
"Of the over 200 courtrooms that have been shuttered across the state since 2008, the closure of this one courtroom bears a particular significance. This building was "the first trial courthouse completed from start to finish by the California Administrative Office of the Courts." It was supposed to represent a new era of state-directed courthouse construction, one in which our centralized branch administration would bring to bear its greater expertise and financial wherewithal to build smarter buildings for less money in places that truly needed them. Now this model project is a white elephant."
The Alliance poses these questions:
"How did a one-room courthouse that was open only four days a month take priority over so many other desperately needed construction projects? How much more did it cost the branch to build and operate this one facility than it did to run the two modest facilities it replaced in Portola and Loyalton? How much is it going to cost for the judicial branch to maintain an empty cedar-sided courthouse deep in the heart of snow country?"
Plumas Presiding Judge Ira Kaufman is quoted in the Plumas County News as saying:
"We hope to reopen the courthouse and return to a normal work schedule once funding is restored to the judicial branch and the courts."
•Fred A. Rowley Jr., a litigation partner at Munger, Tolles and Olson LLP and an adjunct professor of law at the UCLA Law School, has been appointed by Gov. Jerry Brown to the California Commission on Uniform State Laws.
ROWLEY
Rowley served as an assistant U.S. attorney for the Central District Court of California 2002-06. He is a former president of the Federal Bar Association of Los Angeles,
His undergraduate degree is from Stanford and his law degree from Harvard.
The position does not require Senate confirmation. The compensation is $100 per day.
•Randye B. Soref has been elected as a shareholder of the national law firm of Polsinelli.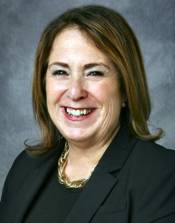 SOREF
Soref, a senior partner in the firm's Century City office, is among 21 persons in various cities who have become shareholders, the firm has announced.
Her specialties include loan enforcement and creditor's rights.
Soref received her undergraduate degree from Hofstra University and her law degree from California Western School of Law.
•The Armenian Bar Association will be holding its annual "Judge's Night" on Oct. 29 and will be paying tribute to Los Angeles Superior Court Presiding Judge David S. Wesley, Superior Court Judge Kevin C. Brazile, and Immigration Judge Ashley Tabaddor.
The event will be held at Phoenicia Restaurant, 343 N. Central Avenue, in Glendale. A reception will start at 6 p.m., with dinner and a program beginning at 7:15 p.m.
Members are charged $50 to attend; the cost for nonmembers is $75; students are assessed $25. Bench officers are admitted free.
Reservations, due Oct. 27, are obtainable by e-mailing jacklin.boyadjian@gmail.com.
•Los Angeles Superior Court Judge J. Stephen Czuleger is now "Professor" Czuleger, teaching for a month at the Tirana University School of Law in Albania.
Tirana is the capital of Albania and the republic's largest city.
Czuleger, who was his court's presiding judge in 2007 and 2008, is teaching under the Fulbright Specialists Program, under which educators and other professionals in the U.S. teach overseas for brief periods.
Below is Czuleger (seated, in the middle) with his class.
Czuleger advises, in an e-mail:
"Finished the second week of teaching at the law school. All is going well. Long days and many meetings."
Copyright 2014, Metropolitan News Company