Monday, February 24, 2014
Page 11
SNIPPETS (Column)
Foundation to Fund $1 Million Scholarship at Loyola Law School
The William H. Hannon Foundation will fund a $1 million scholarship at Loyola Law School for the benefit of graduates of Loyola Marymount University. The donation is the largest scholarship gift in the law school's history to be designated for students from it undergraduate program.
To qualify for the scholarship, students must be graduates of LMU, have strong academic standing, and financial need.
The new William H. Hannon Scholarship will be awarded to its first recipients in the 2014-2015 academic year. The scholarship will help students obtain a law school education that would not otherwise be able to afford it.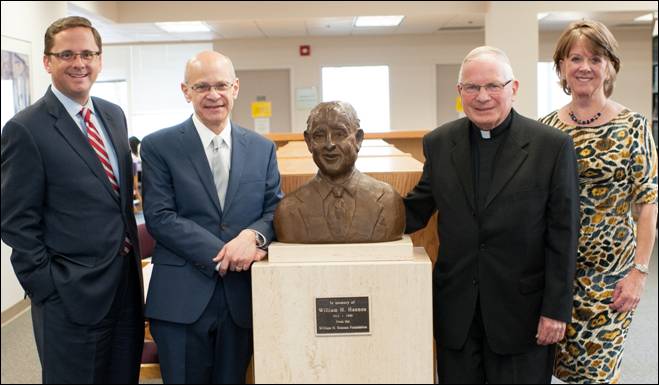 —Courtesy Photograph
David Herbst, member of the William H. Hannon Foundation board of directors; Victor Gold, dean of Loyola Law School; Monsignor Royale Vadakin, member of the school's board of directors; and Kathleen H. Aikenhead, president of the school's foundation, stand next to a bust of William H. Hannon in the law school's library on Feb. 5.
•Glaser Weil has added Mieke K. Malmber and Michael Cypers as partners in its Los Angeles office.
Malmberg will work in the firm's intellectual property department, having spent more than a dozen years litigating patent, trademark, copyright and trade secret disputes.
She joins the firm after having served as a principal at McKool Smith Hennigan, P.C., after having practiced at Quinn Emanuel Urquhart & Sullivan, LLP. She received her law degree from UC Hastings.
Cypers focuses on complex financial cases, and has spent more than three decades litigating in Los Angeles.
He earned his law degree from UC Berkeley, where he served as an adjunct professor for more than 10 years after graduating.
•Nathan Cazier and Matthew Durham have become partners at Payne & Fears, LLP.
Cazier specializes in business and insurance litigation, and Durham concentrates on business and employment litigation.
Cazier received his undergraduate's degree from Utah State University, and his law degree from Pepperdine in 2005.
Durham received his undergraduate degree from Brigham Young University, and his law degree from Duke University in 2005.
•Pepper Hamilton LLP held a reception Feb. 11 to celebrate the expansion of its Los Angeles office.
The firm opened its Los Angeles office in May 2012, and in anticipation of additions to the office, it expanded in August 2013, moving to Two California Plaza on South Grand Avenue from its previous office in the Wells Fargo Tower.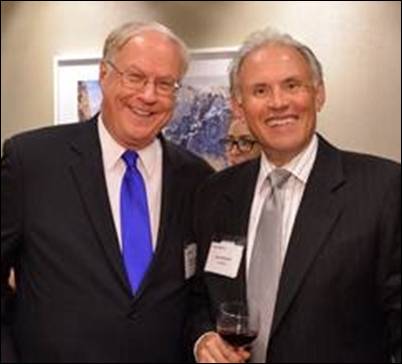 —Courtesy Photograph
Mark Jadzielski, a partner in the firm's Los Angeles office, and Dave Benkert, a director of Navigant Consulting Inc., pose at Pepper Hamilton's office reception.
•Los Angeles Superior Court Judge Rafael Ongkeko has been assigned to the general jurisdiction independent calendar for civil court at the Stanley Most Courthouse.
Taking effect on March 3, Judge Mary Ann Murphy's assignment will change from an independent calendar to a civil trial court. She remains in Department 25, Stanley Mosk Courthouse, Los Angeles.
Also effective March 3, Judge Frederick C. Shaller will hear an independent calendar in his present courtroom, Department 46, Mosk Courthouse.
•The Judicial Council's joint working group will hold a public hearing on its plan to develop a statewide language access plan to increase the language assistance that is provided to limited-English-proficient court users.
The hearing will be held on March 4, from 10 am to 4 pm, in the auditorium at the Ronald Reagan State Building at 300 South Spring Street in downtown Los Angeles.
Language assistance will be provided at the hearing for Spanish, Korean, Mandarin, Vietnamese, and American Sign Language speakers.
•The Los Angeles Superior Court's Pasadena courthouse, at 300 East Walnut Avenue, now allows people to take care of their traffic tickets at a traffic window, without having to enter the courthouse.
The window allows users to pay traffic and vehicle fix-it citations, set traffic arraignment dates, extend traffic payments and appearances, and submit proof of community service and vehicle fix-it ticket completion.
Traffic citations that have gone to collections cannot be handled at the window.
The window will be open from 8:15 a.m. until 4:30 p.m. Monday through Friday, and is located on the west side of the courthouse.
Cash, checks, and credit cards will be accepted for payment.
Copyright 2014, Metropolitan News Company