Friday, July 11, 2014
Page 1
Danette Meyers Elected to State Bar Board of Trustees
By a MetNews Staff Writer
Deputy District Attorney Danette Meyers has been elected to the Board of Trustees of the State Bar of California, the organization said yesterday.
The State Bar said in a statement that Meyers had been elected by attorneys in the Second Appellate District as their representative on the restructured board. Her three-year term begins at the State Bar Annual Meeting in September.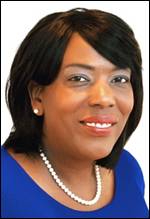 DANETTE MEYERS
Deputy District Attorney
Meyers defeated fellow Deputy District Attorney Alan S. Yochelson, private investigator/lawyer Jeffrey Lustman, and attorney Robert F. Hunt. She will serve a three-year term beginning in September. Meyers received 2,312 votes to 2,022 for Yochelson, 986 for Lustman, and 923 for Hunt.
The 6,243 votes cast represent 10.8 percent of the 57,882 lawyers that a State Bar spokesperson said were eligible to vote in the district.
Former LACBA President
Meyers served as president of the County Bar in 2007-2008. She ran for Los Angeles County district attorney in 2012, finishing in fourth place with more than 13 percent of the vote in a six-candidate race.
A veteran of close to 200 jury trials, she has prosecuted more than 40 murders, two of which resulted in the death sentence.
She has served on the State Bar Complaints, Audit and Review Board, the Board of Directors of the Association of Deputy District Attorneys, and the LACBA delegation to the State Bar Conference of Delegates. She is a graduate of UC San Diego and Howard University School of Law.
Under SB 163, the State Bar restructuring legislation approved in 2011, the board—formerly known as the Board of Governors—is transitioning from a 23-member body primarily elected by lawyers to a smaller board with a primarily unelected membership.
When the transition period ends this fall, the board will consist of 19 members, five of whom will be attorneys appointed by the Supreme Court.
New Structure
The board will also include six elected lawyers, one from each of the state's six appellate court districts; six public members, as at present; and two attorneys appointed by the legislative leadership.
Trustees were also elected this year in two other districts.
Heather Rosing, the current treasurer of the State Bar, won a special election in the Fourth Appellate District. She will succeed Christopher Todd, who resigned from the board in January, for what were described as personal reasons.
Her election means she will remain on the board for an additional year beyond this September, when her present term will expire.
Rosing, head of the professional liability practice at the San Diego firm Klinedinst PC, received 2,550 votes to 1,039 for Orange County Deputy Public Defender Larisa Dinsmoor, 876 for Patricia Lee-Gulley of Gordon & Rees LLP in Irvine; and 331 for Babak Samini of Samini Scheinberg PC in Costa Mesa.
Janet L. Brewer of Palo Alto, an estates and trust lawyer, won a three-year term representing Sixth Appellate District lawyers. She received 556 votes to 362 for Shannon Stein of Sunnyvale, 225 for Roger Royse of Palo Alto, and 101 for Holden W. Green of Los Gatos.
All four candidates in that race are sole practitioners.
Overall turnout in the three districts was 11.5 percent of those eligible, the State Bar said. About 57.6 percent of the votes were cast by mail and the rest came in electronically.
Copyright 2014, Metropolitan News Company