Friday, October 10, 2014
Page 1
Ninth Circuit Upholds Corruption Conviction of Former GOP Congressman Richard Renzi
From Staff and Wire Service Reports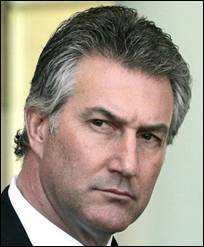 —AP
RICHARD RENZI
Former U.S. Representative
Former Rep. Richard "Rick" Renzi, R-Ariz., "abused the trust of this Nation" and was properly convicted on multiple corruption charges, the Ninth U.S. Circuit Court of Appeal ruled yesterday.
The panel affirmed the 56-year-old Renzi's conviction on 17 felony counts, including conspiracy, honest-services wire fraud, extortion under color of official right, racketeering, money laundering and making false statements to insurance regulators. The jury also found James Sandlin, Renzi's former business partner, guilty on 13 counts.
During a 24-day trial last summer, prosecutors claimed that Renzi, who also operated an insurance business, exerted improper influence as a lawmaker to push through a public-land exchange for a copper mine. The proceeds from that deal were allegedly supposed to help Sandlin repay Renzi a $700,000 debt.
The government said Renzi committed insurance fraud as well by using his clients' insurance premiums to fund his first congressional campaign.
The Republican served in the U.S. House of Representatives from 2003 to 2009.
He appealed his conviction, and the accompanying three-year sentence, alongside Sandlin who got 18 months.
                                                                                                       'Thing of Value'
Renzi claimed that he couldn't be guilty because he had not received a "thing of value" in exchange for his promise to influence the land deal's movement through Congress. The developer paid Sandlin a fair price for the land, and Sandlin used the money to repay a legitimate debt to Renzi, creating an "equal value exchange," the defense argued.
Judge Richard Tallman, writing for the panel, disagreed.
"Even if Renzi was owed money from Sandlin, he was in no way entitled to obtain that money from The Aries Group using the threat of withholding action on a public bill," the judge wrote. The money Renzi received, he added, "clouded his judgment in performing his official duties and deprived his constituents of the honest services of their elected representative."
The judge also rejected defense arguments involving Art. I, §6, cl. 1 of the Constitution, which provides that "for any Speech or Debate in either House, [a member of Congress] shall not be questioned in any other Place." Renzi had previously lost an interlocutory appeal seeking to have most of the charges dismissed on the basis of that clause.
Speech or Debate Clause
Renzi argued that Judge David Bury ran afoul of the Speech or Debate Clause by permitting testimony from Renzi's former district director and by preventing another witness, who had served as chief of staff to Renzi, and before that to Rep. Jim Kolbe, R-Ariz., from testifying as to certain interactions between Renzi and Kolbe that the defense claimed would show Renzi's actions with respect to the land swap bill to have been legitimate.
Tallman, however, said that by placing some of his actions as a lawmaker in evidence, seeking to show that his role in the land swap legislation was more limited than the prosecution was claiming, "Renzi opened the door" to rebuttal testimony, "narrowly confined" to the same actions.
The judge also said that the district judge was not required to balance Renzi's fair trial rights against Kolbe's Speech or Debate Clause privilege. Renzi's right to put on a defense couldn't "override" the privilege, Tallman wrote.
Tallman also rejected Renzi's defense to the insurance-related crimes, which involved misappropriating premiums to fund his first campaign.
'Business of Insurance'
The defense argued that the insurance agency Renzi owned—which helped obtain insurance for nonprofits and "pregnancy crisis centers"—was not engaged in "the business of insurance" within the meaning of the applicable statutes. But Tallman said that at a minimum, the agency's accepting premiums and thereby binding insurers to provide coverage constituted the business of insurance.
Judge Consuelo Callahan concurred in Tallman's opinion. Judge Sandra Ikuta concurred separately, arguing that the majority was construing the statutory phrase "business of insurance" too broadly, but agreeing that Renzi & Company was engaged in that business at the time of the events in question.
Renzi is represented by Mayer Brown and Steptoe & Johnson in Washington, D.C.
"We are disappointed with the court's ruling," Mayer Brown attorney Kelly Kramer said. "We intend to seek further appellate review."
The case is United States v. Renzi, 13-10588.
Copyright 2014, Metropolitan News Company