Wednesday, December 17, 2014
Page 7
PERSPECTIVES (Column)
County of L.A. Lags Behind City in Getting Serious About Denying Badges to Non-Officers
By ROGER M. GRACE
Eighth in a series
Ever since Los Angeles Mayor Fletcher Bowron in 1940 put the kibosh on honorary LAPD badges, there's been in place an inflexible ban in the city. Not so with respect to the policy instituted by Los Angeles County Sheriff Peter J. Pitchess in 1963 when, in recalling all outstanding courtesy deputy sheriff stars, he barred further issuance of them.
That policy has remained but has been, well, a bit wobbly.
The problem with the issuance of metallic emblems—stars or shields—to those who aren't actual law enforcement officers is that it enables recipients sometimes to beat traffic tickets, sometimes to create false impressions of authority, with the deception on rare occasion taking the form of criminal fraud.
While the City of L.A. has been bereft of criticism for nearly three-quarters of a century in connection with badge bestowals, controversies over badges, and other symbols of official power, continue to flare in the county, intermittently. They've stemmed not only from the elasticity of the sheriff's ban but also, at one point, from a lack of restrictions on members of the Board of Supervisors and their staff members in supplying false indicia of authority in the form of windshield decals.

Pitchess, himself, did not entirely give up conferring honorary badges. For example, a March 16, 1966 Associated Press story tells of a luncheon on a wild-west street at a movie studio, reporting:
"The luncheon broke up shortly after [UK] Prince Philip was presented with a badge by Los Angeles Sheriff Pete Pitchess, the fastest badge-pinner in the West."
A May 5, 1968 photograph in the Van Nuys Valley News and Green Sheet shows Pitchess pinning an honorary sheriff badge on one Robert Reyes, 18, during Boys Day in Government.
While his predecessor, Eugene Biscailuz, with good intentions, but unwisely, gave out badges in large numbers, and indiscriminately, Pitchess presented them infrequently—doing so even after his announced policy against it—but acted with care. There was little prospect that the husband of Queen Elizabeth II or a model high school student would use the stars to bilk some gullible victim out of a life's savings by posing as an officer.
Obviously harmless was Pitchess's providing of badges that were so large or so small that one spotting them would immediately discern that they weren't the real article. There's a report in the June 18, 1970 edition of the Van Nuys News telling of a tribute to entertainer Jimmy Durante at which Pitchess "gave Durante an over-sized sheriff's badge in recognition of his contributions on behalf of the underprivileged." In an episode pre-dating the ban, the sheriff pinned an honorary badge on Japan's then-Crown Prince (now Emperor) Akihito, as the Sept. 27, 1960 issue of the Times advises, and also affixed on the garment of his wife "a miniature sheriff's badge—made in Japan." Small lapel-pin replicas of badges now abound, and neither they nor reduced-sized retirement badges with the word "Retired" the more an honorary badge resembles an authorized peace officer badge in shape, markings, and other indicia that connote genuineness, the more likely the badge will deceive an ordinary reasonable person, and the more likely that a person furnishing or displaying the badge will be found to have violated section 538d. has evoked concerns.

Too, Pitchess initiated a badge-giving practice with respect to local officials which was only lightly questioned at the time, but was depicted as egregious when it drew attention while Lee Baca—a favorite whipping boy of the Los Angeles Times—was sheriff.
The Long Beach Independent Press Telegram's edition of Oct. 2, 1977 tells of the policy started by Pitchess:
"County Sheriff Peter Pitchess hands out the star-shaped badges to the five city council members and city manager of each of the 31 cities his department serves.
"The badge is the same shape and size as the deputy sheriff's badge, according to public relations Capt. Roy Brown, but does not have deputy sheriff written anywhere on it.
" 'City Official, City of...' is on its face, he said.
" 'The badge is collected when the person leaves office,' Brown said."
Could someone displaying such a badge be committing a misdemeanor, under Penal Code §538d, of impersonating a law enforcement officer?
The article quotes the then-city prosecutor in Long Beach, Robert Parkin—now a retired Los Angeles Superior Court judge and a former presiding judge—as expressing doubt as to the legality of brandishing the full-sized sheriff's badges, though they contained the words, "City Official," observing (with sagacity characteristic of him):
"Most people don't read the fine print on a badge."
(Parkin defended the carrying by Long Beach officials, including himself, of badges bearing the city seal. Only two inches deep, they were smaller than Long Beach police badges.)

Presentations of badges by Pitchess (who died in 1999) to city officials drew fleeting attention in 1980, at a time when the county instituted a broad scale revocation of its badges and decals.
Precipitating the action was leaked grand jury testimony that a deputy to then-Supervisor Pete Schabarum had given one of the decals—bearing the county seal and the word "Official"—to a man whom the deputy knew from stag parties he attended…parties at which the man marketed teen-age prostitutes he brought there. The man was Kenneth Bianchi, one of the two Hillside Stranglers. It was believed that the decal on his car facilitated his convincing young women he encountered on the streets at night that he was an undercover police officer and that they were obliged to obey his command to enter his vehicle, which they did, resulting in their demise.
The April 9, 1980 edition of the Los Angeles Times reports the observation of then-Supervisor Ed Edelman, at the previous day's board meeting, that in light of the enactment that day of an emergency ordinance yanking badges from a myriad of county employees not engaged in law enforcement, that a look should be taken at the honorary sheriff's badges held by city officials. The article relates:
"…Undersheriff Sherman Block said the cities themselves had bought the badges, which resemble departmental badges, with the sheriff acting only in a ceremonial role.
" 'These badges, in effect, are not the sheriff's to recall,' Block said."
The explanation by Block (who was to succeed Pitchess as sheriff, and is now deceased, as are Schabarum and his deputy) apparently sufficed; the matter was not pressed at the time.

It was, however, pressed in 2012 in the aftermath of the arrest by the FBI of three officials in the City of Cudahy for bribery.
The U.S. Attorney's Office in Los Angeles released to the press a couple of photos taken on March 24, 2012, jointly comprising Exhibit "G" to the criminal complaint. One photo depicted then-City Councilman Osvaldo Conde, one of those charged, with a woman in a bar at the El Portrero nightclub in Cudahy, where Conde had contact with an undercover FBI agent. (Conde in 2013 drew a three-year prison sentence.)
The area of the woman's eyes is redacted by means of the superimposition of a black rectangle.
Another shot of the woman was also provided by the U.S. Attorney's Office. This is the one that grabbed press attention. Posing, she has a gun in each hand (a finger on the trigger of one of them) and is sporting a badge pinned to her blouse.
According to the complaint:
"At some point during the evening, CONDE gave his firearm and his Cudahy City Council badge to an unknown female ('UF') who was accompanying CONDE that evening."
Again, the area of her eyes is cloaked. Here's the photo:
The fact that Conde had lent "UF" his badge and gun one night in a bar suggests abominable judgment, but comes nowhere near to being germane to the federal charge that he had attempted to join with others in selling a medical marijuana franchise in the city. A suspicion naturally arises that the photo of a young, buxom woman in a short skirt, brandishing firearms, was disseminated solely to attract heightened press coverage of the institution of charges, thus increasing public attention to stalwart efforts of the U.S. Attorney's Office to protect us all from crooked politicos. That is to say, it was a PR stunt.
Obdurately, that office has refused to release to the MetNews an unredacted copy of the photo on "privacy" grounds, notwithstanding that the woman, an exhibitionist, voluntarily posed for the photo in a public place, and obviously had no expectation of—or desire for—privacy.

The upshot of the release of the photo was that attention was drawn to the policy of allowing city officials in cities served by the LASD to sport deputy sheriff badges.
The policy was ill-advised when instituted by Pitchess and remained ill-advised when perpetuated by Block and Baca. But the Times, in its tiresome quest to pin blame on Baca, whenever it could, unleashed an editorial on July 12, 2012, titled "Sheriff Baca's bad badge policy." A sub-headline (in journalistic parlance, a "deck") reads:
"Baca should have years ago quashed the practice of handing out official-looking Sheriff's Dept. badges to non-department personnel."
The editorial begins with a historical review.
It contends that Baca in 1999 "set up a special reserve program intended to allow celebrities and other notables to receive a badge and a gun in the name of boosting community relations" but the program fizzled after a participant was discovered to have once faced a criminal charge based on brandishing a weapon.
(The editorial doesn't mention that the reservists, in compliance with state law at the time they signed up, underwent 64 hours of training—a substantial period. At the time the program was in existence, the Times carped that these reservists were hurriedly qualified under existing law, rather than waiting until a requirement went into effect in July, 1999, of 162 hours of training.)
The editorial adds that "a scandal erupted in 2006 over Baca's 'Homeland Security Support Unit,' a group of campaign donors and volunteers who were issued department photo IDs and official name tags." That program ended, the editorial says, "shortly after the Board of Supervisors ordered an investigation."
(The Times ignores its own April 7, 2006 news story reporting that the investigation commissioned by the Board of Supervisors showed that it was not the Sheriff's Department that issued those identification cards, but the businessman who headed the group, acting without authority.)

The Times editorial declares that when "problems with official-looking badges arose in other jurisdictions"—that is, in San Bernardino and Riverside counties—"then-Atty. Gen. Jerry Brown issued a ruling that handing out such emblems could violate state law by helping civilians pose as peace officers,"
It recites that the Los Angeles County Sheriff's Department had just recalled about 200 badges issued to local officials, and remarks that this was done "in timing that has raised questions." The editorial continues:
"Sheriff's spokesman Steve Whitmore says the recall decision was made in January in response to Brown's order but, because of bureaucracy, hadn't yet been implemented. Yet an anonymous command-level official told The Times that the decision was made more recently in response to events in Cudahy.
"Either way, why weren't the badges recalled in 2007, when the attorney general ordered it? 'That's a good question,' Whitmore said.
"Yes, we think so too."

Another good question is why the Los Angeles Times never published an editorial decrying "Sheriff Pitchess's bad badge policy"— it was, after all, Pitchess who initiated the bestowing of honorary badges on local officials—or why it never slammed "Sheriff's Block's bad badge policy."
The answer is that Pitchess and Block were in the Times' good graces; Baca wasn't.
In an ideal world, Baca should have ended the policy at the inception of his first term, in 1998. Providing what looks like an honest-to-gosh law enforcement officer's badge to anyone outside the ranks of law enforcement always carries with it the potential of mischief. But with these badges going to mayors, city managers, and city council members, the prospect of the badges affording undue advantages was minimal; the bearers of them already had some clout, by virtue of the offices they held. From that standpoint, the need to end the program would reasonably not have been seen as pressing.
Nonetheless, it cannot be doubted that the flashing of local credentials reflecting membership on, say, the Lakewood City Council, would not have been as prone to deter issuance of a speeding ticket in, for example, Lancaster, as the flaunting of an honorary deputy sheriff's badge.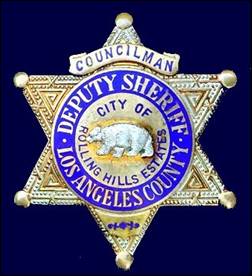 This badge, appearing on badgehistory.com, is of the sort that was provided to Cudahy City Council members.
Also, while a sheriff's spokesperson in 1977 mentioned that an honorary badge given to a municipal official "does not have deputy sheriff written anywhere on it," you'll note that, over the years, the words "Deputy Sheriff" came to be added to such badges.
The Times questions why the city officials' badges were "not recalled in 2007, when the attorney general ordered it?" Hold on. An attorney general supplies opinions to inquiring public officials to guide them; the AG does not issue "orders."

Anyway, here's what Deputy Attorney General Marc J. Nolan concluded on July 30, 2007, in an opinion responding to queries from then-Riverside District Attorney Rod Pacheco:
1. A sheriff's gift of an honorary badge to a private citizen violates California law if (1) the badge falsely purports to be authorized, or would deceive an ordinary reasonable person into believing that it is authorized, for use by a peace officer….
2. A sheriff's gift of an honorary badge to a private citizen does not confer peace officer status on the recipient or give him or her the powers of a peace officer.
3. If a sheriff's gift of an honorary badge to a private citizen violates California law, the sheriff would be subject to civil liability for an injury resulting from the recipient's subsequent misuse of the badge if the injury was proximately caused by the sheriff's own negligent or wrongful act in providing the badge; the county would be subject to civil liability if the sheriff's negligent or wrongful act occurred within the scope of his or her employment.
Nolan, like Parkin in 1977, looked at the overall effect of a badge in determining whether the display of it could constitute impersonation of a law enforcement officer, in breach of Penal Code §538d.
His opinion declares that "the more an honorary badge resembles an authorized peace officer badge in shape, markings, and other indicia that connote genuineness, the more likely the badge will deceive an ordinary reasonable person, and the more likely that a person furnishing or displaying the badge will be found to have violated section 538d."
That honorary badges could fool people into believing that the bearer was a peace officer was hardly a fresh observation. As previously recited here, concerns went back to the late 1800s when public transit companies, obliged under their City of Los Angeles franchises to provide free passage to police, were being fleeced by holders of honorary badges. The LAPD, in fact, periodically changed the design of its badge in the early part of the 20th Century because of the large number of honorary ones that had been handed out by office-holders.
That a sheriff could incur liability based on negligently entrusting a badge to someone apt to misuse it, and who did, in fact, misuse it, causing harm, was not new advice, so far as this county's sheriff was concerned. As recounted here previously, County Counsel Harold W. Kennedy, on Oct. 29, 1962, privately advised Pitchess that, as a subsequent publicly issued opinion memorializes, "under certain circumstances, he could be held liable both personally and on his official bond for the actions of the possessors of his honorary deputies badges."
So it was that Pitchess issued a recall on all outstanding honorary badges…but continued to bestow them when it appeared that exposure to liability was remote, as in the instance of giving them to a prince, or to local public officials. Block and Baca forewent making presentations to princes, but maintained the public relations policy Pitchess started of giving courtesy stars to leaders of municipalities served by the LASD.
This ended when the photo of a bimbo at a bar forced Baca to call a halt to it.
Prospects of our new sheriff, Jim McDonnell, or his successors, renewing a policy of giving out honorary badges appears extremely unlikely. The county of L.A. is seemingly in the same mode now as the City of L.A. has been since 1940.
Copyright 2014, Metropolitan News Company