Wednesday, September 10, 2014
Page 6
PERSPECTIVES (Column)
Reporters in Los Angeles Used to Carry Badges…Which Sometimes Were Misused
By ROGER M. GRACE
First in a Series
The following vintage item, offered for sale on eBay recently, caught my attention:
Was security once so tight that reporters on the DA's beat were required to be issued and to sport a badge? That would have been in marked contrast to the light security in the early 1970s, when I briefly covered that beat for the Herald Examiner; District Attorney Joe Busch, in shirtsleeves, strolled the same hallway as reporters and there was an open door to the office of Chief Deputy John Howard across the hall from the pressroom.
As it turns out, the badge had nothing to do with security. Thanks to Steve Cooley, the immediate past DA, I ascertained the nature of the auctioned item.

Cooley put me in touch with the man who served as his law enforcement liaison, Keith D. Bushey, a retired Los Angeles Police Department commander. Bushey, co-author of The Centurions' Shield: Badges of the LAPD, has a massive collection of law enforcement badges.
What was being offered on eBay, Bushey advises, was actually an uncompleted badge "from the 1930s." He explains, in e-mail correspondence:
"The name of the newspaper would go in the blank panel. [The badges] were issued by the DA to reporters (that he liked!). When completed, with the name of the newspaper, blue hard-fired enamel would fill in the area between the letters, and the badge would be plated in gold."
Bushey provided a photo of a completed badge, from his collection. It's pictured below, at left. The name of the newspaper is not included…but is, in the version next to it, from badgehistory.com.
The badge that he owns, Bushey notes, was conferred on publisher Gordon Hair. I assume it was given to him by Buron Fitts, the DA from 1928-40.
Hair, who lived from 1879-1968, was, though white, the owner of newspapers serving the African American community.
His badge was No. 27. Bushey says he has no idea how many of them were handed out—but it stands to reason that it wasn't many since they went only to journalists.
By contrast, honorary badges presented by city and county officials to political donors and celebrities were given out in the thousands—and those badges, and the controversies they evoked, will be discussed in a future column.

The Van Nuys Valley News issue of July 29, 1965, contains a column by Les Claypool which tells of badges given out to reporters in Los Angeles by the Sheriff's Department and the LAPD. It recites:
Since I came to Los Angeles I have not had a badge except once. I got one from Sheriff Eugene Biscailuz which was exactly like a regular deputy's badge except I believe it said 'Press' on it.
I turned it in voluntarily after the Daily News folded. One day two deputy sheriffs came to the home of a colleague of mine who had been on the late Daily News. The day after it folded they came to his home before dawn and demanded his badge.
He did not mind giving up the badge but he told them he felt that they could have waited until he got up and had a cup of coffee….
I have known many newspapermen who misused badges given them by peace officers. 1 knew one who is now dead who used to carry a gun and when he would call at the home of some citizen in his capacity as a crime reporter. He would scare the wits out of the people by flashing his badge and rattling his gat.
They would tell all they knew and later when real policemen or real deputy sheriffs called they felt they had already talked to the police and that maybe the second guy with a badge was an imposter.
In the days when Frank Shaw was mayor here the Police Dept. issued many badges to the press and hot shot citizens. I remember that as a gag, after Fletcher Bowron was elected mayor in the recall election [in 1938], a man passed a laundry basket around in the Bi1tmore Bowl one night and demanded that every one who had a police badge deposit it in the basket.
You'd be surprised how many badges he got.
The following badge—conferred by the Los Angeles city attorney—was sold on eBay on June 8 for $809.98. According to the listing, it came "from the estate of a well known Los Angeles police reporter" who "began his career in the 1920's."

Art Ryon's Aug 18, 1949 column in the Los Angeles Times tells of the press badge given to him by Biscailuz. It begins:
I want you to know that I now have a deputy sheriff's badge.
And so do about 200 other newspapermen in town.
And I don't quite know what to do with mine. First badge I ever had.
It's big and gold and shiny. It has "Press" on it But, this is in small letters and, If you flash it fast, no one notices. They think you're a real deputy and look for the bulge of a holster under your coat.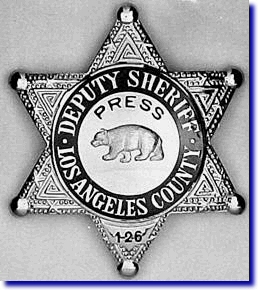 Only I haven't had a chance to flash it on anyone. And probably never will.
Credentials like press cards and badges are great things. We newspaper guys couldn't get along without them.
But, we almost never use them.
At murders, fires, accidents and most of the other things you cover in this business, I cannot recall ever exhibiting credentials to officers in charge.
Ryon notes that he also had a Sheriff's Department press pass, an LAPD press pass, credentials from the California Highway Patrol, a Times ID, a Union Station press pass, and an Elks "courtesy press card," as well as a deputy sheriff's card to go along with the newly acquired badge.
The LASD press pass would have been provided as an indication of official departmental accreditation, as opposed to the gift by Biscailuz of a memento, aimed at ingratiating members of the press to him…albeit a gift that, upon the recipient leaving journalistic employment, could be rescinded
In 1955, Ryon reevaluated the utility of those sheriff's press badges. His June 10 column says:
Nothing like a Los Angeles Sheriff's press badge to get you around.
Al Walker, independent Hollywood newsreel cameraman, writes from Lima, Peru, where he is on assignment by the Peruvian government to photograph the state visit to Peru by the President of Venezuela.
Naturally, Al was loaded down with credentials from the Peruvian government, all sorts of official documents that were supposed to get him anywhere.
Ha!
Everywhere he went he kept running into armed guards who, despite all his credentials, wouldn't allow him to go where he wanted to go. "They mean nothing," the guards told him.
In desperation, Al began flashing his LA. Sheriff's press badge. Didn't have a bit more trouble.
In a Long Beach Press Telegram column of Sept. 4, 1973, George Robeson tells of going through a cardboard box filled with memorabilia, noting:
"I have a badge that says 'police' on it, and it was issued to me in 1959, I think, by the city of Huntington Park. That was in the days when some Southern California cities passed out police badges to guys who worked a police beat for a newspaper and had done fairly well at it for a while."
I don't know when the last press badge in the county was given out, but it was probably not much later than that.



RIBBONS AND PINS: The press badges I've been talking about are those that were cast in medal, resembling peace officers' "shields." Aside from the ornate ones bestowed by public officials as mementoes, there were, from an earlier point in time, those issued for identification purposes by police and fire departments to individual reporters or, in batches, to the newspapers, to distribute to reporters whose beats created a need for them.
The terms "reporter's badge" and "press badge" have been used broadly—including ribbons, buttons, military-like medals, and, modernly, laminated press passes that are clipped or pinned onto clothing or are worn on a loose chain or string around the neck.
Some badges, of both metallic and non-metallic sorts, have been fashioned by the newspapers, themselves; others were provided by those staging events, such as conventions and fairs.
And, there have often been forged badges used by the likes of extortionists or persons desiring free admission to a circus, horse race, or other function.

Here are some descriptions of non-"shield" reporters' badges issued in the past:
Democratic National Convention: "There had been in the outset more delegate and Press badges issued than there should have been, and by an ingenious device of the holders many of them had been made to admit two persons. The holder borrowed the badge of a friend within the hall, went into the streets, adorned some other friend with the ribbon, and bore him triumphantly through lines of ushers and policemen to add one to a crowd already too large for the space it had to occupy." New York Times, July 9, 1868.
An Execution: "Badges of red ribbon with the word 'Press' printed thereon in black had been prepared for the reporters…." The Sedalia (Mo.) Weekly Bazoo, July 26, 1881.
The Iowa State Fair: "The press badges…were red ribbons. Some one suggested these were made so that mad bulls would gore the editors to death. Times-Picayune (New Orleans, Louisiana), Nov. 2, 1881.
International Council Of Women: "[H]is press badge [has] 'Press' in black letters on mahogany ribbon…." The Washington Critic, March 24, 1888.
Grand Army Of The Republic Convention: "The press badge is a button, on which in woven silk is the national shield and the word 'Press'." Evening Star (Washington, D.C.), Aug. 17, 1892.
Republican National Convention: "The press badges are especially rich and unique. The top piece is of gold, and to a ribbon of silk, which bears the proper inscription, is attached a pendant silverscroll and tassel. All of the badges are of ornate design, and will be valuable souvenirs." The Evening Times (Washington, D.C.), June 3, 1896.
Republican National Convention: "I've got positively the loveliest 'press' badge. It's got an American Eagle, a black ribbon, and a figure of Abe Lincoln on it." Earl Wilson column, June 26, 1944.
I still have the press badge issued to me in San Francisco at the GOP national convention in 1964, when I was editing the Trojan Young Republican newspaper at USC. (No, no, please don't tell me that it's been 50 years!) That badge is markedly less elaborate than the 1896 version, or the one from 1944. It's a plastic rectangular pin, only 1

inches deep by 2¾ inches wide. Even in 1964, it could have been said that "things aren't made the way they used to be."
The 2016 "badges" will probably consist merely of a bar code the reporter pulls up on a cell phone and swipes at entrances.

But if pinned-on badges are still in use, I can probably get in.
Rodney Dutcher's June 30, 1932 column in the Niagra Falls (N.Y.) Gazette tells how "Mr. One-Eyed Connelly, the champion gate-crasher of this world," got into the 1932 Democratic national convention, in progress in Chicago: with a badge from the 1928 Democratic conclave.
Columnist Inez Robb was able to top that. In her July 14, 1948 syndicated column, she tells of arriving at the Democratic national convention in Philadelphia.
"I found my press badge and credentials from the recent Republican Convention tucked away in a pocket with some old nylons and mothballs," she writes.
"At the moment, it seemed like a good idea to put on the Republican badge, with its profile of President Lincoln and the Liberty Bell in bold bas relief. I was certain someone would spot the badge, plainly stamped 'Republican National Convention,' within the first 30 minutes."
To the contrary, it went unchallenged.
So, that 1964 GOP convention pin I have just might be all it takes to get into the 2016 conventions of the major political parties.
Hmmm. I wonder if my 1961 University High School press pass, entitling me to walk the halls of the school building at the noon recess, would work.
Next: the history of press badges.
Copyright 2014, Metropolitan News Company