Monday, February 3, 2014
Page 1
C.A. Upholds Conviction in Death of Multimillionaire
By KENNETH OFGANG, Staff Writer
The Fourth District Court of Appeal has affirmed the special-circumstances murder conviction of a woman who was convicted, along with a former pro football player who was her alleged lover, of killing the wealthy man whose home she shared.
Div. Three Thursday rejected Nanette Packard's contention that the 15-year delay between the murder of William McLaughlin and the district attorney's decision to charge her and Eric Naposki with the crime violated her constitutional rights.
Justice William Rylaarsdam said the case was not brought to trial sooner due to normal "investigative delay," prosecutors having determined on two prior occasions that the circumstantial evidence pointing to Packard's and Naposki's guilt was insufficient to obtain convictions.
True Crime Book
The case is detailed in a true crime book, I'll Take Care of You, by Caitlin Rother. The title of the book, recently released in paperback, is taken from a personal ad placed by Packard and responded to by McLaughlin.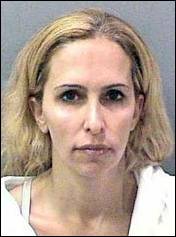 NANETTE PACKARD
Booking Photograph
The murder occurred in 1994 at the residence Packard shared with victim, in a gated Newport Beach community. McLaughlin, an inventor and entrepreneur, was said to have a net worth exceeding $20 million and had made Packard the beneficiary of a $1 million life insurance policy and as trustee of a trust containing the bulk of his assets.
Packard—she was known as Nanette Johnston before she married her second husband, after McLaughlin's death—and Naposki were charged in 2009. Police and prosecutors said they caught a break in the case in 2008 when an investigator learned the identity of a former trainer at a fitness center frequented by Packard and Naposki.
The trainer said the pair worked out together and appeared to be romantically involved. He also said that Packard claimed to have money that was "offshore" and difficult to access, but that she was interested in investing in a project the trainer was developing.
A final break in the case occurred in 2009 when a "cold case" investigator was able to identify a witness who had, years earlier, provided information about the case over the phone but not given her name. She said she knew Packard and Naposki and that the ex-football player told her he wanted to kill a man he called "Bill," who had made sexual advances toward Packard.
The pair were separately tried and convicted of murder. Naposki also received a life-without-parole sentence, an appeal from which is pending.
Argument on Appeal
Packard argued on appeal that the delay in charging her with murder—she was charged with theft and forgery after McLaughlin's death, based on her having taken money from the dead man's checking account and transferred title to a vehicle—was deliberate and prejudicial. Had she been charged sooner, it was argued, she could have obtained records to corroborate Naposki's claim that he made a call from a pay phone in Tustin around the time of the murder, strengthening his alibi and weakening the case against her.
Rylaarsdam, however, said there was neither bad faith nor prejudice. Police testimony showed that the Newport Beach Police Department made a significant effort to investigate the case to finality. He also said the trial judge was correct in finding that the claim of prejudice was speculative, and that Naposki and Packard both knew they were suspects not long after the murder, and thus had incentive to document an alibi.
He wrote:
"Defendant argues that if she had access to this documentation, it would have changed her entire defense from claiming Naposki committed the murder alone, to asserting he did not kill McLaughlin. Considering the very strong evidence produced at trial pointing to Naposki as the murderer, this contention is unpersuasive. Even assuming Naposki stopped to make the phone call, the prosecution presented testimony that he could have reached McLaughlin's home in time to commit the murder. "
The case is People v. Packard," G046934.
Copyright 2014, Metropolitan News Company