Tuesday, April 1, 2014
Page 1
U.S. Senate Confirms John B. Owens to Ninth Circuit
By a MetNews Staff Writer
The U.S. Senate yesterday filled the nation's longest-existing judicial vacancy, confirming John B. Owens to the Ninth U.S. Circuit Court of Appeals by a vote of 56-43.
Sens. Johnny Isakson and Saxby Chambliss of Georgia, who have been involved in efforts to fill judicial vacancies in their home state through bipartisan agreement, were the only Republicans to support the nomination. The seat has been vacant since Judge Stephen Trott took senior status in 2004.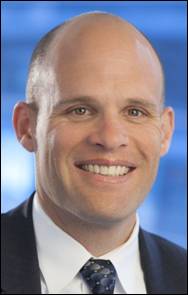 —Munger Tolles & Olson
JOHN B. OWENS
Ninth Circuit Judge-Designate
The nomination of Owens, a Los Angeles-based litigation partner in Munger, Tolles & Olson, drew fire for reasons unrelated to the nominee. Senators from Idaho contended that the seat should go to a resident of that state because Trott's chambers are in Boise and the state will be left with only one active resident circuit judge.
Sen. Dianne Feinstein, D-Calif., has rejected the argument throughout the debate. In remarks on the Senate floor Thursday, she reiterated what she had previously told her fellow members of the Judiciary Committee—Trott is not licensed to practice in any other state and spent his entire practicing career in California before going to Washington, D.C to serve in the Reagan Justice Department; his predecessor, Judge Joseph Sneed, was a Californian; and a Republican senator from California, S.I. Hayakawa, recommended him for the seat while the other Republican California senator at the time, Pete Wilson, introduced him at his confirmation hearing.
Trott's "personal choice" to relocate to Boise, was "essentially an arbitrary occurrence," and "cannot result in a State losing a judgeship to another State," Feinstein said.
Senators from other states, she said, have zealously guarded their prerogative of recommending nominees to fill circuit judge vacancies when the previous occupant of the seat was from their state.
"This might sound like inside baseball to some," she commented, "but it is fundamental to the Senate's advice and consent role, and no Senator of either party would allow the arbitrary occurrence of a judge's personal choice of residence to remove a judgeship from the Senator's home State. This is a precedent this body cannot allow to be set."
She called her colleagues' insistence on Idaho keeping two seats on the circuit "ridiculous," noting that Montana and Hawaii have only one judge each, even though they generate more appeals than Idaho.
"Nothing supports removing this seat from California to Idaho—not history, not population, not caseload," she said. "Nothing."
She also noted her cosponsorship of the Federal Judgeship Act of 2013, which would create 65 new judgeships recommended by the Judicial Conference, including one for Idaho.
At the time Trott took senior status, Idaho was the only state in the circuit without an active, resident circuit judge, as Judge Thomas G. Nelson, since deceased, had taken senior status in November 2003. Then-President George W. Bush, who had nominated Boise attorney William G. Myers III to succeed Nelson, tapped N. Randy Smith, then a state trial judge in Idaho, to succeed Trott.
Democrats, however, filibustered Myers on ideological grounds and objected to Smith on the ground that the seat should go to a Californian. After Democrats won control of the Senate in the November 2006 elections, the president did not resubmit Myers' nomination, withdrew Smith's nomination to the Trott seat, and replaced Myers with Smith as the nominee for the Nelson seat.
Smith subsequently won confirmation by a vote of 94-0.
Sen. Patrick Leahy, D-Vt., the Judiciary Committee chair, treated the Trott seat as a California seat for purposes of the "blue slip" process, by which a confirmation hearing is scheduled upon the approval of the two senators from a nominee's home state.
Owens, 42, is a former federal prosecutor in Los Angeles and San Diego, where he headed the Criminal Division before joining Munger Tolles in January of last year.
He is a UC Berkeley and Stanford Law School graduate and, according to his firm profile, "specializes in anticipating the government's investigative, trial and settlement strategies and mapping out the client's best response, both inside and outside the courtroom." His clients include the drilling company Transocean, which he and others at the firm represent in the criminal investigation arising from the April 20, 2010 oil spill in the Gulf of Mexico.
He once worked in the publicity department of the Golden State Warriors basketball team. When asked for a listing of his published works, as a routine part of the confirmation process, he included a number of articles on basketball, in addition to his legal writings.
Copyright 2014, Metropolitan News Company