Wednesday, September 10, 2014
Page 1
Los Angeles Superior Court Judge Steven Ogden to Retire
By a MetNews Staff Writer
Los Angeles Superior Court Judge Steven D. Ogden is retiring this month, the judge said yesterday.
Ogden, 70, has spent his entire judicial career in the Antelope Valley and said he will continue to work right up until his retirement date of Sept. 24.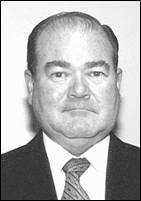 STEVEN D. OGDEN
Los Angeles Superior Court Judge
Ogden was elected to the old Antelope Municipal Court in 1998 and became a Superior Court judge through unification in 2000. After 16 years on the bench, retirement will give him "more time to do the things I want to do," including finishing work on his house, traveling, playing golf, and woodworking.
The judge said he had inquired about obtaining a leave of absence, but was told that was not an option. (Some local judges have taken unpaid leave to run for other offices or to take advantage of educational opportunities, pursuant to specific constitutional and statutory provisions.
Ogden said he would consider sitting on assignment, if the opportunity were to present itself. As a former prosecutor who spent his entire judicial career in criminal law, he said, he has "absolutely no interest" in private judging.
"I enjoyed my time on the bench and as a deputy district attorney," he commented. "I had no complaints about coming to work every day. I didn't look forward to Friday and I didn't regret Monday. I was always ready to go to work."
Ogden is a graduate of Occidental College, where he majored in psychology, and of UCLA Law School, having supported himself by driving a newspaper delivery truck during his school days, and continuing to do so after passing the bar.
He once explained to an interviewer:
"I was about to ask this girl I was dating to marry me, so I finally went to a lawyer and asked him if he would hire me. He said that he couldn't afford to train me, but if I worked for the DA for a year, he would take me in. I was totally convinced I didn't want to be a district attorney, but went in for an interview anyway."
Ultimately, he completed the story, "the DA hired me, the girl said no, and I stayed with the DA for 29 years, 10 months and two weeks. My truck driving days were over."
After working 14 years downtown and seven more in San Fernando, Pasadena, and Van Nuys. He then transferred to Lancaster, where he spent the nine years preceding his election to the bench.
As a judicial candidate, he gained the support of influential Lancaster attorney—and now Lancaster mayor—R. Rex Parris and topped a field of four that included a current Superior Court judge, Joel Wallenstein, who was a referee at the time. As a Superior Court judge, he served as North District supervising judge in 2002 and 2003—overseeing the court's move into the Michael D. Antonovich Antelope Valley Courthouse—and also served on the court's Executive Committee.
Copyright 2014, Metropolitan News Company