Friday, September 5, 2014
Page 1
Services Set for Former Presiding Judge Harry V. Peetris
By a MetNews Staff Writer
Services are scheduled in Las Vegas tomorrow for Harry V. Peetris, a onetime Los Angeles Superior Court presiding judge.
A family spokesperson said Peetris died Aug. 15 at the age of 94.
Peetris retired from the court in December 1984 after serving as presiding judge, and on the California Judicial Council, for two years. He subsequently became a private judge, and also served as a special master for state and federal trial courts in complex environmental cases.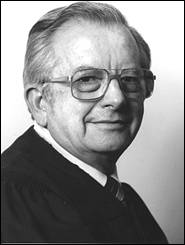 HARRY V. PEETRIS
1919-2014
Peetris was born in Chicago, but his family moved to the San Fernando Valley when he was young. He graduated from North Hollywood High School, majored in accounting at USC, graduating in 1941, and started law school there.
He took a part-time clerical job at the FBI during that time, but with World War II raging, he was hired fulltime at the bureau as a special agent. His assignments, he once told a reporter, included counterintelligence activities to protect the development of the first atomic bomb.
Back to School
After the war, he worked in family-owned businesses for two years before returning to law school at USC and graduating in 1950. After starting a solo practice, and later working for a law firm with some other former agents, he joined an East Los Angeles civil firm that became Munnell, Mullendore, Peetris & Arguelles, where he concentrated on personal injury work and business law.
All four of the name partners eventually became Los Angeles Superior Court judges. John Arguelles, later a state Supreme Court justice, is the lone survivor of the four.
Arguelles, several years younger than the others, said yesterday that the relationship among them was one of "the greatest respect." Peetris, he said, was "a very effective civil litigator and a great administrator," whose election as assistant presiding judge and presiding judge reflected the esteem he was held in by his colleagues.
Peetris, he added, "was always a gentleman, very professional, soft-spoken and deliberate, but capable of being decisive." He could not, Arguelles said, remember Peetris uttering "a cross word in the time we were practicing together."
Traffic Court Start
Peetris was named to the Los Angeles Municipal Court by then-Gov. Pat Brown in 1962, sitting in traffic court before moving on to misdemeanor trials and felony preliminary hearings. He also joined a group of bailiffs who competed at marksmanship, and was the first judge in the county to receive the Sharpshooter's Medal of the County Marshal's Association.
He was elevated by Brown to the Superior Court in 1964, and assigned to the mental health court. He also did settlement conferences in personal injury cases, and was eventually transferred to Glendale, where he served as supervising judge of the North Central District before returning to the mental health court in 1968.
His subsequent assignments included the criminal master calendar court in Van Nuys, where he also tried cases, particularly those involving mental health defenses. The Los Angeles Trial Lawyers Association honored him in 1979 with its President's Award, and with the Chief Justice Roger H. Traynor Award in 1981.
His work after retiring from the court included overseeing implementation of the consent decree that resolved a dispute over safety at the Mobil refinery in Torrance and serving as special master in the long-running battle over the cleanup of Riverside County's Stringfellow acid pits and in a suit between the federal government and eight compenies that allegedly polluted ocean waters with toxic chemicals.
Copyright 2014, Metropolitan News Company