Tuesday, August 12, 2014
Page 1
Ninth Circuit Revives Claim That Guard Violated Prison Inmate's Rights by Reading Legal Mail
By KENNETH OFGANG, Staff Writer
The Ninth U.S. Circuit Court of Appeals yesterday revived a Death Row inmate's claim that a prison guard illegally read his confidential letter to counsel.
Scott Nordstrom, sentenced to death more than 16 years ago in Arizona, alleges his Sixth Amendment right to counsel was violated in 2011 when a guard read a letter Nordstrom had written to his court-appointed lawyer and clearly marked as "legal mail." According to news accounts, Nordstrom and another man killed multiple victims in two Tucson robberies staged two weeks apart in 1996.
Nordstrom argued that the guard had gone beyond scanning the contents of the letter for references to contraband or safety issues.
U.S. District Judge David Campbell, screening the complaint prior to an answer being required under the Prison Litigation Reform Act, dismissed Nordstrom's lawsuit for failure to state a valid claim, but a divided three-judge panel of the Ninth Circuit reversed yesterday and sent the case back to the district court.
'Inspect' Versus 'Read'
Prison officials may "inspect" outgoing mail but cannot "read a confidential letter from an inmate to his lawyer," Judge Barry Silverman wrote for the majority.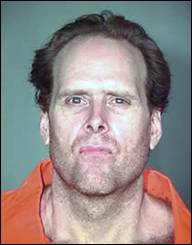 —Arizona Department of Corrections
SCOTT NORDSTROM
Death Row Inmate
"This is because it is highly likely that a prisoner would not feel free to confide in his lawyer such things as incriminating or intimate personal information—as is his Sixth Amendment right to do—if he knows that the guards are reading his mail," Silverman explained. "Reading legal mail—not merely inspecting or scanning it—is what Nordstrom alleges the Department of Corrections is doing, and it is what he seeks to enjoin. We hold today that his allegations, if true, state a Sixth Amendment violation."
He cited Wolff v. McDonnell (1974) 418 U.S. 539, explaining:
"In Wolff, the Supreme Court upheld a Nebraska prison regulation that allowed prison officials to open and inspect—but not read—legal mail sent to an inmate[.]
Prison officials argued that guards could legally read an inmate's communications to a lawyer in the presence of the inmate, a contention the judge rejected. The defendants, he said, "fail to explain how that practice ameliorates the chilling effect likely to result from an inmate's knowledge that every word he writes to his lawyer may be intercepted by prison guards and possibly used against him."
Reason for Rule
The reason for requiring that an inmate be present when his legal mail is opened is "to prevent officials from reading the mail in the first place," the judge wrote.
"Nordstrom's allegations that prison officials read his legal mail, that they claim entitlement to do so, and that his right to private consultation with counsel has been chilled state a Sixth Amendment claim," Silverman wrote, adding that Nordstrom also had made a proper claim for injunctive relief related to this policy.
Judge William A. Fletcher concurred in the opinion.
Writing in dissent, Judge Jay Bybee argued that the majority had misinterpreted Wolff, and that Nordstrom had failed to show he was injured in any way by the single incident.
"In my view, the Sixth Amendment does not prevent prison officials from reading legal letters with an eye toward discovering illegal conduct," Bybee wrote. "Furthermore, claims under the Sixth Amendment require proof of actual injury, and Nordstrom does not allege any."
Emphasizing that the high court in Wolff upheld the actions of prison officials, Bybee wrote:
"[U]nder Wolff, reading is a necessary, but not sufficient, condition for censorship and the chilling of legal communications. By disregarding the logical relationship between these concepts, the majority commits the fallacy of denying the antecedent and arrives at a conclusion that is at odds with Wolff itself, which recognized that 'perusal' of legal letters is permissible, at least under certain circumstances."
The case is Nordstrom v. Ryan, 12-15738.
Copyright 2014, Metropolitan News Company