Thursday, June 12, 2014
Page 1
Supreme Court Denies Request to Publish Ruling in Former UCLA Basketball Player's Defamation Lawsuit
By a MetNews Staff Writer
The California Supreme Court yesterday declined to order publication of a Court of Appeal ruling that allows a former UCLA basketball player to sue Time Inc. over a critical story that appeared in Sports Illustrated.
The justices, at their weekly conference in San Francisco, voted unanimously to deny the request by attorneys for Reeves Nelson. While court rules allow the Supreme Court to order publication of Court of Appeal opinions where the panel has denied certification, such requests are rarely granted.
Div. Four ruled March 11 that Nelson had established a prima facie case of defamation and false-light invasion of privacy, and that Los Angeles Superior Court Judge Mary Ann Murphy erred in granting the defendant's anti-SLAPP motion.
The story by George Dohrmann appeared in March 2012. It said that Nelson, who had been dismissed from the team, was the "ringleader" of a band of undisciplined freshman athletes whom coach Ben Howland couldn't or wouldn't control, leading to a failed season.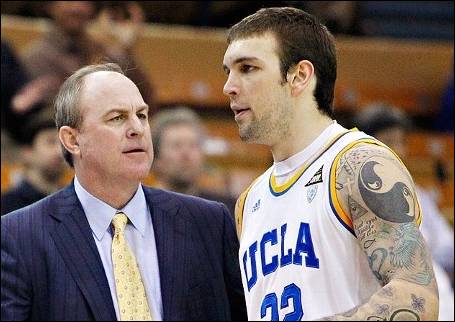 —AP
UCLA coach Ben Howland and Reeves Nelson are pictured during a UCLA basketball game.
After leaving UCLA, Nelson played for a pro team in Lithuania for five weeks, returning to await the results of the 2012 NBA draft. When no team selected him, he tried unsuccessfully to catch on with the Los Angeles Lakers, then played in the NBA Development League.
The website LatinBasket reported that he played this year for a team in Nogales, Mexico.
The story claimed Nelson had been involved in numerous incidents in which teammates were physically attacked or otherwise demeaned. He supposedly deliberately injured teammates during practice; urinated on a fellow player's bed; pulled on a player's arm, reinjuring the man's surgically repaired shoulder; knocked another teammate to the ground from behind, injuring his back; and injured another player by elbowing him in the ribs, all of which he denied.
Nelson further denied Dohrmann's assertion that he had admitted those allegations and apologized for them when he said:
"On all that stuff, I have no trouble admitting that I lost control of my emotions sometimes. I take responsibility for my actions. I'm really just trying to learn from the mistakes I made on all levels."
Dohrmann and his editor both filed declarations insisting that the story had been carefully and accurately sourced.
Los Angeles Superior Court Judge Lee Edmon, writing for the Court of Appeal while sitting on assignment, agreed with the trial judge that the plaintiff was a limited purpose public figure who must prove actual malice in order to prevail. But Edmon also concluded that Nelson had a prima facie case because if he can prove that he never admitted to or apologized for the alleged misconduct, he will have established falsity and actual malice.
She cited Masson v. New Yorker Magazine (1991) 501 U.S. 496, in which the high court held that a psychoanalyst who had been interviewed by a reporter regarding his relationship with the Sigmund Freud archives had established a prima facie case of defamation, based on evidence that his remarks had been taken out of context and quotation marks used around comments that he had not made.
Edmon wrote:
"Crediting (as we must for anti-SLAPP purposes) Nelson's account of the interview, we conclude that Dohrmann's statement that Nelson confirmed some of the incidents described by the article and expressed regret would support a finding of actual malice. As in Masson, the alleged falsity is not the words spoken by Nelson, but the context in which the words are placed. As reported by Dohrmann, Nelson appears to be admitting and apologizing for each of the incidents described in the article. But Nelson says these incidents never happened and more significantly for our analysis that Dohrmann never asked him about them. Although Nelson concedes he made the quoted statement, he says it was in response to Dohrmann's inquiry as to how he felt about his suspension and expulsion from the team, not an inquiry about the particular incidents described in the article. This difference is material because it significantly changes the meaning of Nelson's admission and apology. As such, it would support a finding of actual malice."
The case is Nelson v. Time, Inc., B245412.
Copyright 2014, Metropolitan News Company