Monday, September 15, 2014
Page 1
C.A. Affirms Murder Conviction of Former NFL Player
By KENNETH OFGANG, Staff Writer
The Fourth District Court of Appeal has affirmed the special-circumstances murder conviction of a former pro football player in the killing of the man with whom his alleged lover was living.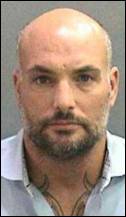 ERIC NAPOSKI
Convicted Murderer
Div. Three Thursday rejected Eric Naposki's contention that the 15-year delay between the murder of William McLaughlin and the district attorney's decision to charge Naposki and Nanette Packard with the crime violated his constitutional rights.
Packard was convicted in a separate trial, and was sentenced to life imprisonment without possibility of parole, as was Naposki. Her conviction was affirmed by the same appellate panel earlier this year.
The case is detailed in a true crime book, I'll Take Care of You, by Caitlin Rother. The title of the book, released earlier this year in paperback, is taken from a personal ad placed by Packard and responded to by McLaughlin.
The ad read:
"WEALTHY MEN ONLY – SWF, 25, 5'5", 100#, classy, well-educated, adventurous, fun and knows how to take care of her man. Looking for an older man, 30+, who knows how to treat a woman. You take care of me and I'll take care of you."
Rich Man
Packard was living with victim at his home in a gated Newport Beach community. McLaughlin, an inventor and entrepreneur, was said to have a net worth exceeding $20 million and had made Packard the beneficiary of a $1 million life insurance policy and as trustee of a trust containing the bulk of his assets.
Naposki, who played linebacker for New England and Indianapolis in 1988 and 1989, and for Barcelona of the World League in 1991 and 1992, and again in 1996 and 1997, later worked in security. On the night McLaughlin was killed, Naposki was working a job near the McLaughlin home.
Packard—she was known as Nanette Johnston before she married her second husband, after McLaughlin's death—and Naposki were charged in 2009.
Police and prosecutors said they caught a break in the case in 2008 when an investigator learned the identity of a former trainer at a fitness center frequented by Packard and Naposki.
The trainer said the pair worked out together and appeared to be romantically involved. He also said that Packard claimed to have money that was "offshore" and difficult to access, but that she was interested in investing in a project the trainer was developing.
Further Break
A further break in the case occurred in 2009 when a "cold case" investigator was able to identify a witness who had, years earlier, provided information about the case over the phone but not given her name. She said she knew Packard and Naposki and that the ex-football player told her he wanted to kill a man he called "Bill," who had made sexual advances toward Packard.
Then in 2010, Packard's ex-husband, Ross Johnston, told police that in a phone conversation in 1994, the day after the murder, Packard told him that Naposki had been with her at a soccer game the night of the killing, but that he was "not involved," and asked him not to mention Naposki to the police.
Johnston had previously mentioned the phone call, but not the request that he not mention Naposki, to police.
As in Packard's case, Justice William Rylaarsdam, writing for the Court of Appeal, concluded that the delay in charging the pair was neither deliberate nor prejudicial, and was based on legitimate investigative needs.
Prosecutors, he noted, had determined on two prior occasions that the circumstantial evidence pointing to Packard's and Naposki's guilt was insufficient to obtain convictions, even though the pair had been suspects since shortly after the murder.
Naposki, he said, would have been charged sooner had police been aware of the identities of the personal trainer and the previously anonymous neighbor, if they had known that Naposki had told the neighbor where a key found in the front door of the residence after the murder was made, and if Packard had not "attempted to suppress the fact that defendant was with her on the night of the murder."
The case is People v. Naposki, G047282.
Copyright 2014, Metropolitan News Company