Monday, January 13, 2014
Page 1
Carol Najera Maps Second Run for Superior Court
Sources Say Prosecutor Plans to Challenge Judge James Pierce
By a MetNews Staff Writer
Los Angeles Deputy District Attorney Carol Najera has taken the first steps toward running for the Los Angeles Superior Court.
Najera could not be reached for comment, but sources, who asked not to be named, said she is laying the groundwork for a challenge to Judge James Pierce, who sits in Long Beach.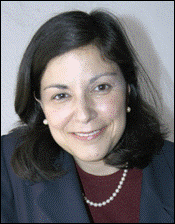 CAROL NAJERA
Los Angeles Deputy District Attorney
This would be Najera's second campaign for judgeship. In 2004, she ran unsuccessfully for the seat left open by Judge James Wright, which was ultimately won by Donna Groman.
Najera has established a campaign website, Facebook page, and Twitter account, and is soliciting donations, although she does not have a campaign account, according to the Secretary of State website.
Najera has been a deputy district attorney for over 28 years, working in the major crimes unit and organized crime and anti-terrorist divisions. She has served as deputy-in-charge of the office in Bellflower and as assistant head deputy for the Pomona office.
She was one of two prosecutors who secured the convictions in the trial of the Menendez brothers, Lyle and Erik, for the murders of their parents. The jury rejected the brothers' claims of self-defense and convicted them of the premeditated murders of Jose and Kitty Menendez in their Beverly Hills home.
The brothers had previously been tried with different prosecutors and separate juries, both of which deadlocked.
In 1997, she served on the state's Task Force on Jury Instructions.
During her 2004 campaign, Najera was rated "not qualified" by the Los Angeles County Bar Association Judicial Evaluations Committee. She had been tentatively rated "qualified," but was downgraded after she appealed—an unusual, but not unprecedented, event.
She suggested that rating might have been a produce of bias on the part of criminal defense lawyers on the committee. But Deputy District Attorney Richard Ceballos—whose retaliation suit against former District Attorney Gil Garcetti and others, including Najera, went to the U.S. Supreme Court before being dismissed—later said he gave input to the ratings committee.
Ceballos claimed that Najera "verbally reprimanded and berated" him, and played a role in his reassignment from homicide to misdemeanor duty, because he had blown the whistle on law enforcement officers he believed had lied in one of his cases.
Najera finished third in the primary, with about 20 percent; Groman received 29 percent and went on to defeat Judith Meyer, the primary frontrunner in November.
Meyer was elected to the court two years later.
Pierce was said to be in trial and could not be reached for comment late Friday. But a judge who knows both Najera and Pierce, and who asked not to be named, said Najera "hates" the incumbent and "thinks he's a terrible judge."
That judge further explained that Pierce is "old school" and "runs a tight ship" and has both supporters and detractors among the local bar. Najera works in Long Beach, but it was not immediately clear whether she has appeared in front of Pierce.
Najera received her law degree from the University of Southern California, where she was a member of the Hale Moot Court Honor Society.
Najera tweeted on Dec. 18 that she had obtained "the Association for Deputy District Attorneys' endorsement." She more recently tweeted that she will kick off her campaign at an event in Long Beach Jan. 23.
Pierce was appointed to the bench by then-Gov. George Deukmejian in 1989, who had appointed him to the Long Beach Municipal Court the previous year. He was previously a Los Angeles Superior Court commissioner.
Copyright 2014, Metropolitan News Company