Tuesday, January 21, 2014
Page 1
Deputy District Attorney Serena Murillo Says She Will Take Second Shot at Election to Bench
By KENNETH OFGANG, Staff Writer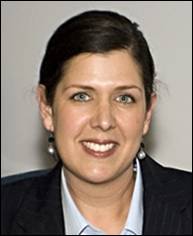 SERENA MURILLO
Deputy District Attorney
Deputy District Attorney Serena Murillo said Friday she intends to run for the Los Angeles Superior Court for the second time.
Murillo Thursday was issued papers to seek signatures in lieu of a filing fee for the seat of Los Angeles Superior Court Judge Daniel Lopez, 61. Lopez, a judge since 1989, could not be reached for comment, but Murillo said it was her understanding that he would not be running for reelection.
Lopez is currently assigned to the West Covina courthouse, as is Murillo's husband, Superior Court Judge Christian Gullon. In other news, Deputy District Attorney Ann Park, who had previously said she would run but had not specified for which seat, took out papers to run for the post now held by Judge Arthur M. Lew.
Murillo's campaign consultant and treasurer is David Gould, who is advising six other deputy district attorneys seeking election to the court. Gould said he expects there to be about a dozen open seats on the June ballot.
Murillo ran for the court in 2008, losing to then-Commissioner Harvey Silberman. That judicial contest was among the most controversial in recent years.
Murillo claimed that she was offered money to cover her filing fee, or perhaps a candidate statement in the official ballot pamphlet, if she would run against somebody else. That accusation spawned an investigation, begun by the District Attorney's Office and later taken over the Attorney General's Office, and resulted in Silberman and two campaign consultants being indicted on bribery charges.
The consultants pled no contest to lesser charges and testified against Silberman, who steadfastly maintained that he never authorized anyone to offer Murillo an inducement to get out of the race. He was acquitted and returned to the bench.
Murillo, who polled 48 percent of the vote against Silberman, said after the election that the experience was so distasteful she would never run for office again. Friday, she said she was looking forward rather than back, and that "I think I'm a much better candidate as a result" of her prior experience.
Murillo was born in Pomona and grew up in Chino. The eldest of four children, she played 17 years of competitive basketball and was the first in her family to go to college.
She played basketball at Chino High School, where her father was coach for 29 years. She led her team to the California Interscholastic Federation championship as team captain in 1988, then played Division III basketball at UC San Diego after briefly attending Brown University.
She obtained her law degree from Loyola Law School in Los Angeles in 1996. She was admitted to the State Bar in November 1996, and was an associate in the West Los Angeles civil firm of McNicholas & McNicholas until 1997, when she became a deputy district attorney.
Her assignments have included juvenile court, misdemeanor trials, Central Trials, Major Fraud, and presently appeals. She is presently scheduled to argue before the state Supreme Court Feb. 4 in the high-profile case of Anna Nicole Smith's former agent/domestic partner, attorney Howard K. Stern, and her psychiatrist, Dr. Khristine Eroshevich.
Stern was found guilty of giving false names and acting by fraud to obtain prescriptions, while the doctor was found guilty of multiple charges, including unlawfully prescribing Vicodin by fraud. The issues on appeal include whether a defendant can be retried where the trial judge finds there was insufficient evidence to support the jury's guilty verdict, but an appellate court finds that the evidence was sufficient.
With Murillo and Park now targeting seats, there are nine deputy district attorneys who have done so.
The others are Andrew Cooper, seeking the seat of Judge Jessica Silvers, who is retiring Feb. 20; Stacy Okun-Weise, who is running for the post from which Judge Bruce Minto is retiring—a court spokesperson said Friday that Minto would sit for the last time Jan. 31 and officially retire at the end of March—; Alison Matsumoto Estrada, who has targeted the seat being left open by Judge Harvey Giss, Donna Hollingsworth Armstrong, who hopes to succeed Judge Carlos Uranga; Chris Frisco, who is running for the seat of Judge Joseph Di Loreto, who is not running for reelection; Teresa Magno, who is running for the seat of Judge David Milton, who is retiring Feb. 19; and Amy Carter, who is running for the seat of Judge Michael Solner, who is also retiring Feb. 19.
In addition, Deputy District Attorneys Dylan Mathai and Carol Najera say they will run, but have not designated a seat. Private attorney Douglas Weitzman said on a legal website that he plans to run, for what would be the fifth time.
Copyright 2014, Metropolitan News Company