Wednesday, December 3, 2014
Page 4
Text of Remarks by Los Angeles County Sheriff Jim McDonnell
Thank you, [District Attorney] Jackie [Lacey], for that gracious introduction. You have been an incredible friend throughout this extraordinary journey that I never would have imagined I would find myself on. I look forward to the close working partnership we will forge in the years ahead.
Today, I have taken an oath to "support and defend the Constitution" as the 32nd sheriff of Los Angeles County. These words bind me to a long history dating back to the first generation of peace officers who brought the rule of law to an unsettled territory. They also bind me to every one of the over 18,000 dedicated men and women in the Los Angeles Sheriff's Department.
To them, let me be clear: Today, I am here to commit myself to the future of the Los Angeles Sheriff's Department. That future, our future, will close the door on divisions and factions. It is a future that will be built upon the bedrock of this department's values: integrity, accountability and service.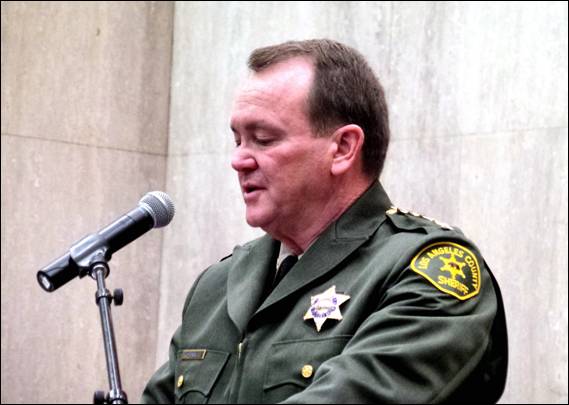 —Staff Photograph
Sheriff Jim McDonnell presents remarks in the Board of Supervisors' Hearing Room after being sworn into office by District Attorney Jackie Lacey.
Integrity: It is more than a job well done; it is our character, our ethics and our commitment to the humane treatment of those under our authority and care. It is who we are.
Accountability: We will stand tall and account for what went well, what didn't, and how we can improve—both individually and collectively. How we treat people will define us every bit as much in the eyes of our community, as the results that we achieve.
We will also continue our tradition of service: by effectively fighting crime, and also working with our community and other partners to prevent crime and proactively address the reasons underlying it.
While today I stand before you ready, humbled and honored to undertake these new challenges, I still find it hard to believe that I am truly in this moment.
For the last three decades, I have been privileged to devote my life to the service of others, as many of you here have as well. I came to Southern California almost 34 years ago, the son of immigrants who grew up in a working class neighborhood in Boston, just a stone's throw from Fenway Park. I came here with little more than a dream and desire to protect and serve the community.
During my decades in local law enforcement here in L.A. County, I worked closely with the men and women of the Sheriff's Department. I came to respect the dedication all of you bring to this complex, and far too often dangerous job. And I also watched you go through intensely difficult times.
'Uncertainty,' 'Trauma'
This organization has been through a long period of uncertainty and trauma—too long.
I have seen the despair in many of you who sought to rise above the divisions and the turbulence of recent years. Many of you felt you were being asked to choose between what was best for the organization and what was best for a few people who were only trying to serve themselves. I am telling you that as of today, those days are gone.
You have been through a Civil War that has torn the department apart. But repairing this divide will bind us together.
Now is the time for us to move beyond past divisions and fractures, to heal, and to emerge as a better and stronger organization. Today, we have the opportunity to start fresh, to hit the reset button and to welcome in a new era at the Sheriff's Department.
The opportunities ahead of us will dwarf the feuds and slights of the past. We will succeed, but only by coming together.
As we move ahead, we must not forget the proud traditions and history of this department that dates back over a century and a half.
Many have served this department honorably and with great pride. And too many have, tragically, sacrificed their lives in service to this department and our community.
I feel privileged to be taking the helm of the Los Angeles Sheriff's Department and to have received a strong vote of confidence from the voters, enabling me to serve as their, and your, 32nd sheriff. Yet to the members of this department, let me be clear—it is your vote of confidence and your respect that I intend to earn as I chart our organization's bright future.
The Los Angeles Sheriff's Department stands alone. Its history, the breadth of its responsibilities, and the unique leadership role it has within law enforcement locally, nationally and throughout the world is—and should be—second to none.
We have over 18,000 employees spread out over a county larger than some states and providing law enforcement services to millions. (Indeed, if our county were a state. we would be the eighth largest in the nation!)
Our deputies stand guard in the open desert and in neighborhood streets, on mountain peaks, in ocean waters and in underground tunnels. They respond to cries for help and chase shadows through the night.
They make difficult decisions, often under tremendous stress and at great personal sacrifice. They are often (and appropriately) second-guessed for years about what they had to decide in a matter of seconds.
They carry through their careers the lives of those they could not save. Of partners who were struck down, but never forgotten. And they come to work the next day, once again ready to protect those in need and to serve our community and its residents.
LASD stands alone in the magnitude, complexity and sheer diversity of work that its deputies and professional staff undertake every day—day in, and day out.
We don't simply accept, but rather we embrace, these obligations. But let us agree that we can, we will, and we must set the bar high in all that we do. We will stand for the best of what law enforcement can—and should—be about.
None of us—neither you nor me—should settle for "good enough."
Setting Sights High
We need to strive for excellence in our hiring and create promotion and career paths that reward merit; make clear that you will be judged by how you perform, not whom you know; and enable the right people to be hired for and placed into the right positions.
This must become an agency of choice for the best and the brightest our community has to offer and a department that reflects the rich diversity of our community.
We must be a leader in law enforcement's responses to major emerging criminal issues such as cybercrime and human trafficking.
We need to invest in training and supervision that is second to none and that gives our deputies the tools they need to navigate a job that gets harder every day.
We must ensure that in fighting crime, all of us—and particularly our new deputies—do not lose sight that their first job is to defend and uphold the Constitution.
And we must continuously earn the trust of our community: through our actions; through accountability and transparency; and through ownership of the good news as well as the bad. And let me be clear that, as your sheriff, I want to hear both the good and the bad news. No leader can fix things he doesn't know about or that subordinates are afraid to tell him.
The LASD should be the flagship for law enforcement in the nation. We owe it to ourselves to be the best. And we owe it to our community to be the best—not simply in terms of crime metrics, but also in respect for all.
Throughout my campaign I often spoke about restoring the shine to the badge. From time to time, some deputies said that this language offended them—that their badges had never lost their luster and it was just a few rogue others whose badges were dull. And I appreciate what they were saying.
Yet the public sees just one badge: the one on every deputy's uniform; the one on the side of every black-and-white; and the one that has been diminished in the eyes of some by events of the past that we need to put behind us.
We are one department. Each of us will be successful only if all of us are successful.
I have heard many times over the past year that the men and women of the LASD are ready to move forward, to meet the challenges ahead, and simply need clear and firm direction regarding what is expected of them.
Words to Deputies
So allow me for a moment to speak directly to the men and women of the Sheriff's Department….
As we begin this new chapter, I want to be crystal clear about my expectations of you, as well as what you can expect of me:
•We will set aside disputes and factions of the past and focus, together, on our core mission and building our future.
•We will identify and build upon our strengths, and also be equally forthright in identifying—and working to address—our weaknesses.
•We know that Patrol is important, but so is Custody. We will treat Custody as an equally vital mission of the department and respect this key aspect of our work, just as we respect those entrusted to us and in our care within our jails.
•We will welcome the watchful eye of our community and work with our federal partners to address past problems. We will embrace oversight as a mechanism to help us move beyond our challenges and to help achieve our shared goals.
•We will develop a culture in which career paths and promotions in the department are the result of character, competence and compassion, as performed with a sense of humility and based on a foundation of respect.
•Everyone will be afforded a fair chance to succeed and merit, not external considerations, will serve as the guideposts for success in this department.
To the men and women of the Sheriff's Department, let me remind you that you have the greatest job in the world: you get to serve the public and know, every day, that you have made a difference in someone's life. This is something many go their entire careers without ever being able to say.
Ours is a noble profession and a sacred duty. Yet with such privilege and power comes tremendous responsibility.
Personal Pledges
So what can all of you, in turn, expect of me?
I will make personal integrity, in the service of constitutional policing, the highest value of the Los Angeles Sheriff's Department.
I will listen to—and openly consider—all sides of an issue, whenever possible, before making decisions.
I will be accountable for my decisions: to the public, to the Board of Supervisors, to our many stakeholders, and to everyone within this department.
And I will be committed to keeping our communities safe and protecting all of our residents from harm.
No one will work harder on your behalf.
I will celebrate your successes and share in your failures. I will fight for the resources we need to achieve excellence. But also know that no one will hold you to a higher standard.
When ethical or legal lines are crossed and our standards are not met—by employees of any rank—action will be taken. I will hold you accountable—just as I will hold myself accountable.
Finally, I will act with the humility—the humility befitting a servant of the public. And I will expect each of you in this department to do the same.
So what lies ahead?
The challenges we face together are great. But I believe the opportunities are even greater. Some changes will be put in place starting today—through a mandate of fairness, accountability and transparency. Other changes will take some time.
Immediate Goals
In the coming months, I will:
•Ensure all of our leaders and senior managers are in the right seats; that they are qualified for the jobs they hold and that they have earned the respect of those that they lead;
•Put systems in place to measure performance and hold people accountable;
•Enhance all of our ability to promote public safety and protect our residents from crime;
•Work with our justice system partners to develop new approaches to prevention and diversion for those who needn't be in our jails; and
•Be clear with all of you—with our personnel and with our community—about what LASD is doing and why.
We will also start work on longer-term priorities:
•Addressing the many ongoing challenges facing our Custody Division;
•The modernization of our processes, our technology and our communications;
•Designing career opportunities and a hiring process that attracts and promotes the best, the brightest and the hardest working; and
•Investing in the training that our personnel needs and that the community expects.
Over the past 10 months, I have had the education of a lifetime, in meeting with thousands of people across a county I never realized was so large—yet had always hoped would be so welcoming!
I have learned there are many people outside the Sheriff's Department who care deeply about us: retirees, community members, law enforcement partners, and many, many more.
Individual Messages
To all of you: thank you! I look forward to continuing our dialogue over the coming months. Yet I also have to ask you to understand that my first priority is to take the time to meet and come to know the people within the Sheriff's Department. The men and women of the LASD have been waiting for new leadership for a long time. Getting to know the devoted members of this department will be my top priority.
To the elected leaders and many community voices who have supported me and helped guide the LASD, thank you. I pledge to you that this department will be the leader you need it to be on issues of county, state and national consequence.
To the members of the Board of Supervisors, thank you for your support and I look forward to our partnership ahead. I pledge to be open with you about LASD's successes as well as its challenges—and also, very clearly about, its needs.
To District Attorney Jackie Lacey, thank you for your friendship and your leadership in working toward a smarter criminal justice system.
And to Sheriff John Scott, thank you for steadying the ship these past 10 months. I could not imagine a more dedicated steward from whom to be accepting this baton of leadership.
Also, a special thank you to my family—my wife Kathy, my daughters Kelly (who couldn't be here today, she's back east at school) and Megan—for their patience with all the challenges over the last year, but also for the challenges that lie ahead.
Our Founding Fathers wisely wrote that to "preserve" our nation's precious hard-fought rights, "governments are instituted among men, deriving their just powers from the consent of the governed."
As this timeless message reminds us, whatever authority we have as a government is granted to us—and derived from—our citizens. We must never lose sight of that.
So I stand before you today: proud to wear the tan and green that represents over a century of service; humbled at the trust you have all placed in me; and intensely aware of where my authority comes from—you, our citizens.
Thank you all very, very much.
Copyright 2014, Metropolitan News Company