Friday, December 19, 2014
Page 3
Unilever Dismisses Suit Over Labeling of 'Just Mayo'
From Staff and Wire Services Reports
Hampton Creek, a small food manufacturing company headquartered in San Francisco, has been relieved of litigation against it by Unilever, a multinational giant in the food industry, over the fledgling company's mayonnaise substitute, "Just Mayo."
Unilever, which manufactures Hellman's Mayonnaise, said yesterday it has dismissed its lawsuit over alleged false advertising.
The Food and Drug Administration requires that "mayonnaise" contain 65 percent vegetable oil and egg yolk. Ingredients listed for Just Mayo are "Non-GMO Expeller Pressed Canola Oil, Filtered Water, Lemon Juice, White Vinegar, 2% or less of the following: Organic Sugar, Salt Pea Protein, Spices, Modified Food Starch, Beta-Carotene."
Unilever maintained that the word "mayo" implies that the product is mayonnaise, and that Hampton Creek was stealing market share from Hellman's.
Hampton Creek has said that it marketed its product as "mayo" rather than mayonnaise specifically to meet labeling regulations.
Mike Faherty, vice president for foods of Unilever North America, said in a statement:
"Unilever has decided to withdraw its lawsuit against Hampton Creek so that Hampton Creek can address its label directly with industry groups and appropriate regulatory authorities."
He praised Hampton Creek for its "commitment to innovation and its inspired corporate purpose."
According to the company's website:
"Hampton Creek is a company dedicated to making it easy for good people to do the right thing. Whether you're a hip college student or a single mom raising two kids, everyone should be able to eat delicious food that's healthier, sustainable, and affordable."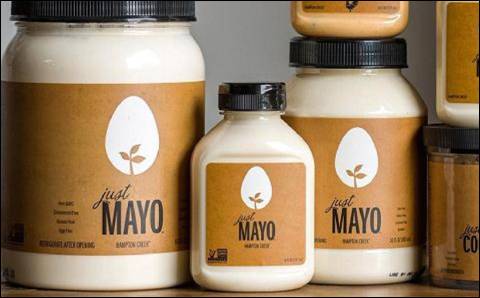 —Facebook
Unilever, which also sells the Best Foods brand, holds the biggest share of the U.S. mayonnaise market, estimated to be worth $2 billion annually, according to market-research firm Euromonitor.
But Unilever ended up with egg in its face over the matter when it turned out some of its products aren't exactly mayonnaise either. Shortly after filing the lawsuit it tweaked references on its websites to products to refer to them as "mayonnaise dressing" rather than mayonnaise.
Josh Tetrick, CEO of Hampton Creek, which was founded three years ago, said that Just Mayo's label states that it is an egg-free product. The label features a white egg with a plant growing in front, which Tetrick said is the company's way of showing that they use plants instead of chicken eggs.
Hampton Creek has had "positive conversations" with industry groups and government officials, he said, adding that Hampton Creek may make the word "just" larger on the label but has no plans to change the product's name or its labeling.
Copyright 2014, Metropolitan News Company