Wednesday, March 26, 2014
Page 1
Ex-Extern May Use 'Prosecutor' Ballot Designation, Judge Rules
Judge Lavin Spurns Challenge by Deputy District Attorney Mathai to Title Given to Felder, Former Participant in Volunteer Attorney Program
By a MetNews Staff Writer
B. Otis Felder, who served in the Los Angeles City Attorney's Office Volunteer Attorneys Program as an extern, will be listed on the June 3 ballot as "Los Angeles Prosecutor," a judge ruled yesterday.
Los Angeles Superior Court Judge Luis A. Lavin listened to arguments for nearly an hour, but stuck with his tentative ruling, denying a writ petition filed by Deputy District Attorney Dayan Mathai, a candidate in the same Superior Court race as Felder.
Lavin relied heavily on the "Pro Bono Participating Volunteer Attorney Training Program Agreement," attached to Felder's opposition. In it, Felder agreed "to accept the appointment as a volunteer Deputy City Attorney…."
At the outset of the program, initiated by then-City Attorney Carmen Trutanich, participants were dubbed "volunteer deputy city attorneys."
Lavin declared:
"Mr. Felder served as a deputy city attorney. He had the title as a deputy city attorney.
"He prosecuted cases as a deputy city attorney for the People of the State of California."
Mathai countered that the city, itself, refers to participants in the program as "voluntary attorneys" and categorizes them as "externs." He related that as a law student, he prosecuted cases, himself, on a voluntary basis, for the District Attorney's Office, but, he said, that did not make him, at that time, a deputy district attorney.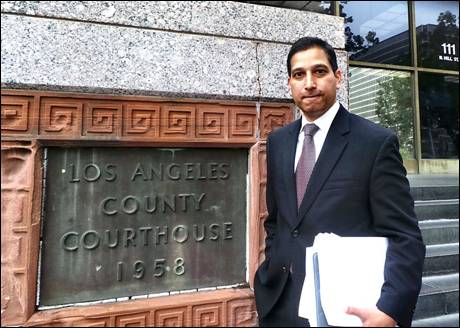 —Staff Photograph
Deputy District Attorney Dayan Mathai stands outside courthouse following rejection of challenge to ballot designation of rival judicial candidate.
Mathai Suggests Compromise
He asked that if the court were inclined to allow Felder to be designated as a "prosecutor," to avoid confusion to voters by calling him a "pro bono prosecutor" or "volunteer prosecutor."
Otherwise, he said, voters would assume that Felder has a Paid position, that he was hired by a governmental entity."
Deputy County Counsel Vicki Kozikoujekian, representing Registrar-Recorder Dean Logan, objected to a new title being fashioned, reasoning that this would be unfair to the third candidate in the race for Office No. 61, Los Angeles Superior Court Commissioner Jacqueline H. Lewis.
Lavin said he agreed with Kozikoujekian's view, and indicated his concern that Lewis had not been named as a real party in interest. On Friday, he directed the parties to submit briefs on Monday as to whether this stripped the court of jurisdiction.
He rejected the request by Felder's attorney, William K. Enger of Wilson Elser that no ruling be made in light of what he insisted was a jurisdictional defect.
Mathai submitted a declaration in which he said that Lewis told him she did not care to participate in the proceeding.
Lavin said that in light of non-participation, "there will be no judgment against her or in favor of her."
Former Occupation
The candidate invoked a provision of the Code of Regulations, promulgated by the Secretary of State's Office, which bars use in a ballot designation of a former occupation if the candidate has a new one. (Retired Los Angeles Superior Court Judge Robert O'Brien relied on that regulation on Monday in denying the designation of "Administrative Law Judge" to candidate Pamela Matsu­moto who, after leaving her post as an ALJ last year, became a private practitioner.)
Mathai told the judge that when Felder on March 6 signed his ballot designation worksheet, "Mr. Felder did not have any relationship with the City Attorney's Office." Felder left the program on Feb. 21.
It was Mathai's contention that Felder has been in private practice continuously since his admission to the bar in 1995, including the one-year period when he was in the Volunteer Attorneys Program. He pointed to Felder's posting on LinkedIn which shows:
"Current Attorney at Law Offices of Otis Felder
"Past Deputy City Attorney at City of Los Angeles - Central Trials
….
"Attorney
"Law Offices of Otis Felder
"January 2008 - Present (6 years 3 months)."
Lavin noted that the print-out from Linkedin, provided by Mathai, bears a date of March 6. He said that to be pertinent, the evidence would have to show what Felder was representing his activities to be subsequent to leaving the Volunteer Attorneys Program and prior to filling out the worksheet.
The judge declared that there was no "clear and convincing evidence" that between Feb. 21 and March 6, Felder was "actually in practice."
In his written ruling, Lavin said:
"The mere fact that Felder's State Bar profile [on the Internet] indicated, at some unknown points in time, that Felder's practice areas were admiralty and maritime law does not constitute clear and convincing evidence that Felder was actively and primarily engaging in these practices when he submitted his ballot papers to the Registrar. The Court also notes that Petitioner's Exhibit 4, Felder's State Bar profile, is dated March 13, 2014. And, Petitioner's own evidence shows that Felder used 'Deputy City Attorney' on his Linkedln profile."
Copyright 2014, Metropolitan News Company