Thursday, July 24, 2014
Page 1
C.A. Tosses Order to Disclose Teacher Scores by Name
Panel Finds Deasy Declaration Citing Harms of Unredacted Disclosure Persuasive
By KENNETH OFGANG, Staff Writer
The Court of Appeal for this district yesterday overturned an order that requires the Los Angeles Unified School District to make public a statistical measurement of teacher performance without redacting the teacher's names.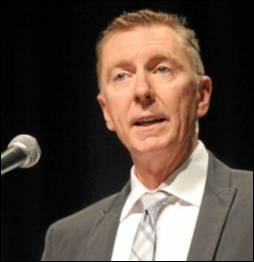 —AP
In this file photo, LAUSD Superintendent John Deasy speaks during his annual back-to-school address.
Los Angeles Superior Court Judge Russell Kussman, sitting by assignment in Div. Eight, agreed with the LAUSD and United Teachers Los Angeles that any public interest in disclosure of the unredacted "academic growth over time" scores is outweighed by the public interest in keeping the information secret.
The data thus falls under the "catch-all" exemption from the California Public Records Act, found in Government Code §6255.
The metric, referred to as AGT for short, is calculated by comparing students' actual scores on standardized tests with the scores the students were predicted to achieve based on a host of sociodemographic and other factors.
These AGT scores are calculated at various levels—by individual teacher, by grade, by school, and by subject matter. The district releases the individual teacher scores with names redacted, and also releases scores by grade, school, and subject matter.
Agreement With Union
Under a November 2012 agreement with the union, the district is permitted to use individual AGT scores "solely to give perspective and to assist in reviewing the past [California Standardized Test] results of the teacher," and not as part of a final evaluation. The agreement also designates the individual scores as a "confidential personnel record" and requires the district to defend that principle in court.
The Los Angeles Times has been seeking disclosure of the unredacted individual teacher results for several years. The district provided the information in 2010 and 2011, but declined to provide the information subsequently, reasoning that because it would be using the information for evaluation purposes, it was exempt from disclosure under the preliminary drafts, personnel records, and catch-all exemptions.
By petition for writ of mandate filed in October 2012, the Times sought to compel disclosure of individual scores linked to the teacher's name and location code, which—unlike the redacted scores—would make it possible to compare results of teachers working within the same school, or of individuals working in different schools.
Deasy Declaration
The district responded with a declaration by Superintendent John Deasy, in which he cited his 30 years of experience and opined that the requested disclosure would be detrimental to the district in numerous ways.
He said it would undermine teacher morale and sow workplace discord, interfere with recruitment and retention, promote poaching of teachers with high scores, result in efforts by parents to influence the assignments of their children to particular classrooms, undermine low-scoring teachers' efforts to exercise authority in their classrooms, and adversely affect the teacher disciplinary process by creating a new basis for comparison.
UTLA intervened and filed its own opposition, attaching a declaration from a UC Berkeley expert who said that "value-added" metrics like AGT are too new to permit a valid conclusion that releasing results by name is good public policy.
Superior Court Judge James Chalfant acknowledged that the teacher jealousies and embarrassments referred to by Deasy were "serious harms," but sided with the Times, saying the AGT scores were an attempt to "shed light" on how effective the teachers were and how the district was doing its job.
Kussman, however, writing for the Court of Appeal, said the district had carried its burden of showing that the public interest in disclosure was too "minimal or hypothetical" to outweigh the harms, and that the catch-all exemption therefore applied.
He emphasized that the issue was not whether "teacher test scores" should be disclosed, but whether those disclosures should be linked to individual test scores. Deasy's declaration, he said, established that disclosing the data in that manner would cause unnecessary problems.
Kussman found Deasy's concerns about classroom assignments to be particular persuasive.
"One need not be an expert educator to know that parents will want the best education for their children," the jurist wrote. "One would certainly expect that if told the AGT scores of each teacher in their child's grade, many parents would attempt to have their child assigned to the teacher with the higher score and/or away from the teacher with the lower score."
That interest, however, "is, at bottom, a private one," he explained. Linking AGT scores to individual teachers, he said, "does not directly assist in determining whether the District is fulfilling its statutory obligations; it does not illuminate whether, or how, the government agency is doing its job" and it will not help parents "understand the workings of the agency itself."
Kussman left open the possibility that individualized disclosure might be required in the future, writing:
"AGT scores represent a new and evolving statistical model based upon standardized tests which themselves are the subject of substantial controversy in a dynamic and changing education system. We can make no immutable rule as to whether unredacted teacher AGT scores could be subject to disclosure pursuant to the CPRA under different facts or circumstances that may arise in the future. But on this record, the District has met its burden of showing that disclosure would be detrimental to its ability to perform its statutory duties, separate and apart from whether disclosure justifies a privacy exemption under section 6254."
On remand, he said, the trial court may consider the issue of whether to compel disclosure of the location codes linking unnamed teachers with their particular schools.
Attorneys on appeal were Jeffrey B. Demain, Jonathan Weissglass, and Eric P. Brown of Altshuler Berzon, and Jesús Quiñonez of Holguin, Garfield, Martinez & Quiñonez for UTLA; in-house lawyer Alexander A. Molina and Barrett K. Green and Maggy M. Athanasious of Littler Mendelson for LAUSD; and house counsel Jeff Glasser and Kelli L. Sager and Rochelle L. Wilcox of Davis Wright Tremaine for Los Angeles Times Communications LLC.
The case is Los Angeles Unified School District v. Superior Court (Los Angeles Times Communications LLC).
Copyright 2014, Metropolitan News Company