Tuesday, December 23, 2014
Page 1
Panel Confirms Kruger, Completing Supreme Court
From Staff and Wire Service Reports
The state Commission on Judicial Performance yesterday confirmed Justice Department attorney Leondra R. Kruger to the state Supreme Court, filling an 8-month-old vacancy.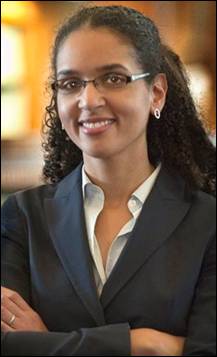 —AP
LEONDRA KRUGER
Supreme Court Justice-designate
She becomes the third confirmed Supreme Court appointee of Gov. Jerry's Brown's third term, and is expected to tilt the court further to the left.
Kruger, 38, a deputy assistant U.S. attorney general, won unanimous approval by the three-member commission, comprised of Chief Justice Tani Cantil-Sakauye, Attorney General Kamala Harris, and Presiding Justice Joan Dempsey Klein of this district's Div. Three. It was the last confirmation hearing of Klein's tenture, as the 90-year-old senior jurist is stepping down when her term ends Jan. 5.
That is the same day Kruger and Justice-elect Mariano-Florentino Cuellar will be sworn in, the governor's press office said in a release. Brown will swear in both jurists in Sacramento, right after he himself is sworn in to begin his fourth and final term.
The confirmation of Kruger, who is black, brings down the court's average age and gives California one black, one Hispanic and three Asian justices. Four women will serve.
Rising Star
Kruger is a Yale University law school graduate who appears to be a rising star in the legal profession. Critics, however, have pointed out that she has never served as a judge and has spent most of her legal career outside California, although she is a native of Los Angeles.
Kruger responded to the criticism at her hearing, saying her career had exposed her to a wide variety of legal issues, and she hoped to draw on the expertise of her colleagues on the court regarding any questions about California law. "It is both a personal and professional delight to come back home," the graduate of Pasadena's Polytechnic School told the commission.
No one spoke in opposition to the nomination at the public hearing, although some opponents wrote letters to the commission.
Attorneys who worked with Kruger during her years at the U.S. Department of Justice praised her as someone who was neutral, objective and sensitive to the people she served. Kruger has argued 12 cases on behalf of the federal government before the U.S. Supreme Court and also has served as a law professor.
"She listens, she thinks, she listens, she thinks, she listens some more," said Benjamin Horwich, a former assistant to the solicitor general, describing Kruger's approach to cases.
Right Decisions
In her role at the Department of Justice's Office of Legal Counsel, Kruger had to decide which legal decision was right, said Thomas Lue, former acting general counsel at the White House Office of Management and Budget.
She understood the difference between being an advocate and being in a judicial role, he said. "She was every bit as good as her stellar reputation," Lue said.
The State Bar Commission on Judicial Nominees Evaluation gave her its highest rating of exceptionally well-qualified, noting praise for her "intellectual firepower, written and oral advocacy skills, impeccable judgment, her fairness, diplomacy and her composure under pressure."
Kruger succeeds Justice Joyce L. Kennard, who retired in April. The other justice who will be sworn in next month, Cuellar, 42, a Mexican-born Stanford law professor, will succeed Justice Marvin Baxter, whose second 12-year term is ending.
In 2011, Brown appointed UC Berkeley law professor Goodwin Liu, 44, after Republicans in the U.S. Senate blocked his nomination to the Ninth U.S. Circuit Court of Appeals. Liu was retained by voters at last month's general election, when Cueller was elected to a full term.
Kruger will be subject to a retention vote on the 2018 general election ballot. Cueller does not have to face voters again until 2026, while Liu will be subject to a full-term retention vote in 2022.
Copyright 2014, Metropolitan News Company