Wednesday, May 28, 2014
Page 1
Presiding Justice Klein Says She Won't Seek Re-Election
Jurist Will Not Seek Retention, Will End Tenure of More Than 51 Years in January
By KENNETH OFGANG, Staff Writer
Court of Appeal Presiding Justice Joan Dempsey Klein of this district's Div. Three told the MetNews yesterday she will not be a candidate for retention in the November election.
"I will be out of here on Jan. 5, 2015," the expiration date of her term, Klein explained, ending one of the lengthiest judicial careers in the state's history.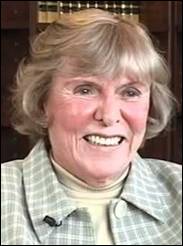 JOAN DEMPSEY KLEIN
Court of Appeal Presiding Justice
Klein was appointed to the Los Angeles Municipal Court by then-Gov. Pat Brown in 1963 and won election to the Superior Court in 1974. Gov. Jerry Brown appointed her to the Court of Appeal in 1978, during his first term.
Now, the same governor who appointed her 36 years ago will appoint her successor. "Ain't that a kick," she chuckled, expressing her admiration for the chief executive.
Under the state Constitution, Klein is eligible to seek retention for an additional 12 years. But that isn't going to happen, she said.
"I'm going to be 90 in August," she explained. "That's nine-zero. I cannot go in good faith to the electorate, and tell them I'm going to serve another year, another five years...even though my parents had a wonderful gene line."
Plenty of Work
She also said that while she still has plenty of work to do, she does not want to fall into the position of an old family friend, Lester Wm. Roth, who retired in 1991 at the age of 96.
"He stayed three or four years too long," she said. "He just couldn't give up what this job has to offer. There are too many good things about it."
She said she had no idea what she will do when she leaves the court.
"I don't have any plans," she commented. That distresses me."
Born in San Jose and reared in San Diego, the future jurist graduated from what is now San Diego State University in 1947 and from UCLA School of Law in 1955. Admitted to the State Bar in June of that year, she joined the office of the state attorney general and worked there until her appointment to the bench.
She had previously worked as a teacher and professional swimmer.
Klein has won numerous awards from publications, bar groups, and women's organizations over the years, including the MetNews Person of the Year honor, which was bestowed in 1992.
Founder of Groups
She was the founding president of California Women Lawyers and of the National Association of Women Judges, and helped found the International Association of Women Judges.
Helping to create the women judges' groups, she said yesterday, is "the greatest thing I've ever done." She noted that the international group, which "started with a couple of women from Africa telling about the lack of any support system," has grown to the point where 500 members attended its recent annual conference in Africa.
Her son, Marc Dempsey Gross, was appointed to the Superior Court in 2012.
"He's doing a good job," she commented. "...I think he has the makings of a first class judge."
Her departure will create the first vacancy in Div. Three since 1994.
"I've worked with these colleagues"—Justices Walter Croskey, Patti Kitching, and Richard Aldrich"—"lo these many years," she commented. " think we have a reputation for excellent work...Our product would stand up anywhere."
Croskey commented yesterday said he would be "really sorry to see" Klein leave the court. "But being 81 myself, I understand her position." The division, he said, is "very collegial" and efficient.
"We may be all over the map on political issues"—Klein is the only member of the panel appointed by a Democratic governor—"but that doesn't affect how we decide cases." He noted that dissents are a rarity.
While her work on the court has been exemplary, he said, the work that she has done "publicly and privately" to encourage women to become judges has made her "an icon," he said.
Copyright 2014, Metropolitan News Company