Wednesday, February 12, 2014
Page 1
Justice Kennard to Retire After 25 Years On California Supreme Court
By KENNETH OFGANG, Staff Writer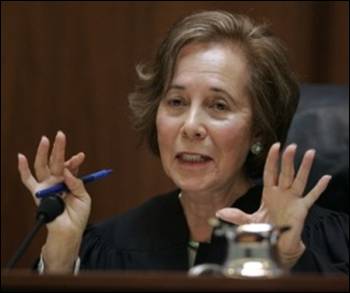 JOYCE L. KENNARD
Supreme Court Justice
California Supreme Court Justice Joyce L. Kennard, a member of the high court longer than any current justice, informed Gov. Jerry Brown yesterday of her intent to retire from the court.
Kennard, 72, said she would step down April 5, 25 years from the date she joined the court. The jurist told the MetNews she was retiring "with a heavy heart," but that she felt it was time to "see what the future brings."
Finances are not a concern, she said. "It's safe to say I will not be doing any private judging," she explained.
Her time will instead be spent with her "wonderful friends," who will no longer have to settle for "a morsel of my time," she said.
She has been a judge for 28 years, having served on the Los Angeles Municipal Court, the Los Angeles Superior Court, and Div. Five of this district's Court of Appeal before her appointment to the high court by then-Gov. George Deukmejian.
Second Woman Justice
Kennard, the second woman and the first American of Asian descent to serve on the court, is a native of what is now Indonesia. She moved to the Netherlands as a teenager and lost part of her right leg to an infection, and uses a prosthetic.
Kennard's father died in a Japanese prison camp when she was just an infant, and she later lost her mother. She immigrated alone to the United States in 1961, settling in Southern California, where she put herself through school as a secretary for a life insurance company.
She earned her undergraduate and law degrees from USC, became a naturalized citizen in 1967, and worked as a deputy attorney general and as a Court of Appeal staff attorney before gaining appointment to the bench.
"Any success I've had is because of America," she said. "It gave me a chance against all odds."
Her life story, she said, "could not have happened in any other country."
Frequent Dissenter
Kennard was a frequent dissenter on the court, although many of the views she expressed were later adopted by other courts, including the U.S. Supreme Court, and sometimes by her own.
In 1996, for example, she dissented from a ruling upholding an initiative requiring parental consent for a minor to have an abortion.
She wrote:
"California's parental consent law, which prohibits abortions for women under the age of 18 years without either the consent of one parent or judicial authorization, may at first glance appear so eminently reasonable that its constitutional validity could scarcely be in doubt. But evidence received at the trial of this case, much of it based on the experience of other states with similar laws, shows that the benevolent appearance of parental involvement laws is deceiving; the laws have serious adverse effects and yield few benefits for children or society."
A year later, the court—having granted rehearing after two justices in the 4-3 majority left the court—struck down the law. Kennard joined then-Chief Justice Ronald George's majority opinion.
Dissent Becomes Issue
That dissent became an issue 10 years later, when the California Republican Assembly—a conservative volunteer association—opposed Kennard in a judicial retention election, citing that opinion as its reason. Kennard easily won the election, as she had 12 years earlier.
The MetNews, in an endorsement, said she had a "knack of crafting opinions that are crisp, readable, and persuasive," adding:
"Her analytical abilities are of the highest order. Indeed, Kennard's fitness for membership on the state's highest court could not possibly be questioned by anyone who reads and understands appellate court opinions."
Kennard said yesterday that while she was definitely a "hands-on" jurist, she benefitted greatly from a diverse staff.
"I told all of them when I hired them, 'I don't care if you worked for the ACLU, or if you were a prosecutor or a defense attorney. What I care about is a sense of fairness.'"
She appreciated staff lawyers who were willing to express contrarian views, she said. "I never wanted a 'yes' person."
Copyright 2014, Metropolitan News Company