Tuesday, May 20, 2014
Page 4
JUDICIAL ELECTIONS: Los Angeles Superior Court Office Nos. 138
Criminal Defense Lawyer, Deputy District Attorney Joust
By ROGER M. GRACE, Editor
Los Angeles County Deputy District Attorney Donna Hollingsworth Armstrong and criminal defense lawyer Marc Gibbons, now opponents in a Superior Court race, were opposing counsel in some cases 10 or 11 years ago when Armstrong was assigned to the Bellflower Courthouse. Gibbons, who lives in Orange County but has an office in Cerritos, regularly practices in Bellflower. The cases in which they had reverse roles did not go to trial.
Armstrong says of Gibbons:
"He was always very polite, one of the more friendly attorneys who would come in the courtroom.
"He's on the executive panel for the ICDA [Indigent Criminal Defense Appointments]. From other DAs that I've spoken to about him, they all say that he's a nice guy and he's ethical."
Gibbons says of Armstrong:
"Most people are pretty vanilla about her. They don't say anything bad. I know [one judge] said she did a very nice job as a trial attorney. I know some other individuals who were her supervisors, didn't care for her when she was a younger DA. I know that when she was a younger DA, she may have been a little bit more difficult to deal with….
"I dealt with her when she was a baby DA. Nothing problematic with her. I didn't have a problem with her."
The Los Angeles Times has endorsed Armstrong.
She is represented by political advisor David Gould. Gibbons identifies his campaign consultant as "me."
Prosecutor Seeks Seat Last Held by First Judge Before Whom She Appeared
"I've been a happy prosecutor since I started," Deputy Los Angeles District Attorney Donna Hollingsworth Armstrong says.
"It's been a great career."
That career began in September, 2000. She was hired as a deputy three months after she was sworn in as a lawyer.
Her law degree is from Southwestern. Armstrong attended classes there at night while working fulltime during the day—as a legislative assistant to a state assemblyman, Steve Kuykendall (later a member of the U.S. House of Representatives), next as an employee of "a couple of law firms, doing civil litigation," then as a case manager at JAMS, an alternate dispute resolution firm.
Also while in law school, she was an extern for the District Attorney's Office, working in the Alhambra Courthouse. Her first court appearance in that capacity was before Judge Carlos A. Uranga, then a judge of the Alhambra Municipal Court, later a Superior Court judge.
It was Uranga's decision not to seek reelection that created the open seat for which Armstrong is running. Uranga, who retired April 30, has endorsed her.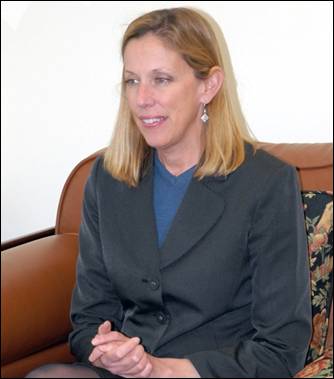 ARMSTRONG
Armstrong is a longtime member (and 2008 chair) of the Los Angeles County Bar Association's delegation to the Conference of California Bar Associations (former the State Bar Conference of Delegates).
"I've always been interested in different aspects of the law, especially litigation," Armstrong says, explaining her involvement with the conference. "The benefit of being a member of the Conference of Delegates is that you're dealing with attorneys from different practice areas, and you're learning about problems with the law that they feel should be corrected and amended."
Her reputation in the District Attorney's Office is "really good" a higher-up in that office remarks, adding: "All love her."
Hardcore Gang Division
For the past five years, she has been assigned to the Hardcore Gang Division. Her opponent, Marc Gibbons, scoffs that she "did not have many homicide trials before even entering the Hardcore unit," relating that he's been told "that she did one homicide and voila, she wound up in Hardcore."
Gibbons says: "Her breadth in the office of handling different types of crimes I just don't think is there."
On that basis, he predicted, prior to the Los Angeles County Bar Association releasing its candidate ratings, that Armstrong would be found only "qualified." He insisted that he should be deemed "exceptionally well qualified," but added: "I do expect, I do expect 'well qualified' as a bare minimum." Both candidates were found to be "qualified."
Gibbons says he has handled roughly 50 felony trials. Armstrong has handled the prosecution in more than 100 trials, including 21 murder cases—trying nine of them since transferring to Hardcore. She is presently in trial in a murder case.
She has not, however, handled any case in which the death penalty was sought, explaining:
"I have made a decision not to handle death cases. I'm not an activist either way, but it was a personal choice I made in the office not to handle death cases."
She says she would, however, be able to pronounce a death sentence, as a judge, explaining that "it's actually the jury" that decides the appropriateness of that consequence.
"What I didn't want to have to do as a prosecutor is argue for death," Armstrong says. "I felt that I was not the right person for that particular job."
Family Life
Armstrong, 48, is married to a sports performance trainer, and they have an 8-year-old son. Living with them are two Labrador retrievers.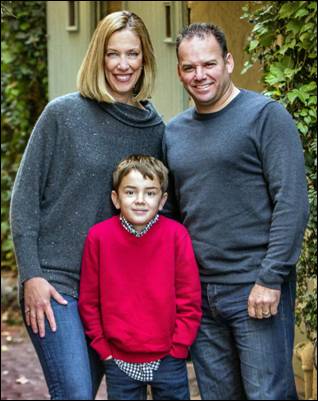 Armstrong with husband, Ted, and 8-year-old son.
On her campaign website, Armstrong reflects:
"I was too young to remember my first time in a courtroom. I was less than a year old and was in court to be adopted by Everett and Patricia Hollingsworth. I had been in foster care for a month or two when LA County DCFS placed me with my forever-family. My parents had already adopted a baby boy. Mom and dad both worked hard; mom as a dental assistant and dad as a machinist. Their first adopted child, my brother Mark, is disabled with a severe intellectual disability. We lost my mom two years ago due to ALS (Lou Gehrig's disease).….I am caregiver to my dad and the court-appointed conservator to my older brother. I am also good friends with my birth-mother and enjoy being a part of her family as well."
She is endorsed by 29 Los Angeles Superior Court judges, District Attorney Jackie Lacey and former District Attorney Steve Cooley, and eight law enforcement groups.
_____________________________________________
Criminal Defense Lawyer Says There Are Too Many Judges Who Are Ex-Prosecutors
Marc Gibbons says he's better suited to be a judge than his rival, Donna Hollingsworth Armstrong, because he's a defense lawyer and she's a deputy district attorney.
"Our bench has kind of been overrun with deputy district attorneys," Gibbons asserts, elaborating:
"I do criminal defense. I bring a unique perspective that's different than hers. I believe that all the district attorneys, not just only my opponent, but all the district attorneys—it's six of one, half a dozen of the other. It's different people, but it's the same point of view."
The candidate adds:
"I look at the new PDs that have been appointed. Horan. Sal. They're doing a very good job. Debbie Cole, down in Southeast District. They're doing a very good job."
(Gibbons later clarifies, by e-mail, that "Sal" refers to "Sal Sirna in Pomona." Judge James E. Horan, appointed by then-Gov. Arnold Schwarzenegger in 2010, and Judge Debra A. Cole, appointed by Gov. Jerry Brown in 2012, were members of the Alternate Public Defender's Office when placed on the bench. Judge Salvatore T. Sirna, appointed by Schwarzenegger in 2010, was in private practice.)
Gibbons says of those judges:
"They're very efficient. They make sure that everybody who walks out of that courtroom knows exactly what's expected of them and when it's expected of them."
He attributes this to the need criminal defense lawyers have to explain to clients what comes next, while such matters are "things that DAs don't have to worry about."
Prosecutors' Outlook
In support of his view that there is an overabundance of former prosecutors on the bench, Gibbons says:
"They've never had to stand in my shoes, and deal with a client. They've always seen a client of mine as someone who's just done very, very bad things, and they believe it. Even in cases where I've obtained a not guilty verdict, or even dismissal, in their minds, that person had to have done something wrong to have the fortune or misfortune to sit next to me at a counsel table.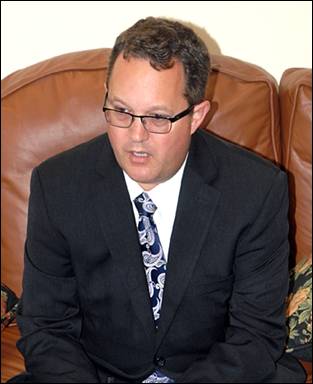 GIBBONS
"And that's just a very bad way of looking at things. Instead of looking at people as human beings, they're things. And that's what I gather when I deal with district attorneys."
He continues:
"And it's not their fault. Their job is to prosecute. I get that. They're not paid to dismiss cases, they're paid to prosecute cases. And when a police officer makes a police report and gives it to the district attorney for filing considerations, they believe something must have been wrong, that [the suspect] must have done something.
"I've had cases last year where I am stunned that they even bothered to file the cases, where they wound up having to dismiss cases. Some of these are very serious crimes."
Ballot Designations
Armstrong's ballot designation is "Gang Homicide Prosecutor"; Gibbons is described as a "Trial Lawyer."
A designation such as Armstrong's, reflecting an anti-crime mission, generally attracts votes.
"With my game plan," Gibbons says, "I'm trying to neutralize that."
The lawyer says that there are only two "hotly contested" seats in the county, apt to draw voters to the polls: the mayoral race in Long Beach and the race to succeed Henry Waxman, the longtime representative from the 33rd congressional district, a coastal district stretching from Agoura Hills on the north to Palos Verdes on the south.
"I'm hitting those areas hard, and getting those voters, who are primarily Democrat voters, to come out and vote for me," Gibbons says.
He notes that Armstrong is a Republican, and remarks:
"There are more independents than there are registered Republicans, and there is really not a reason for a Republican to come out in this race."
(According to the most recent statistics, 21.2 percent of the voters in Los Angeles County are Republican, and 17.4 are nonpartisan. The Democratic Party is home to 50.8 percent of the voters. Judicial races are, however, nonpartisan; the political parties of candidates are not reflected on the ballot.)
Gibbons' campaign website tells of endorsements by the Hubert Humphrey Democratic Club, West Los Angeles Democratic Club, Progressive Democratic Club, Stonewall Democratic Club, and Democrats of Pasadena Foothills.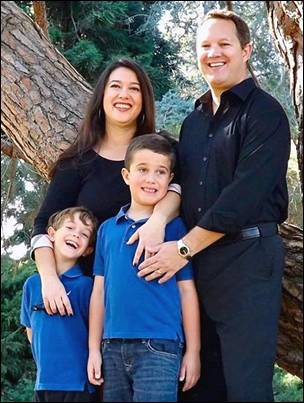 Gibbons with wife, Raquel, and sons, 6 and 8.
However, the Los Angeles County Democratic Party—which only endorses Democrats for judgeships—bypassed this race, indicating no preference. (It did endorse a Democrat in six of the races.)
Gibbons is endorsed by 30 Los Angeles Superior Court judges.
Practices With Kin
"My father and my sister are my [law] partners," Gibbons notes, joking: "and we haven't killed each other yet."
The law firm is Gibbons, Gibbons & Gibbons. His father is Joseph T. Gibbons Jr. and his sister is Danielle Gibbons.
Gibbons, 42, has an undergraduate degree in political science from the University of Illinois, and a law degree from McGeorge School of Law at the University of the Pacific.
While in law school, he was an intern with the Orange County District Attorney's Office.
He is married and has two sons, 6 and 8.
Copyright 2014, Metropolitan News Company