Monday, May 19, 2014
Page 6
JUDICIAL ELECTIONS: Los Angeles Superior Court Office Nos. 113
Part-Time Referee Competes With Full-Time Prosecutor
By ROGER M. GRACE, Editor
Los Angeles County Deputy District Attorney Stacy Wiese, whose ballot designation is "Criminal Homicide Prosecutor, is in a race with Steven Klaif, listed as a "Superior Court Referee."
Wiese, rated "qualified" by the Los Angeles County Bar Association, has the endorsement of the Los Angeles Times and is endorsed by 33 Los Angeles Superior Court judges, 21 law enforcement organizations, and by District Attorney Jackie Lacey and former District Attorney Steve Cooley.
Klaif, found by LACBA to be "well qualified," is endorsed by 21 Superior Court judges, including Presiding Judge David S. Wesley, and seven Democratic clubs.
Candidate Claims He's Been A Referee Since 2000; Skirts Fact of 'As-Needed' Status
"I'm an experienced judicial officer," Steven Klaif says at a judicial candidates forum in Hacienda Heights on May 3. "I'm a Superior Court referee….
"Right now, I'm assigned to Edmund Edelman's Children's Court. I preside over cases of child abuse and neglect. I wear the black robe. I'm addressed as 'Your Honor.' My decisions have the same force and effect as a judge.
"I've been doing this—I was appointed as a referee in 2000."
Klaif's rival in the race, Deputy District Attorney Stacy Wiese — , is next to speak. She seeks to clear up any confusion as to the position Klaif holds.
"I would like to indicate that I believe that my opponent, and with all due respect to him, he is an as-needed referee," she advises. "He is called into the courtroom when they need assistance.
"Last year, he worked approximately three months, in Dependency Court. I worked all year."
Klaif is listed on the ballot as a "Superior Court Referee." His campaign website declares: "Steven doesn't have to learn the job - he is already doing it."
Nowhere on that website, his Facebook page, on the League of Women Voters' "Smart Voters" website, or in his video on YouTube, does Klaif indicate that he is an as-needed referee, not one serving fulltime.
In fact, as of June 30, 2012, the Los Angeles Superior Court has had no fulltime referees.
Los Angeles Superior Court Judge Michael Nash, who is presiding judge of the Juvenile Court, has endorsed Klaif, and terms him "very reliable." However, he confirms that Klaif "has never been in possession of a full-time assignment."
Nash analogizes Klaif to a "substitute teacher."
Klaif Comments
Klaif tells the MetNews:
"I was sworn in as a Superior Court referee, juvenile court referee. I've been as-needed. But I've never been terminated from that.
"I've been a referee since 2000. There was a hiatus in the budget crisis, where I practiced law again for several years, but throughout that time, since 2000, I've been a Los Angeles County employee, I've been a referee, and I've been sitting until there was a recent decrease in the use of coverage for referees. I was actually sitting quite a bit."
In 2013, Klaif says, he served as a referee for "something like 70 days."
Since March 24, he's been assigned to a new dependency court "until further notice," he notes. Earlier in this year, he donned a robe on "a handful, a dozen days, something like that," Klaif reports.
Whenever called to serve, he says, "I'm available." That's because he has no regular employment.
"From 2013 and to date, 2014, all my income, my sole income, has been from my sitting as a referee," Klaif relates.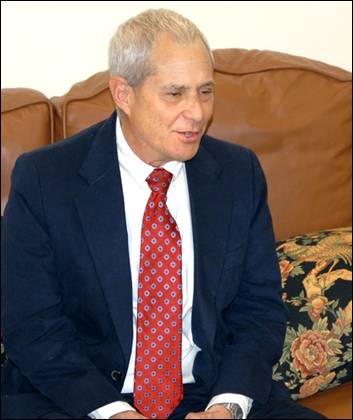 KLAIF
"I started up a mediation practice and, to be honest I haven't had a paid client. So, I really don't have a pending mediation practice. This is a new venture, when I thought there was going to be no more coverage, no more assignments coming my way."
Klaif says he applied for appointment to a judgeship "about a year and a half ago, maybe two," and has not "heard anything."
He has not practiced law since 2007, Klaif says, adding:
"I've been strictly…serving as a referee."
He says he does not have "unlimited or even substantial funds at this point" for his campaign, but vowed to give his election bid his "best shot." He remarks:
"I needed to do this because this is the time, and I'm qualified, very qualified to do this job. I have the judicial skills, proven skills, and if I can successfully get that word out, that will make the difference."
His campaign consultant is Gail Zatz, a California attorney on inactive status. Klaif advises that Zatz has handled some campaigns in Vermont, as well as here, and "helped out with" then-Commissioner Donna Groman's successful 2004 campaign for a judgeship.
Groman's Statement Questioned
Groman is quoted on Klaif's campaign website as saying that she and he "shared a juvenile delinquency caseload at Kenyon Juvenile Justice Center for almost 4 years." The MetNews determined this was not plausible.
Monthly court directories for 2009 and 2010 were consulted. Each month's directory is based on the most recent Superior Court weekly line-up sheet and, while the booklet is necessarily inaccurate to the extent that changes in assignments are made during the month, it is generally indicative of which judicial officer is where. In 2009, Klaif was assigned to the same courtroom as Groman, in the Edelman Courthouse, according to each of the directories for April through August. Directories for January and February of 2010, also show Klaif assigned there, but not during any other month that year.
In August, September, November and December, the directories reflect, Klaif did serve as a referee—but not sharing a delinquency calendar with Groman; rather, he was based in the Edelman Courthouse, dealing with dependency cases.
This inquiry was made of Groman, by e-mail:
"You are quoted on Steve Klaif's campaign website as saying that you and he 'shared a juvenile delinquency caseload at Kenyon Juvenile Justice Center for almost 4 years.' Given that you served fulltime during that period of 'almost 4 years,' does this not imply that he did, also?
"If you recall, in what years did you share a caseload? In what portion of that period of nearly four years do you reckon that his services were utilized by the court as a referee?"
Groman responds:
I understand that juvenile court administration has determined that Referee Klaif sat on the juvenile court bench 131 days in 2010, 116 days in 2011, 59 days in 2012 and 24 days in 2013. It is impossible for me to determine how many of those days he sat for me as opposed to some other juvenile court bench officer.
The reason I needed coverage over the past 5 years, is that I spend a substantial part of my week working outside of the courtroom: presenting at trainings regarding juvenile justice, attending meetings, working on juvenile justice policy for the court, representing Los Angeles County at the state and federal level. For example, I recently spoke before the House Judiciary Committee on behalf of the National Council of Juvenile and Family Court Judges on the issue of domestic minor sex trafficking.
I am extremely grateful to have had these opportunities. Unfortunately, due to budget cuts, the as-needed referee program has been dissolved, so I no longer have the ability to "share" my courtroom.
I knew that my court was in good hands when I left Referee Klaif in charge. I received good feedback from my staff and from the attorneys who practiced regularly in my court.
Klaif received his law degree from American University's Washington College of Law in the District of Columbia. He was admitted to the State Bar of California on Nov. 29, 1979, six days after he opened a business called Canine Concierge Services.
On Aug. 5, 1985, he was suspended from practice for non-payment of bar dues, and was reinstated on July 21, 1987.
Klaif, who will turn 60 on Thursday, lives in Tarzana with his wife, 17½ year old stepson, three dogs, and one cat.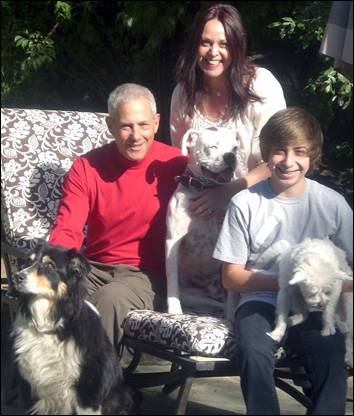 Klaif with wife Alison and stepson Max.
_____________________________________
STACY WIESE
Rebellious Teenager Who Dated a Criminal Is Now a Prosecutor
Stacy Wiese is, in many ways, the opposite of her election rival, Steven Klaif.
He's soft-spoken, guarded in what he says, intent on not offending.
She's frank, blunt, and now and then profane.
Klaif seeks to bend the truth by creating the impression that he has been a fulltime Los Angeles Superior Court judicial officer since 2000 when he has, in fact, served only intermittently during some of the years between 2000 and now.
Wiese does not shy away from the truth. Chided about the large tattoo on one of her shoulders, discernible when she is at a cocktail reception, she proclaims, "I love tattoos" and volunteers what would not otherwise be ascertainable by an interviewer: "I have two" tattoos.
She tells, unguardedly, of her years as a rebellious youth and her family background.
"Growing up, I wasn't the best kid ever," Wiese says. "I went to continuation high school."
She elaborates:
"I was raised by a single father who divorced my mother when I was 9. My mother quickly got into a life of drugs and recently passed away from a drug overdose."
Wiese confesses that as a teenager, she was "very strong-willed and often did as I pleased," and "had a horrible attitude." She reflects:
"I can see now, I was not that easy to raise, especially for a single dad."
Aside from "staying out late, having fun," she decided, at age 15, that she "no longer wanted to attend Reseda High School," Wiese says, reciting:
"So I just stopped going."
About three months later, she had second thoughts about being a drop-out, she says, and, after talking it over with her father, decided to enroll at a "continuation high school" (for students not apt to graduate at the normal pace). Wiese entered Zane Grey High School, located on Reseda High's campus.
She recounts:
"While at the school, there was an incident where I stuck up for another student against a teacher. The teacher would not help the student so I got upset with her and called her a bitch. She told the principal I called her a 'c..t.' I got kicked out."
She tells of switching to another continuation high school, then coming back to Zane Grey at night—the teacher she clashed with only worked in the daytime—and eventually graduating from that school.
Unsavory Companions
Wiese admits that while in high school, and beyond that time, she "did not hang out with the greatest influences" and notes:
"My boyfriend during that time was, and still is, a criminal. He was in and out of custody and I thought that if I went to law school, I could spend my life defending him in court. At the time, I was very naive and thought he was the one for me. I often went with him to court and thought I could do a good job defending him."
With that goal in mind, she entered Southwestern Law School (after graduating from Cal State Los Angeles).
"There were other individuals that were, as well, not such great influences in my life," she says, "and I thought I could help them as well" but it was her boyfriend who "was the main reason I wanted to be a defense attorney."
Now married to a Monterey Park Police watch commander, she comments that she "married opposite of what I dated when I was younger."
Something happened that caused her to veer from the goal of become a criminal defender.
"I got hired by the Orange County DA's Office as a summer clerk," she says.
"I worked there for a summer and thought, this was the coolest job ever."
She was able to argue motions, recalling:
"It was absolutely the most terrifying thing ever in my life. But I loved it."
Wiese says she returned to that office, by invitation, while she was waiting for her bar exam results.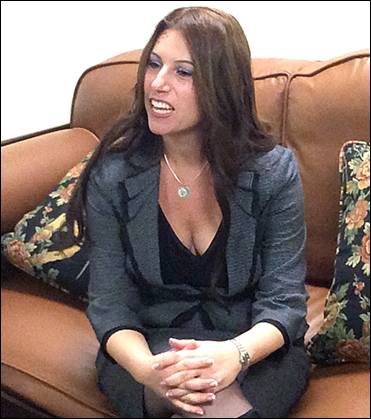 WIESE
"And then I interviewed for the L.A. DA's office," she says. "I interviewed with them for the Rampart Unit, and I got hired as a law clerk, so I went there."
Jurist Poses Questions
While an interview with Wiese is in progress at the MetNews office, a member of the judiciary stops by and, by invitation, joins in questioning the candidate, who is unfazed.
"How many police officers do you think were corrupt?" he asks, alluding to the Rampart scandal.
"More than I want to know," she responds, and upon further questioning, mentions: "I dealt with Rafael Perez, that was it."
Perez, after being arrested in 1998 for stealing six pounds of cocaine from an LAPD property room, implicated 70 other officers in various forms of misconduct, sparking public outrage.
"Was Perez a credible individual in your view?" the jurist asks.
"I believe he was credible," Wiese says. "He came out and told us all this horrible stuff that they did.
"I sat with him and was amazed with the whole thing that was going on. I was just out of law school and I'm sitting here with this cop whose telling us that he's a piece of crap."
During a discussion of "bad seeds" in the LAPD, the jurist asks, "How come Steve Cooley and Jackie Lacey and the other people who have been in leadership in the DA's Office have not had that problem?"
Wiese answers:
"We have a different view than officers. Officers are out there on a daily basis dealing with the worst of the worst. I believe that their attitude changes….
"If you are not a strong person and you do not have a strong personality, then, yes, you can turn and lie, whether it's to protect yourself or to make this person look worse than he is.
"I was in an elevator the other day and there's two cops in there, minding their own business, and there are these two guys that come in and this one guy, like, 'Uh, it smells like a f—ing pig in here,' and, for no reason. And I thought, this is what they have to deal with on a daily basis.
"I go to court. Am I called names sometimes by the defendant's family? Of course. But do I deal with that on a daily basis? Absolutely not.
"And I don't deal with the worst of the worst on a daily basis, where I'm interacting with them. Yes, I'm with a murderer in court…, but I'm not interacting with him on a daily basis like these police officers are.
"And sometimes, if they don't have great leadership and they don't have anybody to go to, they turn the wrong way."
Glowing Evaluations
Weise has been a deputy district attorney for 14 years. She is referred to within her office as "Okun-Wiese" to reflect the maiden name by which she was initially known, and it's that name that appears on her annual performance evaluations—which contain accolades.
In her latest evaluation, dated Oct. 30, 2013, she is found to have "exceeded expectations" which means a rating of "Very Good." The report says:
"Ms. Okun-Wiese frequently and consistently performed at a very high level completing her many assignments without supervision and without concern for personal consequences, She works well beyond her scheduled hours in completing her work….
"Ms. Okun-Wiese is well liked by everyone with whom she has contact. She is a mentor to a number of less experienced deputies. She gets along well with judges, court staff, law enforcement officers, staff and her supervisors.…
"Ms. Okun-Wiese remains knowledgeable on all aspects of new and current statutory and case law, including procedure, substantive issues and evidence. She is always willing to assist other deputies in the performance of their professional duties. Her motions and response to motions are relevant, concise and well reasoned. Her oral presentations are persuasive and effective…."
In an evaluation of Jan 9, 2013, she was given the same rating. The rater, Gary Hearnsberger, evinces frustration over not being able to give her the top rating, which she had previously received. Under a policy change late in the administration of then-District Attorney Steve Cooley, the rating of "Far Exceeds Expectations (Outstanding)" became a rarity. Hearnsberger remarks:
"Stacy Okun-Wiese's exceptional work ethic and mastery of advocacy skills have been documented by this rater in her preceding performance evaluation, for which she received a rating of 'far exceeds expectations'. Her performance during the current rating period remains unchanged."
The evaluation continues:
"She is characteristically the highest achiever among her many skilled colleagues at the Pomona Branch. Aside from her ever present diligence, Ms. Okun-Wiese is truly a natural insofar as trial work is concerned. She is fearless, and possesses uncanny instincts for correctly identifying and focusing on the features that will most influence and determine the case outcome. Ms. Okun-Wiese is a plain speaker who is engaging and sincere. Her genuineness and candid recitation of both the evidence and law are appealing to both jurors and jurists. Not surprisingly, Ms. Okun-Wiese achieved guilty verdicts in every case that she tried during this period. The charges included separate murder and manslaughter cases. Ms. Okun-Wiese is a superb lawyer and continues to be deserving of a high performance rating."
She is now working in downtown Los Angeles, in the Major Crimes Division, trying high-profile cases.
Wiese has tried 63 cases, including 20 murders.
In July, 2012, she applied for appointment to the Superior Court but her bid apparently fizzled. Gov. Jerry Brown has generally not looked favorably upon applicants who are prosecutors.
Now running for election to a judgeship, she has David Gould as her campaign consultant.
Prosecutor, Mother
Wiese, 42, describes herself as a "full-time prosecutor" and a "full-time mom."
On her campaign website, she says:
"I am especially proud of my husband Scott….I met Scott while assigned as a Deputy District Attorney at the Alhambra Court. We married two years later. We shortly thereafter had our son Gage, who is 8 years old. Two and a half years later we gave birth to our daughter."
Scott Wiese has two adult children from a previous marriage.
The Wieses have three German shepherds.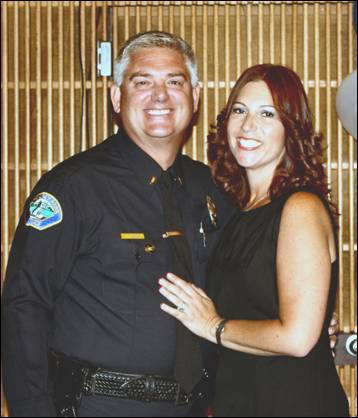 Scott and Stacy Wiese
Copyright 2014, Metropolitan News Company