Tuesday, May 13, 2014
Page 4
JUDICIAL ELECTIONS: Los Angeles Superior Court Office Nos. 22, 76, 157
Three Deputy DAs Face Persons They Defeated in Court
By ROGER M. GRACE, Editor
Los Angeles County Deputy District Attorneys Alison Matsumoto Estrada, Andrew Cooper, and Amy Carter have beefier ballot designations than their election opponents, having obtained writs ordering the Registrar-Recorder's Office to bounce the catchy but faulty three-word descriptions chosen by their opponents.
Helen Kim, a part-time deputy district attorney who handles filings, chose the designation of "Violent Crimes Prosecutor." A judge found that unsubstantiated, and Kim will be presented to voters as a "Criminal Prosecutor." Estrada's ballot designation is "Government Corruption Prosecutor."
Arnold William Mednick, who is opposing Cooper, sought to be labeled an "Administrative Law Judge" but the designation was barred by a judge who found it would be "misleading to the voters." Elections Code §13107(a)(3) permits a ballot designation based on "principal professions, vocations, or occupations of the candidate during the calendar year immediately preceding the filing of nomination documents," but found that Mednick's work in January 2013 was minimal, consisting merely of some "carry over work" from 2012. He doesn't have a current job title, having been out of work for well over a year, and is identified on the ballot as a "Retired Court Referee." Cooper is described as a "Gang Homicide Prosecutor."
Carter is listed as a "Sex Crimes Prosecutor," a designation outshining that of her rival, Pamala F. Matsumoto, labeled a "Litigation Attorney." Matsumoto wanted to use the title of "Administrative Law Judge," but a Los Angeles Superior Court judge ruled that she can't because she isn't an ALJ now and must use a description of her present job. Carter and Matsumoto were profiled here Friday.
The Los Angeles Times has endorsed Estrada, Cooper, and Matsumoto.
Today: a look at the contests between Kim and Estrada and between Mednick and Cooper.
ALISON MATSUMOTO ESTRADA
Deputy District Attorney Will Be 'Competitive' Despite Lower Funding
Los Angeles Deputy District Attorney Alison Matsumoto Estrada has the meaningful campaign advantage of an endorsement by the Los Angeles Times.
As a member of the Public Integrity Unit, she has the high-impact ballot designation of "Government Corruption Prosecutor."
The Los Angeles County Bar Association has determined that she's "well qualified" for a Superior Court judgeship, while viewing her opponent as "not qualified."
Yet, her rival, Helen Kim, has the advantage that more often than not prevails over all others: more money. She has about $450,000 available to her.
Estrada says she will have some "family money" in the pot, "maybe $50,000, I don't know."
How will she overcome Kim's superior finances?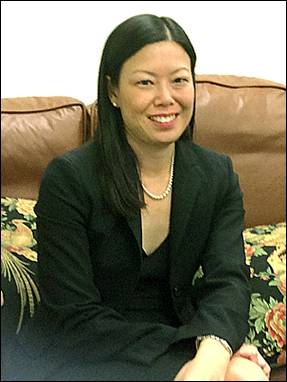 MATSUMOTO ESTRADA
"Well, I think that voters read the papers, and voters trust people that they know, and I'm going to use a lot of grassroots methods as well," Estrada responds.
"I know that I'm going to be competitive."
Her campaign consultant is one with a high success record, David Gould.
Estrada, 43, is married to a civil lawyer, whom she met when he was in the District Attorney's Office. She has no children by her present marriage or by a previous one.
Her law degree is from the University of San Diego. Estrada was admitted to practice in 1996.
She has been a deputy district attorney since May, 1998, and has handled 85 trials, 15 of which were for misdemeanors.
Public Integrity Unit
For the past year, she has been in the high-profile Public Integrity Unit. Most of the cases she's handling, she says, she can't discuss.
One prosecution assigned to her ended Friday with Daniel Juarez, former mayor of Hawthorne, pleading guilty to a felony conflict of interest charge.
Juarez, while community relations director for the American Youth Soccer Organization, received a $2,500 donation from the group to deliver to a police officer's memorial fund. He falsely said that he had done so when, in fact, he pocketed the money.
The defendant was sentenced by Los Angeles Superior Court Commissioner Mark Zuckman, who required, as a condition of probation, that he pay $2,000 to the fund, complete 200 hours of community service, and pay $8,000 to the state Victims Restitution Fund.
Bar Leadership Roles
In 2011, she was president of the Japanese American Bar Association, and she is currently is the regional president of the National Asian Pacific Islander Prosecutors Association.
Estrada has the endorsements of Los Angeles County District Attorney Jackie Lacey (who is also endorsing Kim), former District Attorney Steve Cooley, State Bar President Luis Rodriguez, 63 Los Angeles Superior Court judges including Presiding Judge David S. Wesley, 10 law enforcement organizations, and five bar groups, as well as the Association of Deputy District Attorneys.
Late in the administration of Gov. Arnold Schwarzenegger, Estrada says, she applied for appointment to a judgeship and her name was submitted to the State Bar Commission on Judicial Nominees Evaluation. She reports that she has also applied under Gov. Jerry Brown and has not heard back. Her application to voters will be acted upon June 3.
_____________________________________________
Candidate Seeks Image of Something More Than Part-Time Filing Deputy
Los Angeles Deputy District Attorney Helen Kim draws high marks from those assessing her performance in the office; in her last two evaluations, she was said to have "Exceeded Expectations," which means a rating of "Very Good." The question is not how well she is doing, but what she is doing.
In her latest evaluation, division Head Deputy Thomas P. Higgins writes:
"Ms. Kim is an experienced and talented filing deputy. In recognition of this, she's assigned to the Los Angeles Police Department's Northeast Division to handle their fax filings."
She works three days a week.
Kim sought the ballot designation of "Violent Crimes Prosecutor." Disallowing that, Los Angeles Superior Court Judge James Chalfant held that there "isn't any evidence" that Kim "spends a substantial amount of time" filing charges against perpetrators of violent crimes. In conformity with that ruling, she's listed as a "Criminal Prosecutor."
Campaign Website
On her campaign website, Kim does not reveal the part-time nature of her employment or precisely what she does, leaving it to the imagination. She says:
"I joined the Los Angeles County District Attorney's Office in 1995 and I have been involved in prosecuting hundreds of felony cases. In my current position as a criminal prosecutor, the substantial majority of the cases I prosecute are violent and serious felonies such as murder, attempted murder, assault with a deadly weapon, arson, kidnapping, carjacking robbery, burglary, criminal threats and felonies with great bodily injuries."
KIM
In an interview, Kim acknowledges:
"I've been on a three-day schedule for about two years, and prior to that, I've been part-time for maybe 10 years."
During that period of roughly 10 years, Kim says, she worked 20 hours a week, opting for reduced hours because she and her husband were bringing up their two daughters. In those years, she was assigned to handle preliminary hearings.
Overall, she was the prosecutor in 14 jury trials.
Relative Credentials
The election contender brushes aside the suggestion that her opponent, Deputy District Attorney Alison Matsumoto Estrada, who works fulltime and has handled 70 felony jury trials, including murder cases, has superior credentials. Kim declares:
"What I've done in the preliminary hearing unit, for the number of years that I did it, I believe that's an incredible amount of experience, because I've done hundreds of prelims. And you have to think on your feet, and you still have the same interaction that you would have with witnesses, with victims, with police officers, with personnel, and with the bench, the judicial bench and with court clerks."
Kim, 49, does concede that her election rival is "well respected and she's a very nice person."
Her campaign consultant is Fred Huebscher. She says he guided her into the race against Estrada based on a number of factors, including electability based on name and on relative campaign finances.
Kim says she holds in her campaign account about $450,000, the bulk of which is "family money," with her own funds representing "maybe half."
A graduate of the law school at Brigham Young University in Utah, she was admitted to the State Bar on Dec. 4, 1990. Kim worked a short time for the Orange County District Attorney's Office, went back east, going on inactive bar status in California from Jan. 1, 1992 to April 5, 1993, returned here, and joined the DA's Office.
She is endorsed by Los Angeles County District Attorney Jackie Lacey (who also endorses Estrada), but not by the previous DA, Steve Cooley. Ten Los Angeles Superior Court judges endorse her, as well as two Democratic clubs and one law enforcement group.
The Korean American Bar Association, of which Kim is a past president, has endorsed Estrada.
_____________________________________________
ANDREW COOPER
Prosecutor Has the Job He Craved, Now Wants to Assume Judgeship
June, 2001. Andrew Cooper, a recent graduate of Loyola Law School, with a bar card freshly inserted in his wallet, wanted to be a Los Angeles County deputy district attorney.
But he couldn't even apply. A hiring freeze was in effect.
In 2005, it was lifted.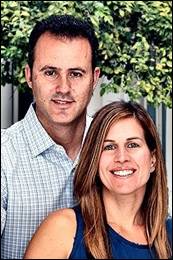 Cooper and his wife
There was a three-stage process in the competition for DDA spots. Cooper went through two interviews, and made it to the list of applicants who would participate in the third and crucial interview, with then-DA Steve Cooley.
"And then I got notified that they were not going to do any further interviews and they were going to shut down hiring," he recounts.
A new hiring freeze had gone into effect.
"Several months later, I got a letter saying they were killing the list, they were no longer going to hire off of that list," Cooper says. "Several months after that, they said they were going to restart hiring but you have to start all over."
He applied anew, and this time went through all three stages. But, he says, he remembered what happened the first time he applied, and was pessimistic about getting the job he wanted.
Cooper was working for a civil law firm, Greenberg Traurig, where, he says, he intended to remain indefinitely. Then came a phone call at about 3 p.m. on a Friday.
Cooley was on the line.
"I was certainly taken off guard," Cooper recalls.
"He said something to the effect of, 'I'd like to offer you a position, an appointment, as a DA,' and I said, 'Can I have a little time to talk to my family, to let them know?' "
"What he said was, 'Haven't you thought about this already? Haven't you discussed this already with your family?'
"And I said, 'Sir, I absolutely have, at the time where I thought there was going to be a chance.' So, he said, 'You have until Monday at 9.' "
He talked to his wife, discussed it with a couple of partners in the firm, then left a voicemail at the DA's Office that he accepted. He followed that up with a phone call at 8:30 on Monday morning.
Cooper reported for work on July 2, 2007. He now had the job he wanted.
Attracts Plaudits
By all accounts, he has done well as a prosecutor.
In announcing her endorsement of him, District Attorney Jackie Lacey said:
"Andrew has the experience, integrity and knowledge to be a fair and effective judge. He has prosecuted some of the most complex cases and the community will greatly benefit with him as a Superior Court Judge."
Cooley endorsed him, commenting:
"Andrew's extensive experience in the judicial system, community involvement, even-keeled personality and strong sense of fairness will make him an outstanding judge. Andrew is exceptionally well qualified to be a judge of the Superior Court."
Former District Attorney Robert H. Philibosian terms Cooper "an example of what a judge should be."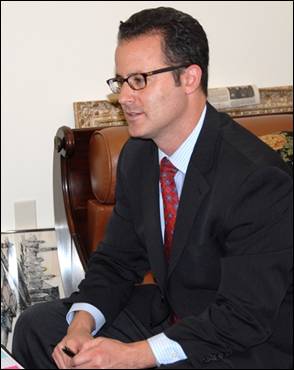 COOPER
He presently has a complex litigation assignment in the Hardcore Gang Division. In Cooper's latest annual performance evaluation, dated Jan. 3, his rating is "Exceeded Expectations (Very Good)," the equivalent of a "B."
The report credits him with being "a thorough and effective trial advocate" who "[e]ffectively resolved novel, unusual, or rare legal issues with wisdom, creativity, and sound judgment."
The previous annual report, giving him the same rating, characterizes Cooper as "an intelligent and resourceful trial attorney" with "thorough knowledge of applicable law, procedure, and evidence."
Seeks Election
Now, Cooper wants another job: that of a Superior Court judge. He says he has loaned his campaign $100,000, about a third of the amount in its coffers. The rest of the money, he acknowledges, comes from "mainly family"—which basically means "from my father," a surgeon.
At an early point in the campaign, he expressed the hope that he would "get the highest rating possible" from the Los Angeles County Bar Association—that is, "exceptionally well qualified." That hope, Cooper explained, was pinned to "the diverse experiences I've had," having handled civil cases before he became a prosecutor.
As it happens, LACBA pronounced him only "qualified," the same rating it gave his opponent. And the "qualified" rating came only after Cooper appealed a tentative branding as "not qualified."
However, there has been unprecedented shaking of heads over LACBA's 2014 tentative and final ratings, with questions being raised in voices now hushed—but likely to become loud after the June 3 primary—as to how competently the bar association's Judicial Elections Evaluation Committee has operated this year.
One election contender says there is an "across the board" impression among candidates that there was "a lack of fairness, an inconsistency in the evaluations," and questioning in interviews of a curious and seemingly irrelevant nature. A political consultant, Fred Huebscher, has said for the record that LACBA "should be ashamed" of the way its committee operated.
Cooper is endorsed by 64 Los Angeles Superior Court judges.
Age 39
The candidate is 39, and somewhat self-conscious about his youth. When asked his age, he says: "I'll be 40 this year." That will be in November.
A testament to his maturity is an entry in his personnel evaluation, dated Dec. 28, 2012, saying that a "senior deputy noted that Mr. Cooper had legal knowledge, poise, and trial skills well beyond his years in the office."
His opponent, Arnold William Mednick, 58, remarks that Cooper is "a little green," adding:
"When I was 10 years out of law school, I wanted to be a judge too, If not this time, maybe some day he will make an excellent judge."
Mednick also says of Cooper:
"I read his bio. It says he's got 16 years of experience….So I looked at his bar admission. He was admitted 12 years ago. So I have a little trouble with the math."
Cooper says, on his campaign website:
"For the last 16 years, I have protected our communities from dangerous criminals who attempt to destroy our neighborhoods, and who prey on innocent, hardworking residents and their families."
He explains that this includes time he has spent, continuing to the present, as a reserve deputy sheriff.
Mednick acknowledges:
"I'm very impressed with his qualifications. I met him, I've talked to him. He seems like a nice, sincere, dedicated guy.
"I've heard good things about him from mutual friends."
Cooper is married to a kindergarten teacher. He says they have a son "almost 2½" and a "child on the way."
Their son's first word was neither "Mommy" nor Daddy," Cooper relates. It was "Woof"—the name his son has given to the family dog, a black Labrador. The toddler can't yet say the actual name of the dog, "Trigger," Cooper explains, saying of the boy and his dog:
"They are best friends. I think they have a separate language, these two."
_____________________________________________
Ex-Referee Seeks Judgeship, Says He's Too Rusty to Practice Law
Arnold William Mednick is running for a judgeship because he's out of work and needs a job. His last day of employment, as an administrative law judge for the state Department of Social Services, was Jan. 16, 2013.
He had served as an ALJ for about six months, after being laid off as a Los Angeles Superior Court referee, along with the other referees, effective June 30, 2012. (Technically, he "retired," quitting one day before the lay-off was to go into effect.)
Mednick has not been able to land a position, but has been picky as to what he will accept. In the confidential questionnaire he filled out for the County Bar, he says:
"I have been selective in my employment search since my position at LASC was eliminated in the judicial cuts of June 2012—applying for those few judicial, quasi-judicial and full-time teaching opportunities in the L.A. area."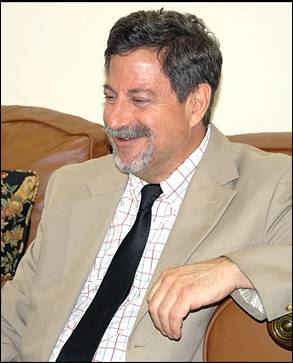 MEDNICK
Elaborating in an interview with the MetNews, he says:
"I have been looking for work. I've applied [for] administrative law judge, Office of Administrative Hearings, Office of General Services, one of those, in Los Angeles. October of last year, I put in my application; I haven't heard a word back. I put in an application to the state Personnel Board administrative law judge. I haven't heard back from that. I put in some applications for some fulltime teaching positions, Cal State Northridge. I have three out at community colleges. I applied for the child support commissioner positions at the L.A. Superior Court and I've had my screening interview. I also sent some applications to other counties for Riverside court commissioner, Ventura—they had a trial delay reduction supervisor, or something like that."
'Out of Date'
He has not sought work as a lawyer, though he is an active member of the State Bar. Mednick explains:
"I have not practiced law since 1997. I wouldn't feel comfortable taking on a paid client with my current practice experience. I'm a little bit out of date for that."
Mednick, who is unmarried, says he regrets having quit his post as an ALJ. He explains that he left because the backlog of cases in Los Angeles—which had prompted the DSS to hire ALJs for one-year terms—had been cleared up, and the judicial officers were being required to move to Sacramento. He terms himself "an L.A. boy," remarking:
"I really thought I could find another job in Los Angeles."
Mednick relates:
"I'm living off my retirement, I'm living off something else I mentioned off the record, and I'm looking for work. I want to work. I've been trying to find a job, I consider myself an 'unemployed bench officer.' That's what I do best."
Admitted in 1979
Mednick received his law degree from Hastings in 1979 and was admitted to the State Bar on Nov. 29 of that year.
From 1979-99, he taught part-time at various law schools and paralegal schools.
In about 1980, he went to work as assistant title counsel at Ticor, then became a research attorney to Los Angeles Superior Court Judge John Cole (since deceased), and practiced, in succession, with the erstwhile firms of Wyman, Bautzer, Rothman, Kuchel & Silbert; Memel, Jacobs, Pierno, Gersh & Ellsworth; and Hirschteck, Chenen, Lemon & Curtis.
It was in about 1985, while working for Memel Jacobs, that he began acting as a mediator and arbitrator, sometimes doing so as a volunteer, sometimes for pay.
From 1993-96, he was a self-employed arbitrator and mediator.
"I spent 10 years trying to make it in arbitration/mediation," Mednick recounts, "because I didn't think I had a chance of being appointed as a judge, and I tried to get commissioner, and I didn't."
Mednick served briefly as a research attorney for then-U.S. District Judge Dickran Tevrizian, now retired.
He became an as-needed Juvenile Court referee in 1997, gaining a "permanent," fulltime post in May 2002, assigned to the Informal Juvenile Traffic Court.
One judge familiar with his performance says of Mednick that "he sometimes talks too much" but adds that "the guy works hard."
Mednick reflects:
"I really thought I would be there for the rest of my career. I would have been very happy to finish my years off there if circumstances had let me.
"I never really wanted to be a judge during the years I worked there fulltime. I did not interview or apply for a commissioner position. I did not apply to the governor for judge.
"I loved what I was doing. I thought I was making a difference and I really wanted to be there and I thought I would stay there.
"My fantasy, so to speak, is to get back on the court, one way or another."
Narrowing the Odds
He's running, he says, because "with 13 open seats [actually, it was 14], this may be my one shot to get back on the court."
In seeking a commissioner's spot, Mednick notes, "I'm one of 200 candidates for four jobs." In running for election to a judicial post, says, "I'm one of two choices."
He acknowledges that he is not the likely choice of voters in the contest against Cooper, whose ballot designation is "Gang Homicide Prosecutor," and whose campaign coffers are brimming. Mednick has been relieved of campaign-contribution reporting obligations by virtue of filing a form pledging not to spend more than $1,000.
"Up against that type of designation, and with the budget I have," Mednick predicts, "he'll probably wipe the floor with me."
He comments:
"On principle, I am naively attempting to see if a candidate can, with the background and qualifications that would make him a decent judge, gave a chance to get elected without having so big a war chest or a designation as 'gang murder prosecutor.' "
Least Favorite Designation
In a paper he presented to the Registrar-Recorder's Office, Mednick listed 17 proposed ballot designations, in order of preference. The one he wound up with—"Retired Court Referee"—was No. 17. The submission was a 26-page brief-like dissertation in which he balked at use of the word "retired."
Under the statutory scheme, a candidate may not normally make reference to a position not held within the past calendar year, but may do so if the person is a retiree, in which case the adjective "Retired" must appear as the first word of the designation. A condition of using such a designation, under a regulation, is that the person be at least 55 years of age.
"I do object to wearing the scarlet letter of 'Retired' on the ballot provided to all voters," he wrote, protesting that it communicates to votes that he is "too old" for the job. He recited that "freedom from age discrimination in employment (over age 40) has been elevated by statute to a 'civil right' " in California, and claimed the election scheme deprives him of that right.
"Under protest," he said in the statement, "I reveal that I have reached at least age 55…."
Public records indicate he was born in January, 1956; he is 58.
He says in the interview that he's not sensitive about his age, but discerns that "there is a little bit of age discrimination out there," and blames such discrimination for his having been denied a position at Cal State Northridge teaching business law.
"And it's not so much the age 58, but 'retired' seems to give people the inference, at least everybody I talked to, that I'm old, over the hill, too old to work, past my prime, can't cut it anymore—and that is certainly not the inference I want on something that may be the only qualification voters see about my ability to do that job," Mednick says.
Mednick is seeking election to a six-year term beginning in January, 2015.
"I've got at least another two good terms in me before I hit the junk heap," he says.
Copyright 2014, Metropolitan News Company