Friday, May 9, 2014
Page 6
JUDICIAL ELECTIONS: Los Angeles Superior Court Office Nos. 22, 76, 157
Three Prosecutors Face Opponents Each Bested in a Writ Proceeding
By ROGER M. GRACE, Editor
Los Angeles County Deputy District Attorneys Amy Carter, Alison Matsumoto Estrada, and Andrew Cooper each won Round One in a bout with an election opponent. That bout, in a writs court, could be determinative as to who will prevail in the June 3 primary election.
Carter, billed on the ballot as a "Sex Crimes Prosecutor," is opposed by Pamala F. Matsumoto, who wanted to be identified as an "Administrative Law Judge" but who, through Carter's writ action, was reduced to being called a "Litigation Attorney."
Matsumoto Estrada, whose ballot designation is "Government Corruption Prosecutor," faces Helen Kim, a part-time deputy district attorney in the intake-section, who sought to be labeled a "Violent Crimes Prosecutor." She'll be listed, less dramatically, as a "Criminal Prosecutor."
Cooper, who will be termed a "Gang Homicide Prosecutor," is vying for election with Arnold Mednick who, like Matsumoto, claimed the title of "Administrative Law Judge." He'll be presented to voters as a "Retired Court Referee."
The Los Angeles County Bar Association found Carter to be "qualified" and Matsumoto "well qualified"; Estrada was deemed "well qualified" and Kim "not qualified"; Cooper and Mednick were each labeled "qualified." There are rumblings that questions posed at interviews with the candidates evinced greater negativity on the part of some JEEC members toward writ proceedings having been brought than toward the infirmity in ballot designations giving rise to those proceedings.
Today: a look at the Carter-Matsumoto race.
AMY CARTER
Deputy District Attorney, Husband Sell Their House To Raise Campaign Money
Los Angeles Deputy District Attorney Amy Carter is intent—really intent—on winning her contest for a Los Angeles Superior Court open seat. She and her husband, a high school teacher, sold their house to finance the effort.
"He's very supportive of me and my campaign," Carter says of her spouse.
They are willing to spend as much as $500,000, the candidate notes.
It does not appear likely, however, that the couple will need to dip that deeply into their resources. Carter's opponent, Pamala Matsumoto, does not appear inclined to pour much money into own her campaign.
Carter has hired Fred Huebscher as her campaign consultant and David Gould as her treasurer.
Huebscher expresses extreme confidence in his client's chances of success.
"Pamala Matsumoto's chances are slim at best," he says, giving her a one percent chance of prevailing.
Even if she were to win the state Lottery and there were an infusion of capital into her campaign, Huebscher says, she couldn't win. He explains that Carter has locked up a "sufficient" number of slates, and terms Matsumoto's ballot designation "awful."
Matsumoto's preferred designation of "Administrative Law Judge" was disallowed by retired Los Angeles Superior Court Judge Robert H. O'Brien, sitting on assignment, on the ground that it was misleading inasmuch as the candidate no longer held that post and did have a current occupation. Matsumoto wound up with the title, "Litigation Attorney."
Huebscher comments:
"The word 'litigation' has a negative connotation and since it's not a common word, there are voters who don't know what the word means."
O'Brien's ruling came in a writ proceeding instituted by Carter. An election law attorney, Brad Hertz, represented her.
However, his client did what is rare among judicial candidates: she took a hands-on approach.
"I purchased my own Westlaw password so I could do research," she says.
Prior to the writ petition being filed, Carter told the MetNews that when Hertz completed drafting it, "I'm going to look at it, do my research, see if I have any other thoughts, or anything to add."
Highest Office Rating
Carter's research abilities and legal knowledge are hailed in her most recent annual "Report of Performance Evaluation," dated Jan. 8. The report was prepared by Linda Loftfield, the deputy in charge of the Airport Court Victim Impact Prosecution Unit, in which Carter has a "complex litigation" assignment. Approved by two reviewers, the department head, and the chief deputy, it awards Carter the office's highest rating of "far exceeded expectations (outstanding)."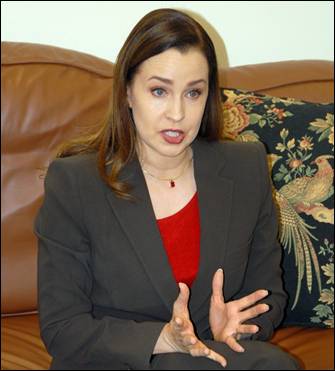 CARTER
The report observes:
"Ms. Carter has exceptional reasoning and analytical abilities. Her intelligence is multifaceted: she is a good researcher, and has an excellent knowledge of the law, but she is also able to communicate complicated concepts in understandable and common-sense ways. She maintains an extensive and organized reference system of resources, and is often consulted by colleagues and members of law enforcement for advice and answers on difficult factual and legal issues."
It also says:
"Ms. Carter is dedicated to seeking justice for victims of sexual abuse and domestic violence. This rater has observed Ms. Carter working with victims and witnesses during emotionally difficult trials, and has seen firsthand how her calm voice and strength of character put victims at ease. During this rating period, this rater has received feedback about Ms. Carter from judges, witnesses, victims, and colleagues who have worked closely with her, all of whom expressed respect and admiration for Ms. Carter's ability to relate to victims and witnesses and make them feel comfortable, make them feel heard, and make them feel respected."
The report continues:
"Judge Mark Windham expressed to this rater that he was particularly impressed with Ms. Carter's skills of diplomacy when faced with an emotionally distraught and angry crime victim who became confrontational in court. Ms. Carter was able to skillfully diffuse a volatile situation, and found a way to permit the victim's concerns to be heard and addressed, while calmly moving the proceedings forward."
Carter is also credited with "excellent judgment, passionate dedication, and diligent preparation and organization in handling her heavy caseload of serious and complex cases."
The report mentions that she regularly meets with victims and witnesses at their convenience, on weekends and holidays.
Carter's previous evaluation report, also finding that she "far exceeded expectations," says she "has developed extraordinary skill in understanding and presenting DNA evidence."
She was named "Deputy District Attorney of the Month" for March 2012 by the Association of Deputy District Attorneys for her successful prosecution, in a four-week trial, of a man who had raped and murdered vulnerable victims including a 53-year-old woman whose right arm had been surgically removed as part of her cancer treatment.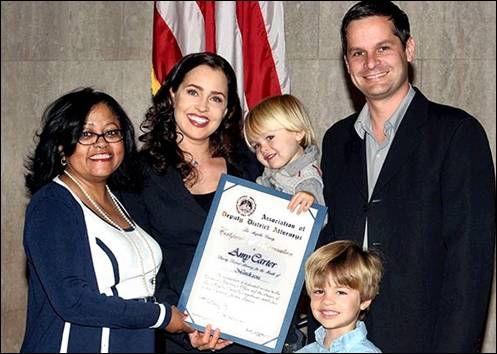 Deputy District Attorney Victoria Adams, director of branch and area operations, Region I, at left, presents Association of Deputy District Attorneys' "DDA of the Month Award" to Carter, flanked by husband Rick and sons, 3 and 7. The award was bestowed in March, 2012, for her successful prosecution of a rapist/murderer.
17-Year Career
Carter, 44, received her undergraduate and law degrees from the University of Iowa. She was admitted to the State Bar of California on Dec. 10, 1996.
A stint with the Office of Los Angeles County Counsel was followed by her going to work as a deputy district attorney, which has been her job for the past 15 years. She says that she has, in that time, handled in excess of 50 jury trials.
Carter and her husband have two sons, ages 3 and 7. They have no dog.
"It's the bane of my existence," Carter remarks, "that I'm allergic to dogs."
Her campaign pledge is: "I will research the law and I will follow the law."
Carter is endorsed by 26 Los Angeles Superior Court judges, including Presiding Judge David S. Wesley, who endorsed both candidates. She has the backing of Los Angeles County District Attorney Jackie Lacey and immediate past District Attorney Steve Cooley, as well as the Los Angeles County Police Chiefs' Association, the Association for Los Angeles Deputy Sheriffs, and the Los Angeles County Professional Peace Officers Association.
_____________________________________________
Litigator Has Served as Deputy PD, Deputy AG, Court Referee, ALJ
The legal career of Pamala F. Matsumoto, who is currently working at a small litigation law firm in Glendale, has spanned 26 years and has included employment in two government law offices, representation of two insurance companies, and service as a Los Angeles Superior Court referee and a state administrative law judge.
A graduate of the Boston College Law School, she was admitted to the State Bar on June 16, 1988, and went to work for the Office of Los Angeles County Public Defender the following year. She and Deputy Public Defender (now Deputy Attorney General) Phillip J. Matsumoto, were wed in 1991.
For a spell in 1994-95, they resided in San Diego, and she worked for the Office of Alternate Public Defender.
From April 1995 to March 1997, the Matsumotos lived in Japan, where Phillip Matsumoto was employed. "I do stick out when we go to Japan," Pamala Matsumoto says, noting, "I'm Chinese." (Her maiden name was Yee.)
Moving to San Francisco in 1977, Pamala Matsumoto represented Allstate Insurance Company while working at the Law Office of J. Gary McAuliffe. From 2004-05, she was lead attorney for Bristol West, also an insurance company.
Prosecutes Fraud Cases
In 2005, Pamala Matsumoto became a deputy attorney general in the Los Angeles office, handling medical fraud prosecutions. During the time she worked there, her application to be a Los Angeles Superior Court referee was pending.
She "wasn't very productive" in the AG's Office, someone who was a colleague there remarks, alleging that Matsumoto looked upon her position as a "stopgap" job.
"There are people who come into an office and hit the ground running," the erstwhile colleague says. "She never started running."
Matsumoto became an as-needed referee on Jan. 2, 2006. When she left the AG's Office, the former co-worker comments, "I don't think anybody thought it was a big loss."
As Matsumoto recounts it, she enjoyed her time in the AG's Office and left with some reluctance. She says that when Juvenile Courts Presiding Judge Michael Nash offered her as spot as an as-needed referee, "I didn't jump at it right away."
She recalls:
"I did tell him that I would need a few hours to think about it. And I remember, he smiled.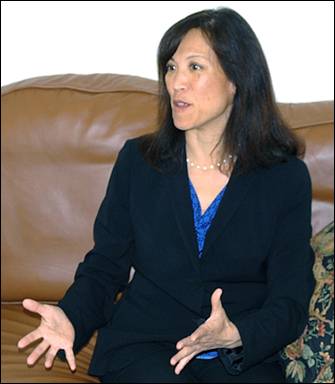 MATSUMOTO
"To be honest, I had a great time in the AG's Office. The people were wonderful. I had never been a prosecutor before. It was interesting to be on the other side, building the cases—not that criminal defense attorneys are not building cases—but I had never actually had to build a case, getting all the raw material, and then making sure that it met the different subject matters."
Becomes Fulltime Referee
She gained fulltime, permanent status as a referee on Sept. 1, 2006. Her role at the Superior Court was that of a referee of the Informal Juvenile Traffic Court ("IJTC.") Cases of various sorts came before her—where the District Attorney's Office did not file a juvenile delinquency petition—not just those involving traffic matters.
Matsumoto recites that IJTC referees, bobbing among each of 12 courthouses, dealt with "any misdemeanor or infraction except the misdemeanor of drunk driving" which, owing to the legislative influence of Mothers Against Drunk Driving, necessarily went to delinquency court.
In the "informal" court, there was no court reporter; the referee took notes. There was no prosecutor. Defense lawyers were allowed to be present, but rarely appeared. Third-year law students, performing under the supervision of a clinical law professor, sometimes would defend. But generally, the cast of characters was the referee, the youth, the parents, and the police officer.
One judge observes that an IJTC referee acted "more like a social worker" than a judicial officer, typically dealing with such matters as curfew violations or truancy. About 99 percent of the youths admitted the alleged violations, the judge says, and the penalties were in the nature of writing an essay or going to detention.
Los Angeles Superior Court Judge D. Zeke Zeidler—who, as an as-needed referee before being elected to the bench, occasionally presided in an IJTC courtroom, notes that "[t]here could be trials with testimony (arresting officer, juvenile, store security, etc.) and evidence (store videotapes, etc.)."
Observing Matsumoto's performance when she was at the Metropolitan Courthouse was Los Angeles Superior Court Judge Joseph A. Brandolino, who relates:
"Pam was affable, intelligent, and devoted to her work as a juvenile referee. I discussed cases with her and observed some proceedings over which she presided. I also knew her excellent reputation among other bench officers. She was adept at dealing with the dynamics of juvenile court, especially diversionary situations where she dealt effectively with juvenile defendants, family members and law enforcement/school authorities. She did a great job balancing discipline/authority with compassion and encouragement."
Los Angeles Superior Court Judge Holli Fujie says:
"Ms. Matsumoto has an excellent reputation among her former colleagues on the bench. I have known her for a number of years and have always been impressed by her integrity, her intelligence and her work ethic. I would be proud to have her join me on the Los Angeles Superior Court as a judge."
Referees Laid Off
Services of all of the court's fulltime referees were terminated as of June 30, 2012, in light of deficiencies in court funding, and IJCT ceased to exist. Matsumoto became a state administrative law judge for the Department of Social Services from Aug. 1, 2012 to July 1, 2013, under a fixed term.
When the term ended, she reflects, "I was unemployed, and it's tough."
In "the middle of November" of last year, she says, she gained her present position with Law Offices of Gregory Lucette.
Matsumoto, 51, is endorsed by 14 judges including Wesley, Nash, Brandolino and Fujie.
Although both candidates are Democrats, it is Matsumoto who captured the endorsement of the county Democratic party. She also has the backing of the Democratic Party of the San Fernando Valley, Mexican American Democratic Club, New Frontier Democratic Club, and West Hollywood-Beverly Hills Democratic Club, as well as AFSCME 36 Local 575 (Los Angeles Superior Court Clerks and Paralegals).
She says that she hopes to prevail on June 3 through efforts of a "true grass roots organization, getting the word out to friends and family."
Matsumoto says she has a large family. Her immediate family (of whom she did not have a photo available) is comprised of her husband and herself and their 14-year-old son. And Yoshi, a cocker spaniel mix.
Copyright 2014, Metropolitan News Company