Monday, April 28, 2014
Page 4
JUDICIAL ELECTIONS: Los Angeles Superior Court Office No. 107
Subordinate Judicial Officer Spars With Prosecutor
By ROGER M. GRACE, Editor
Los Angeles Superior Court Commissioner Emma Castro will face Deputy District Attorney Joan M. Chrostek in the June 3 primary.
Castro was found "not qualified" for a judgeship by the State Bar Commission on Judicial Nominees Evaluation—something she refuses to discuss. A Los Angeles County Bar Association Judicial Elections Evaluation Committee subcommittee this month adjudged her "qualified" and she has opted not to appeal.
Chrostek, who was taken to task in a 2008 report by her office for deficient performance in a spousal abuse case—which culminated in a husband with dangerous propensties being released from custody and proceeding to slay his wife—is presently appealing a JEEC rating of "not qualified."
Chrostek was profiled last Thursday. Today: Castro.
EMMA CASTRO
Superior Court Commissioner Won't Discuss 'NQ' Rating From JNE Commission
Los Angeles Superior Court Commissioner Emma Castro is mum.
She refuses to disclose the bases upon which the State Bar Commission on Judicial Nominees Evaluation recently found her "not qualified" for a Superior Court judgeship.
When an applicant for a judgeship catches the governor's eye (or that of his staff), the person's name is submitted to the commission, known as "JNE" (and pronounced "Jenny.")
Those seeking trial court posts go before a two-member subcommittee (while aspirants to appellant court posts face four questioners). At least four business days before the interview, the subcommittee must send the candidate all of the "negatives" garnered from questionnaires it sent out that were returned, and the candidate is given an opportunity to address the concerns orally.
The subcommittee makes a recommendation, and the rating is determined by the full commission. Where a candidate gets a passing grade, the rating, which is confidential, goes to the governor, and it is not revealed to the applicant; where there is a "not qualified" rating, the candidate is told of it, and has an opportunity to appeal to a review board.
Castro practiced juvenile dependency law for more than 30 years before undertaking duties as a commissioner in June, 2011. In meeting with the MetNews—before it was learned that she was secretly rated "not qualified"—she acknowledged that her name had been sent to JNE, and purported to recite the extent of the "negatives" supplied to her prior to the interview:
"Depth and breadth of experience because I don't have a criminal background…and I had very little probate experience. I've done quite a few guardianships through the probate court. And my family law experience was more than 20 years ago when I was in private practice.
"I disagree that my breadth and depth of experience was insufficient, because most of us as practitioners become specialized, and most of the judges that are elected or appointed come from backgrounds, singular backgrounds."
Once the JNE rating was later ascertained by this newspaper, Castro declined to discuss it by telephone, or respond to specific questions posed in e-mails. She said, in a written statement, sent by e-mail:
"I am sure you are aware of the strict Confidentiality requirements set forth in the Government Code and the State Bar of CA, JNE Rules regarding unauthorized release of JNE ratings of judicial applicants to the Governor's Office. I do not feel it is appropriate to violate these rules."
Candidate's Disclosure Permitted
There is no rule against the disclosure of ratings by candidates for appointment.
To the contrary, Rules of the State Bar, rule 7.20, mandating JNE confidentiality, specifies: "(C) This rule applies to the Board of Trustees, commissioners, and employees and agents of the State Bar but not to candidates."
(Too, Government Code §12011.5 refers to the "privilege" of confidentiality. Given that confidentiality of an adverse rating is for the benefit the candidate, it is the candidate who is the holder of the privilege, with power to waive it.)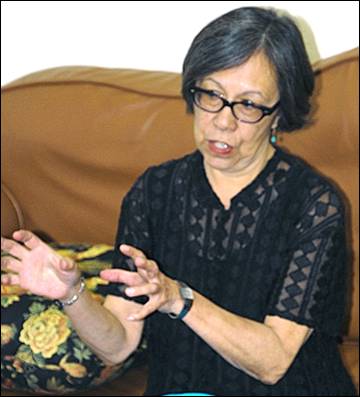 CASTRO
The lack of any restraint on a candidate discussing a JNE rating was communicated to Castro by e-mail. She has remained unwilling to discuss the rating.
Under Rule 7.26(B)(4), where a candidate's practice has been confined to a single area of law, that, alone, could not give rise to a "not qualified" rating. A candidate is deemed "qualified" if he or she possesses "qualities and attributes sufficient to perform the judicial function adequately and satisfactorily" and is "not qualified" if in possession of "less than the minimum qualities and attributes required by these rules."
Castro leaves to conjecture why she was "dinged" by JNE.
A consolation to her might be that a subcommittee of the Los Angeles County Bar Association's Judicial Elections Evaluation Committee this month found her "qualified" for a judgeship. Had she decided to appeal to the full committee, she would have stood a chance of having the rating boosted, but would also have risked the prospect of it being lowered to "not qualified." She decided not to appeal.
Question Unanswered
One of the questions posed to Castro by e-mail, to which she did not respond, was whether she had neglected to disclose to JNE something which she did discuss with the MetNews: her drunk driving conviction.
Here's her explanation of that episode:
"In 1996, that's almost 20 years ago, I was arrested for driving under the influence of alcohol. I had to complete a 90-day alcohol education program, which I did. No one was in the car, there was no property damage.
"That was a singular and isolated instance for which I am very embarrassed to have to reveal, but I think in all candor, I should reveal that….I do not, and have never had, an alcohol abuse problem.
"And that would be the only negative information in my life."
Opponent's Ballot Designation
Castro has criticized the ballot designation of her opponent, Deputy District Attorney Joan Chrostek, who claims to be a "Major Narcotics Prosecutor." Chrostek does not seek convictions of those accused of major narcotics offenses. Rather, she handles ancillary civil proceedings aimed at seizing assets of those who are convicted through efforts of deputy district attorneys who handle trials.
Yet, Castro made no effort to contest the designation.
This conversation took place:
MetNews: Why didn't you challenge her ballot designation?
Castro: Because it's a very costly procedure. You have to hire a lawyer,
MetNews: Why? You're a lawyer.
Castro: I'm a lawyer. I would not have had the time to be able to do that.
….
MetNews: Did you contact the Registrar Recorder's Office?
Castro: No.
MetNews: Why not?
Castro: Because, to contest a ballot designation, you need to go through the channels of the court procedures.
MetNews: If you seek a writ.
Castro: Yes.
MetNews: But you can make a telephone call to the Registrar-Recorder's Office and pose an objection to your opponent's designation, can you not?
Castro: Honestly…I do not know the answer to that. I did not do that.
Farming Community
Castro, who turned 62 yesterday, was born in Lompoc, in Santa Barbara County, the daughter of farm workers who emigrated from Mexico.
Los Angeles Superior Court Judge Zeke Zeidler reflects:
"[I]t was not until her swearing in ceremony that I became more aware of her background; her mother was assisted by a Spanish language interpreter at that event, and Emma spoke of the working class background in which she was raised. It added another dimension to understanding her accomplishments throughout her career."
Castro graduated from the University of California at Santa Barbara, then obtained her law degree at UCLA in 1977. She was admitted to practice on Nov. 29, 1978.
While at UCLA, she was impressed by a speaker at a recruitment event, Arthur L. Goldberg, a campus activist in the 1960s who was dismissed from UC Berkeley where he was a founder of the Free Speech movement, and later dismissed from Howard Law School in the District of Columbia. Castro went to work in 1978 for his Echo Park firm, Goldberg, Fuchs, Working Peoples Law Center, becoming a partner in 1983.
She was a sole practitioner from 1989-2006, was supervising attorney in the Law Office of Barry A. Herzog of Los Angeles Dependency Lawyers, Inc., 2006-2008, and director of her own law office, also affiliated with LADL, from 2008-2011. LADL is a non-profit law group, comprised of four law firms, representing parents in dependency cases.
Lead Plaintiff
Castro became the lead plaintiff in Castro vs. Los Angeles County Board of Supervisors which sought to enjoin operations of the Dependency Legal Court Services, forerunner of LADL, created by the board in 1989. As she recounts it:
"It was to replace the existing loose affiliation of private attorneys that were contracted to represent parents and children in proceedings. In the creation of the organization, it was presented that there would be four offices, all under one roof, under one director, representing different interests of parents and children.
"We filed an application for a restraining order, saying there were conflicts in one office representing multiple parties with divergent interests. Many of these cases had three or four parents.
"Respondents then offered to create new, different offices, and what they call, quote-unquote, Chinese Walls, which means that there are different administrative staff, different handling of case files, different directors, for each one of mother, father, and the third parent. And the application for permanent restraining order was denied. It was a very quick procedure, occurred in a relatively short period of time."
Decision Appealed
The action was filed April 25, 1990. On July 19 of that year, then-Los Angeles Superior Court Judge David Yaffe denied a preliminary injunction, finding that the facts put forth were merely hypothetical. Castro appealed.
The Court of Appeal for this district affirmed on Aug. 2, 1991. Writing for Div. Three, Justice Edward Hinz said that DCLS was comprised of three separate law firms, and actual conflicts did not exist.
He pointed to the appellants' interest in the matter:
"Plaintiffs Castro and [Elaine] Rosen are members of a panel of attorneys who, pursuant to court appointment, have hitherto represented parties in dependency court. Plaintiff Juvenile Courts Bar Association is an association of attorneys who have represented parties in dependency court proceedings. If DCLS provides contracted legal services, they will be in lieu of services plaintiffs would have otherwise provided."
Hired as Commissioner
Castro on May 20, 2011, was elected by judges as a court commissioner.
"I asked to have a non-juvenile assignment so I could have a breadth of experience," Castro recounts. "My plan was to eventually become a judge.
So I was assigned to a limited civil assignment in the Antelope Valley in the Antonovich Courthouse in Lancaster. And I had a calendar of unlawful detainers, small claims court, a motion calendar, a domestic violence restraining order calendar, and traffic court calendar."
She was assigned to a dependency court in Lancaster, and at the start of this year, began handling delinquency cases in Eastlake.
Judicial officers have conflicting views of her performance.
One says she is "absolutely unqualified to be a judge."
Another says she has a "horrible demeanor," "doesn't get her work done," and is a "poor calendar manager."
Zeidler has an opposite impression, remarking:
"A large part of a judge's job, often ignored in judicial elections, is management (of a courtroom, a court calendar, a court case, and court staff). In my experience interacting with her as a supervisor of court appointed counsel in my courtroom, her management was exemplary."
Judge Robert Draper hails her as "exceptionally well qualified."
Another jurist terms her "very smart, straight forward."
Juvenile Court Presiding Judge Michael Nash says, "I do not get any complaints about her," and notes she was a "highly respected lawyer."
Timothy Martella, a dependency lawyer who says he has known Castro for more than 20 years and is on her election committee, remarks:
"As a lawyer she was tenacious in her defense of the parents in their quest to regain custody of their children. Our law firm appeared in front of her during her stay in the Lancaster Dependency Court. She was very fair to all parties and had great judicial temperament."
Dependency lawyer Nancy Brucker opines that Castro "is a knowledgeable and smart bench officer," adding: "Los Angeles County would be lucky to have her as a judge."
Castro is a member of the California Court Commissioners Association, Mexican American Bar Association, Los Angeles County Bar Association, California Judges Association, Hispanic National Bar Association, and the Latina Lawyers Bar Association.
Divorced since 1985, she lives in Mt. Washington and belongs to various civic organizations there.
Copyright 2014, Metropolitan News Company