Thursday, April 24, 2014
Page 4
JUDICIAL ELECTIONS: Los Angeles Superior Court Office No. 107
DDA Who Fumbled Vies With Commissioner With 'NQ' From JNE
By ROGER M. GRACE, Editor
Deputy District Attorney Joan M. Chrostek, whose deficient performance in a spousal abuse case was detailed in a publicly released report in 2008 signed by then-District Attorney Steve Cooley, is in an election contest with Los Angeles Superior Court Commissioner Emma Castro, who last year was found "not qualified" for a judgeship by the State Bar Commission on Judicial Nominees Evaluation.
This year, a subcommittee of the Los Angeles County Bar Association's Judicial Elections Evaluation Committee found Castro to be "qualified," and she did not appeal to the full committee. Chrostek said yesterday she was tentatively rated "not qualified" and is appealing.
Today: a look at Chrostek.
JOAN M. CHROSTEK
Takes No Responsibility For Slaying by Man Released From Custody
On Dec. 21, 2007, Curtis Bernard Harris, after pleading guilty to false imprisonment of his estranged wife and to a gun-possession charge, was released from custody so that he could, in his attorney's words, "get his affairs in order" before beginning a negotiated 16-month prison sentence. One of the loose ends he tied up was slaying his wife, Monica Thomas-Harris. That occurred on Jan. 5, 2008.
The prosecutor in the case was Joan Chrostek. It was not she who agreed to the defendant's release; she was on vacation that day.
Yet, in light of surrounding circumstances, some point a finger at Chrostek, ascribing to her a degree of blame for the slaying of the woman (followed by the husband's suicide). It is generally assumed that her present assignment—to the Assets Forfeiture Unit—was a punitive one, stemming from her handling of the Harris case. In her present assignment, she does not prosecute anyone for narcotics offenses, yet she has as her ballot designation, "Major Narcotics Prosecutor."
Chrostek says of the slaying:
"It's a terrible thing that I've suffered with, personally, since 2008."
Was she in any way at fault?
"I find fault with myself because I wasn't there that day," she responds. "If I had been there, I wouldn't have agreed to allow him out of custody."
Is she being unfairly blamed?
"I would have to say yes," she answers. "I feel that I've been unfairly blamed, yes."
Later, she reflects:
"It's personally taken probably years off my life, because I just never really get over the death of this woman.
"I was the one who interviewed her and filed the case, so it's been very devastating to me, her death."
But again, she declares:
"It was not my fault."
Departmental Report
In the aftermath of the slaying, then-District Attorney Steve Cooley commissioned an investigation into what shortcomings in his office operations led to the misguided release of the defendant. He signed the final report, and made it public on June 5, 2008. It was critical of Chrostek and others. The facts below are taken from that report.
Before charges were filed, Chrostek conducted a two-hour interview with Thomas-Harris, the complaining witness.
The wife recounted that on Nov. 16, 2007, she met her husband in a parking lot to talk things out. He forced her to go with him in his car to a motel room, handcuffed her, and made her take the drug "Ecstasy." She agreed to have sex with him upon the condition that he would then let her go. He removed the handcuffs, they engaged in sexual intercourse, and he drove her back to her car in the parking lot.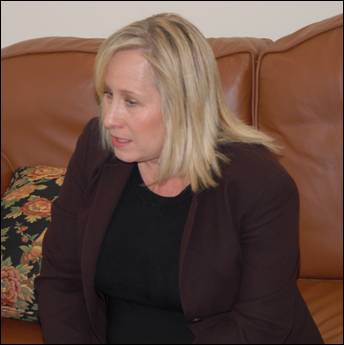 CHROSTEK
The following day, according to Thomas-Harris's rendition, her husband forced her into her own car, handcuffed her, fetched a gun and a stun gun from his car, explaining that the gun was for use on police and the stun gun on her, drove to various locations, at one point stopping to immobilize her legs with duct tape, and eventually released her.
Chrostek's interview with Thomas-Harris took place Nov. 20 upon the investigating police officer bringing the woman to the Pomona branch of the District Attorney's Office where Chrostek was stationed. The prosecutor had been a Victim Impact Program (VIP) trial deputy there since early 2007. Police had arrested Harris earlier that day, after his wife, in a telephone conversation they recorded, elicited admissions from him as to what he had done. A gun, stun gun, handcuffs, and duct tape were found in his car.
Chrostek charged the defendant, the following day, with three felony counts: false imprisonment, based on the motel room incident; kidnapping, with a use allegation, based on the car ride; and being an ex-convict in possession of a gun, founded on police discovering the weapon in his vehicle. Priors were alleged. Chrostek did not charge him with spousal rape.
The case was set for a "pre-preliminary hearing" pursuant to the Early Disposition Program (that is, for plea bargaining) on Dec. 21. It was at that hearing that Harris agreed to plead guilty to false imprisonment and being an ex-convict in possession of a firearm, and receive a 16-month sentence. It was there that a supervisor, filling in for Chrostek on an impromptu basis, assented to the release—despite a recommendation in the Probation Department report cautioning against a release of Harris. Looming at that point was the prospect of Thomas-Harris repudiating her allegations against her husband.
Defective Performance
The report finds that Chrostek's errors contributed to the release of Harris inasmuch as she had an actual awareness of his dangerousness, and did not see to it that persons handling the case in her stead were made aware of the facts underlying that conclusion.
The report says that Chrostek…
•"[T]old the investigating officer at the time of the pre-filing interview that she felt the defendant was likely to kill the victim unless he was incarcerated."
•"[F]ailed to document this essential information anywhere in the file, nor did she share her impressions with her chain-of-command or colleagues," contrary to requirements of an office manual.
•"[F]ailed to complete a protective order at the time of filing," in violation of policy, and at "no time thereafter" did she "prepare a protective order."
•"[D]id not give any specific instructions to the calendar deputy who was making the appearance" (or, rather, had been expected to make the appearance) at the pre-preliminary hearing set for Dec. 13. That hearing was continued to Dec. 21.
•"[D]id not arrange for any other deputy to appear on the case for the hearing scheduled on" Dec. 21, 2007, a day on which she was on vacation. By happenstance, the assistant VIP coordinator was in the courtroom when the matter was called, and stepped in, on the spot. A short time later, the assistant coordinator agreed to the release of Harris after reviewing the "attorney's notes" in the office file and finding nothing alerting her to the danger inherent in that concession. "[T]he DA case file did not contain any notes written by [Chrostek] about the case."
•Did not check on the status of the case upon her return from vacation on Dec. 24, according to her own statement. Based on Thomas-Harris having expressed concerns about her safety, and it having been determined that no protective order was in effect, another deputy on that date attempted, unsuccessfully, to gain a protective order, on an ex parte basis.
•Did nothing further in the case until Jan. 4 when she learned that Thomas-Harris had been reported missing. She secured a revocation of the defendant's own-recognizance release and an order for his arrest. The following day, the bodies of the victim and her husband were found by police in a motel room.
Other Errors Cited
The report also points out that Chrostek….
•"[D]etermined that a spousal rape charge should not be filed," deferring to Thomas-Harris's conclusion that sex at the motel had been consensual, "[r]ather than researching the issue to determine if agreeing to have sex under such duress was legal consent."
•Did not take notes during the pre-filing interview with Thomas-Harris. "[T]he decision to not make a recordation of the substance of the pre-filing interview was not prudent in light of the facts presented to [Chrostek] at the time of filing."
•Did not advise the victim "of her right to have a counselor and support person present during the pre-filing interview. This failure is a violation of both Penal Code § 679.02 and" an office manual.
•"[F]ailed to notify a VSR"—that is, a "victim services representative"—at the time the charges against Harris were filed, as required by an office special mandate. She merely provided Thomas-Harris with a VSR's business card and neglected to notify that VSR of the referral. Chrostek failed to transmit copies of the police report, as prescribed by an office policy manual.
•"[E]rred in filing the weapon enhancement pursuant to Penal Code §12022(b), as opposed to Penal Code §12022.53 or Penal Code §12022.5, either of which would have carried a greater maximum penalty." The offer of a term of 16 months "was likely lower than it might have been had the enhancement been correctly alleged."
•"[D]id not…make the…court appearances at the arraignment and plea on November 21, 2007, or at the Pre-preliminary Hearings on December 13 and 21, 2007," creating "a question as to whether this case can be considered to have been vertically prosecuted," in conformity with office policy. "Further, it does not appear that [Chrostek] properly arranged for others to make her court appearances in her absence while she was unavailable in trial or on vacation."
•Failed to keep in communication with the victim, in violation of Penal Code §679.02(a)(12), as well as portions of an office manual.
Unwanted Reassignment
In the aftermath of the Harris case, Chrostek found herself in an assignment that is not a coveted one.
"I don't know if it's a punitive assignment," she says, acknowledging:
"I actually did not want to go to asset forfeitures because I wanted to do trials. I actually had requested not to be transferred, and Richard Doyle asked me to do it, and I did it."
Doyle was then-director of specialized prosecutions.
Chrostek notes that Deputy District Attorney Penny Schneider, who heads the unit, "specifically asked for me" because she had some civil background.
Neither Doyle nor Schneider responded to a request for comment on the reassignment.
Despite the various deficiencies in Chrostek's performance in connection with the Harris case, pinpointed in a report signed by Cooley, the candidate has Cooley's endorsement, as well as that of the current DA, Jackie Lacey.
Cooley explains that, outside of the criticisms of Chrostek that emerged in connection with People v. Harris, he has "not heard anything negative about her." The ex-DA says her missteps in the Harris case are "not necessarily disqualifying, in light of the line-up in that race."
Chrostek's opponent is Los Angeles Superior Court Commissioner Emma Castro.
Ballot Designation Questioned
Castro brings up an issue with respect to Chrostek's ballot designation as "Major Narcotics Prosecutor." She points out that the deputy district attorney is assigned to the Civil Assets Forfeiture Unit, remarking:
"If, in fact, she's in Civil Asserts Forfeiture, and if, in fact, she is not a prosecutor for major narcotics crimes, then her ballot designation is questionable."
This dialogue took place with Chrostek:
MetNews: Do you prosecute persons accused of narcotics offenses?
Chrostek: Well, I have done a lot of things in my 20 years in the DA's Office. Right now, I am currently assigned to the Major Narcotics, Assets Forfeiture. So I am officially punishing people who are trafficking in drugs, by taking the illegal proceeds of their work. So, yes.
MetNews: You're punishing them, but are you prosecuting them?
Chrostek: Well, I'm a prosecutor.
MetNewsBut are you prosecuting these persons who are accused of drug offenses.
Chrostek: I'm civilly prosecuting the cases.
MetNewsWell. anyone who files a civil complaint is prosecuting an action, in the general sense.
Chrostek: Yes.
MetNewsBut are you criminally prosecuting?
Chrostek: No, I'm not criminally prosecuting them.
MetNewsDoesn't your ballot designation imply that?
Chrostek: Well, I'm in the Major Narcotics Unit and I'm a prosecutor.
Two years ago, Deputy District Attorney Craig Gold ran for a judgeship, and came under fire for his ballot designation. He was, and is, in Assets Forfeiture.
Chrostek draws a distinction between his ballot designation and hers:
"He called himself a 'Criminal Trial Prosecutor.' I haven't said I'm doing 'Criminal.' I'm a prosecutor. That's my job as a DA. People wanted me to put down 'Criminal' and I didn't do that."
Chrostek points out that on the day prior to the interview, deputies in the Assets Forfeiture Unit "were in training with the Major Narcotics Division" and those in the division "treated us exactly as if we're Major Narcotics." She notes that "right now, we are not housed in the same building as them" but will be "once we're in the Hall of Justice" (which is undergoing restoration).
Further questioning ensued:
MetNews: "Major Narcotics Prosecutor." Doesn't that connote to you, wouldn't it reasonably connote to the voter, that you prosecute persons who are criminally charged with narcotics offenses?
Chrostek: Well, I do. You have to be charged with a narcotics offense for it to trigger the asset forfeiture.
MetNews: Right, but you're not prosecuting them, in the court, for the offense, itself. This is something collateral, isn't it?
Chrostek: Well, I suppose it is collateral to the criminal prosecution.
MetNews: You suppose? It is.
Chrostek: It is. Yes.
MetNews: Isn't this misleading to the voter as far as what you're doing?
Chrostek: No. I'm part of Major Narcotics, and I'm a prosecutor, and tomorrow I could be transferred anywhere, any unit."
Chrostek, who will turn 48 on Tuesday, is unmarried. She takes care of her 90-year-old mother.
Her law degree is from Santa Clara University School of Law, and she was admitted to practice June 8, 1992.
She has been with the District Attorney's Office for 20 years and is a Grade III deputy.
Chrostek terms herself "smart, ethical, hard-working."
Copyright 2014, Metropolitan News Company