Thursday, July 17, 2014
Page 1
Judge Rules State's Death Penalty Unconstitutional
By a MetNews Staff Writer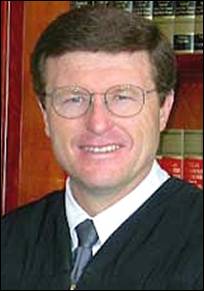 CORMAC J. CARNEY
U.S. District Judge
U.S. District Judge Cormac Carney of the Central District of California yesterday declared California's death penalty unconstitutional, saying lengthy delays in finalizing cases amount to cruel and unusual punishment.
"When an individual is condemned to death in California, the sentence carries with it an implicit promise from the state that it will actually be carried out," Carney wrote. "But for too long now, the promise has been an empty one...it has resulted in a system that serves no penological purpose."
The judge granted habeas corpus relief to Ernest Dewayne Jones, convicted of the 1992 rape and murder of his girlfriend's mother, and sentenced to death in 1995. The California Supreme Court in 2003 unanimously upheld the conviction and sentence, rejecting claims that Jones was mentally unbalanced when he attacked Julia Miller, and that he never intended to rape or kill her.
Prosecutors said Jones brutally raped and stabbed the 50-year-old woman after they argued over his treatment of her daughter—Jones' girlfriend at the time—and that he stole her jewelry to support a drug habit.
Jones, who was paroled after serving more than five years in prison following a 1985 conviction for the rape of a different girlfriend's mother, was sentenced to death by Los Angeles Superior Court Judge Edward Ferns.
'Slight Possibility'
Carney said the uncertainty as to when death will be inflicted amounts to a constitutional violation. "Allowing this system to continue to threaten Mr. Jones with the slight possibility of death, almost a generation after he was first sentenced, violates the Eighth Amendment's prohibition against cruel and unusual punishment," he wrote.
In 1978 California voters passed Proposition 7, the Briggs Initiative, which amended the death penalty statute, in order to reinstate the death penalty after the California Supreme Court invalidated the statute in 1972. Carney noted that since 1978, more than 900 people have been sentenced to death in California, but only 13 have been executed.
He attributed the length of time inmates wait on death row to the post-conviction review process, limited availability of court-appointed attorneys, and on the fact that California is without any execution protocol by which to execute inmates. Since 2006, all proposed methods of lethal injection have been found to be in violation of the state's Administrative Procedures Act.
Systemic Delay
Death penalty opponents said the case was the first in which a judge has ruled that systemic delay in California's implementation of the punishment violates the Eighth Amendment.
Carney, a onetime UCLA football star, was nominated to the bench by President George W. Bush in 2002 and confirmed by the U.S. Senate the following year. He came to the federal bench from the Orange Superior Court, to which then-Gov. Gray Davis, named him in 2001.
Davis, a Democrat elected as a strong supporter of capital punishment, recently joined Republican ex-governors George Deukmejian and Pete Wilson in support of an initiative they said will speed up the implementation of the penalty in California.
Copyright 2014, Metropolitan News Company