Wednesday, September 3, 2014
Page 1
Prison Official Named Administrative Director of the Courts
By a MetNews Staff Writer
The Judicial Council of California yesterday named Martin N. Hoshino administrative director of the Courts, effective Oct. 1.
The council staff said in a press release that Hoshino, currently undersecretary for operations at the California Department of Corrections and Rehabilitation, had been unanimously chosen to succeed the retiring Steven Jahr.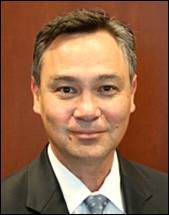 —Courtesy photo
MARTIN N. HOSHINO
Administrative Director-designate
The release quoted Chief Justice Tani G. Cantil-Sakauye, who chairs the Judicial Council, as saying of Hoshino:
"He has served in the executive branch with distinction for 15 years and comes highly recommended for his administrative expertise and competence."
The release noted that Hoshino, 50, oversaw a $10 billion budget, 60,000 employees, 34 prisons, and a host of other facilities, as head of one of the two operating divisions of CDCR. His past experience with the courts includes serving as an appointee of Gov. Jerry Brown to the California Trial Court Funding Work Group established by Brown and Cantil-Sakauye two years ago.
Hoshino reflected on that work in a statement yesterday:
"When I served on the Trial Court Funding Work Group, I was impressed with the Chief Justice's commitment to a strong court system that efficiently provides essential government services, as it parallels the Governor's approach with Corrections. My own career encompasses a broad mix of statewide policymaking, oversight of budget and operations, and collaboration with the justice system and Legislature. I'm looking forward to applying my experience and administrative skills to serve the needs of the Judicial Council and the judicial branch."
In a statement, the governor said Hoshino was a valuable contributor to the executive branch.
"Martin has a distinguished record of public service," Brown said. "He did an outstanding job of helping the state manage its prison system during a very difficult period. He'll be a great help to the California judiciary. We'll all miss him."
Hoshino was selected after a nationwide search headed by Third District Court of Appeal Justice Harry Hull, who said:
"Martin is highly regarded within the Brown Administration, has worked well with the Legislature, and his work experience reflects his deep and broad understanding of state government. One of his references called him an 'administrator's administrator.' Every judge and justice in this state understands that effective and efficient administrative leadership helps us to do our job of providing access to justice. The judicial branch and the people of California will be well-served by him."
Hoshino was appointed to his present position by Brown in May 2011, eight years after he joined CDCR. His prior positions there included undersecretary of administration and offender services, executive officer at the Board of Parole Hearings, and assistant secretary at the Office of Internal Affairs.
From 1999 to 2003, he was chief assistant inspector general for the state prisons. The inspector general at the time, Steve White, is now a Sacramento Superior Court judge and president of the Alliance of California Judges.
White was unavailable for comment yesterday but issued a statement on behalf of the alliance, which read in part:
"Based on what we know of [Hoshino] from his work at CDCR, the State Controller's Office and the Office of the Inspector General, it is likely he would not have taken this position, even on an interim basis, unless he were given full authority to hire and fire agency staffers. We expect he will bring to the job a commitment to rein in the excessive spending and the overreach of the agency formerly known as the AOC, and that he has the background and the skills to shake up the administration of our branch….
"As we did with his predecessor and with the Chief Justice, we offer to meet with Director Hoshino at his convenience to exchange ideas about the direction of the judicial branch and its bureaucracy. The Alliance has stood ready to work with anyone and everyone of good faith who recognizes that change is needed in order to restore the judiciary to its former position. If the new director is to succeed he must reach out. We will know soon whether he will chart a new path, and we look forward to working with him to effect meaningful change in the governance of the judicial branch."
Fresno Superior Court Judge Kent Hamlin, an alliance director, said he was optimistic that Hoshino will meet with the alliance leadership early in his tenure and would "help restore [the judiciary's] credibility with the Legislature and the executive branch."
Copyright 2014, Metropolitan News Company