Friday, January 31, 2014
Page 1
Court of Appeal Justice Haerle to Retire in Mid-June
By MICHAEL J. PEIL, Staff Writer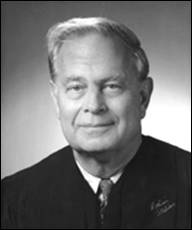 PAUL R. HAERLE
Court of Appeal Justice
Court of Appeal Justice Paul R. Haerle said yesterday he intends to retire from the First District's Div. Two this year.
Haerle, 82, told the MetNews he does not know when the date of his official retirement will be, saying "I haven't filled out the forms yet, [I] just know mid-June."
"I reached my 20 years of service," he explained, "it's time to get on to other things like hiking the hills of Marin County."
Haerle was appointed to the bench on July 15, 1994, by then-Gov. Pete Wilson, to succeed Justice John Benson, who had retired.
Prior to his appointment, from 1991 to 1994, Haerle served as chair for Gov. Wilson's San Francisco Judicial Selection Advisory Committee, after having been on then Judicial Selection Committee for then-Sen. Wilson from 1987 until 1990.
For two years, starting in 1975, Haerle was chair of the California Republican Party, and a member of the Republican National Committee.
In 1967, Haerle became appointments secretary to then-Gov. Ronald Reagan, a position he held until 1969. Working with Reagn "was very, very, very interesting," Haerle said, "and very good, indeed."
Haerle's retirement will open a seat for appointment by Democratic Gov. Jerry Brown. The jurist commented that "the issue of who appoints my successor has nothing to do with my decision, it is not a relevant consideration right now."
In 2001, the court, in an opinion by Haerle, upheld a California law that restricted businesses doing business in California from sending spam in Ferguson v. Friendfinders, Inc., 94 Cal.App.4th 1255.
In that case, he wrote that the statute did not violate the dormant commerce clause as the burdens imposed by the regulation were not outweighed by the benefits. He said that the law was beneficial because it protects email recipients from the annoyance and waste of time of receiving spam, and spares internet service provides from undue expenses in directing all of the bulk mail.
In Calguns Foundation, Inc. v. County of San Mateo (2013) 218 Cal. App. 4th 661, Haerle said an ordinance prohibiting the possession of guns in public parks and recreational areas, holding that the law did not conflict with California's concealed-carry law.
He explained that concealed-carry laws gives the sheriff discretion as to when to issue a permit, and impose restrictions on permit holders. As a result, he said "the employer and supervisor of the sheriff, i.e., the County Board of Supervisors, also has the authority to provide, via its legislative process, for exceptions and conditions to when and where an issued 'Carry License' may be validly used."
Haerle received his A.B. in Political Science and History from Yale University in 1953. He went on to receive his law degree from the University of Michigan in 1956, where he served as editor-in-chief of the school's law review, graduating Order of the Coif.
In 1965, he went to work as an associate concentrating on business litigation with the now-dissolved Thelen, Marrin, Johnson & Bridges, where he remained until he began working for Reagan. After serving as appointments secretary, Haerle returned to the firm, becoming managing partner by the time of his departure in 1994.
Haerle is a fellow with the American College of Trial Lawyers, and trustee for the World Affairs Council of Northern California.
He said, his time on the bench has been "very pleasant, intellectually stimulating, with many interesting cases over the years and good hardworking colleagues."
Copyright 2014, Metropolitan News Company