Thursday, February 20, 2014
Page 3
Brown Names Former NLRB Head William Gould to Chair ALRB
By a MetNews Staff Writer
Gov. Jerry Brown yesterday named former National Labor Relations Board Chair William B. Gould IV to chair the California Agricultural Labor Relations Board, effective March 18.
Gould has been a member of the Stanford Law School faculty since 1972. He has held the title of Charles A. Beardsley professor of law, emeritus since 2002.
He was appointed chair of the NLRB by then-President Bill Clinton in 1994 and resigned in 1998.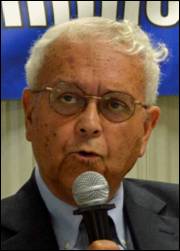 —Courtesy photograph
WILLIAM B. GOULD IV
Former NLRB Chair
Gould has had a long career in labor and anti-discrimination law. He graduated from the University of Rhode Island in 1958 and from Cornell Law School in 1961, and worked briefly as assistant general counsel for the United Automobile Workers before pursuing graduate study at the London School of Economics.
He returned to the United
States in 1963, joining the NLRB staff as an attorney-advisor, and then worked at Battle Fowler Stokes and Kheel, a New York labor law firm, from 1965 to 1968.
He began his academic career as a professor at Wayne State University Law School, and then was a visiting professor at Harvard Law School for a year before joining Stanford.
He was admitted to the National Academy of Arbitrators in 1970, and has served as arbitrator or mediator in more than 200 labor disputes, according to his biography on Stanford's website. He was a salary arbitrator for Major League Baseball in 1992 and 1993, and is the author of 10 books, including "Bargaining with Baseball, Labor Relations in an Age of Prosperous Turmoil," published in 2011.
His other works include "Labored Relations: Law, Politics and the NLRB," an account of his tenure as chairman of the board. He also edited "Diary of a Contraband: The Civil War Passage of a Black Sailor."
That book is based on the diary of William B. Gould, his great-grandfather, one of the few slave diaries to survive to modern times. Gould escaped from slavery in North Carolina in 1862, sailing with a handful of other slaves to the place where they were declared contraband by the U.S. Navy and freed.
He later served in the Navy himself, and wrote in the diary of his service in the Civil War and his travels in Europe.
In addition to his books, William B. Gould IV has written numerous scholarly articles and has frequently commented in the media about labor law, particularly as it relates to sports, as in the case of New York Yankees star Alex Rodriguez. Rodriguez recently dismissed his lawsuit challenging an arbitrator's ruling that he be suspended for the 2014 season for violating policies regarding the use of performance-enhancing and other drugs.
Copyright 2014, Metropolitan News Company